Switzerland – 8 Day Solo Travel Itinerary
Visited Switzerland in September as a solo traveller, exploring the Jungfrau region, including Lauterbrunnen, Wengen, Mürren, Grindelwald, Kandersteg, and Zürich.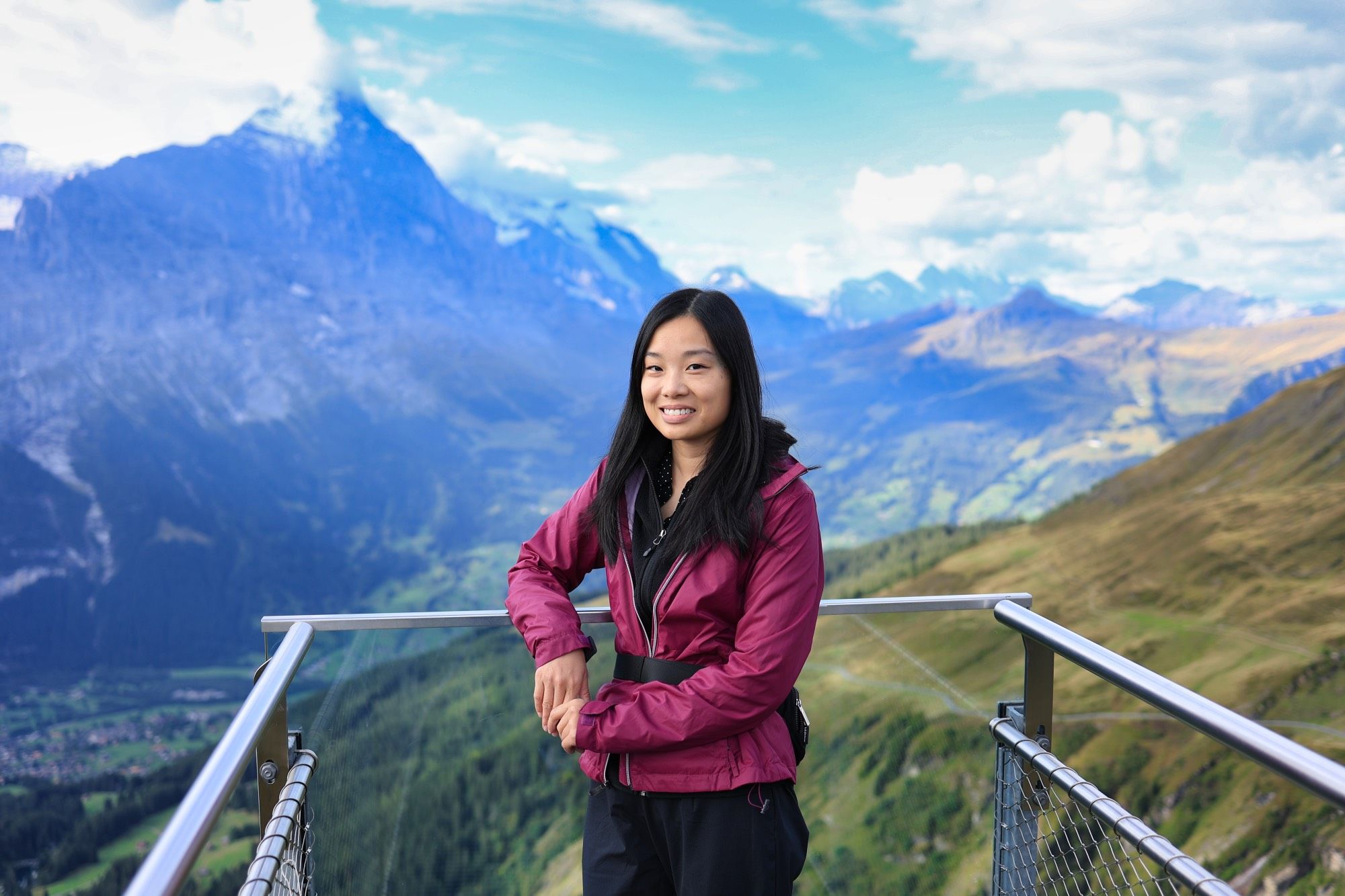 I just returned from an 8 day trip to Switzerland in early September 2022. Here's an overview of everything I did!
Lauterbrunnen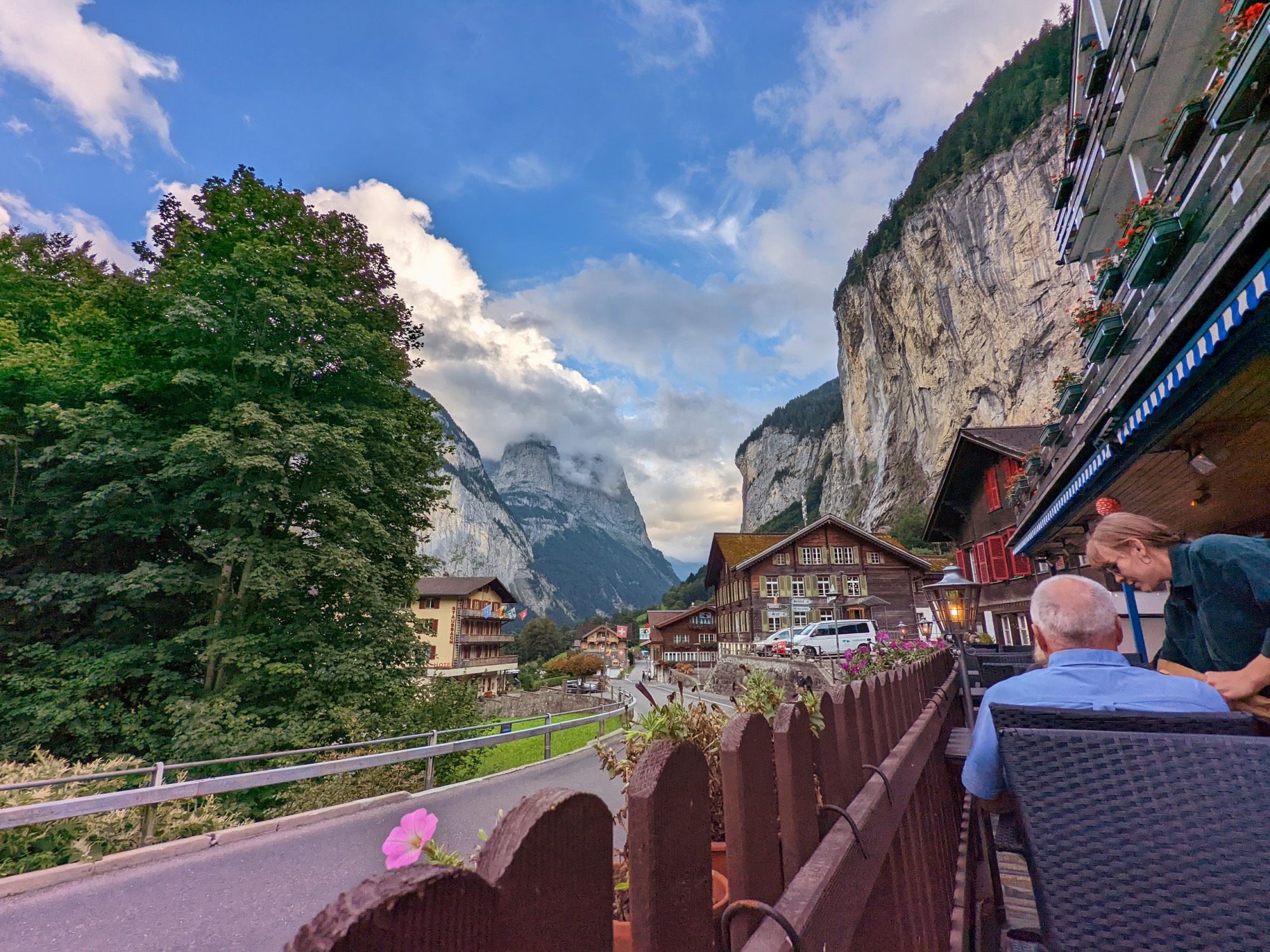 I stayed in Lauterbrunnen for the first 2 nights in Switzerland. Lauterbrunnen is about a 30 minute train ride from Interlaken Ost, which is a major "artery" train station in the Jungfrau region. You can reach Interlaken Ost by train from Zürich, and it takes about 2-3 hours depending on the train routes you take.
The first night focused on decompression, and overcoming a very long (8 hour) train ride from Dusseldorf, Germany. I stayed in a private room at Valley Hostel. It cost CHF 86.80 ($115 CAD) per night, not including breakfast. I opted out of the breakfast option because I was going to do an early hike before the serving time.
In all honesty, I didn't like staying in a hostel even thought I had a private room. I'm just not one for shared washrooms, people bending the no-shoes rule by wearing their outside sandals indoors, and the noise – oh god the noise. My room was above the reception area so the door kept slamming and shaking the building and I couldn't get any sleep. If I paid $5-10 more per night, I could've had a private bathroom and some peace and quiet.
Kandersteg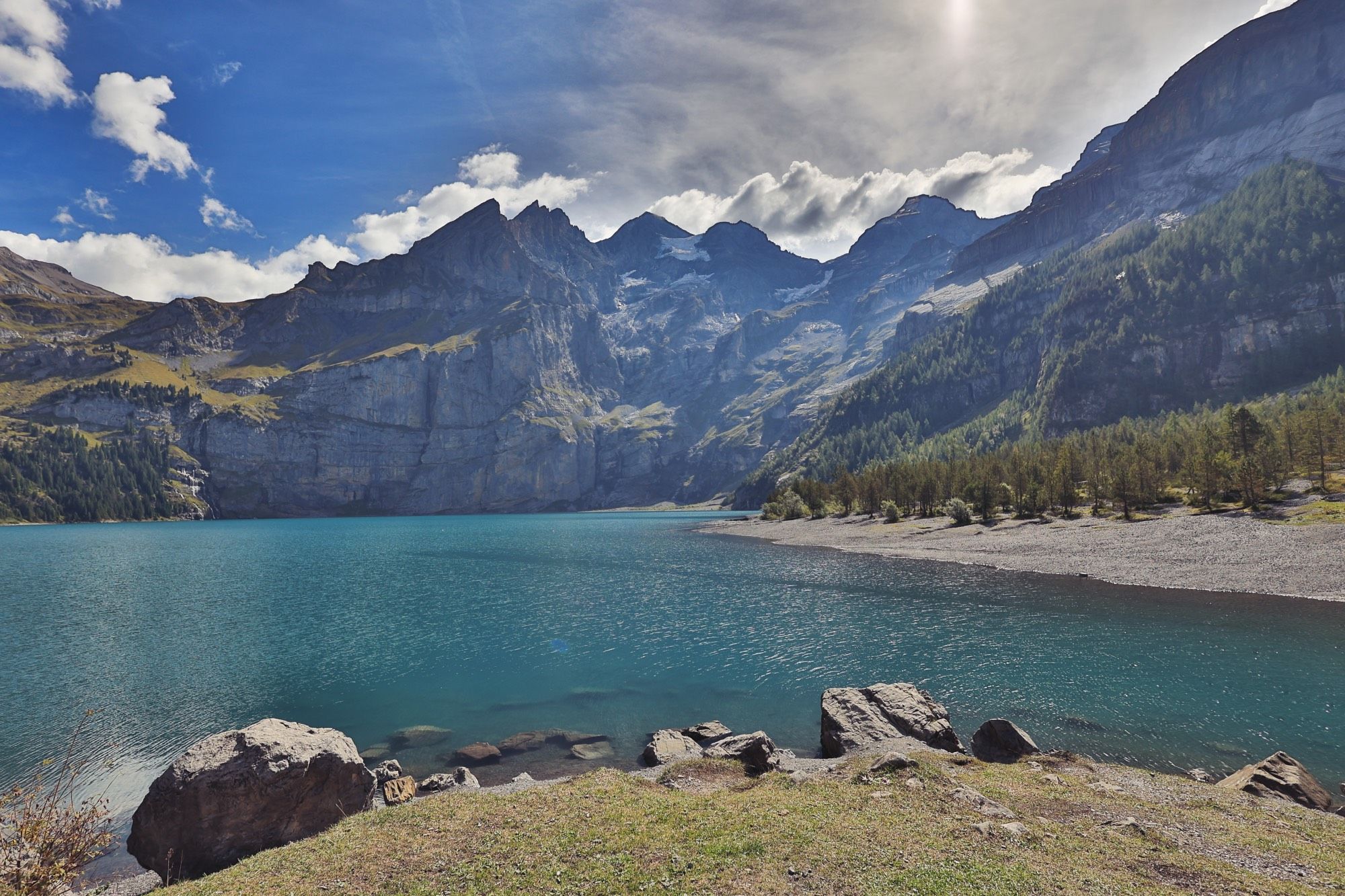 The day after, I headed straight to Kandersteg, where I took the gondola up to Oeschinensee and hiked to the lake. It is a small lake but very picturesque. The trip from Lauterbrunnen is between 1.5-2 hours each way. I budgeted the entire day for this day trip so that I wouldn't feel rushed or overtire myself.
From where I was staying in Lauterbrunnen, I took a train back to Interlaken Ost, then to Kandersteg. From the station I walked 10 minutes to the gondola lift station and reached the top of the mountain a few minutes. From there, it's another 15-20 minute walk to reach Oeschinensee.
There are a couple restaurants at Oeschinensee with great lake views.
Mürren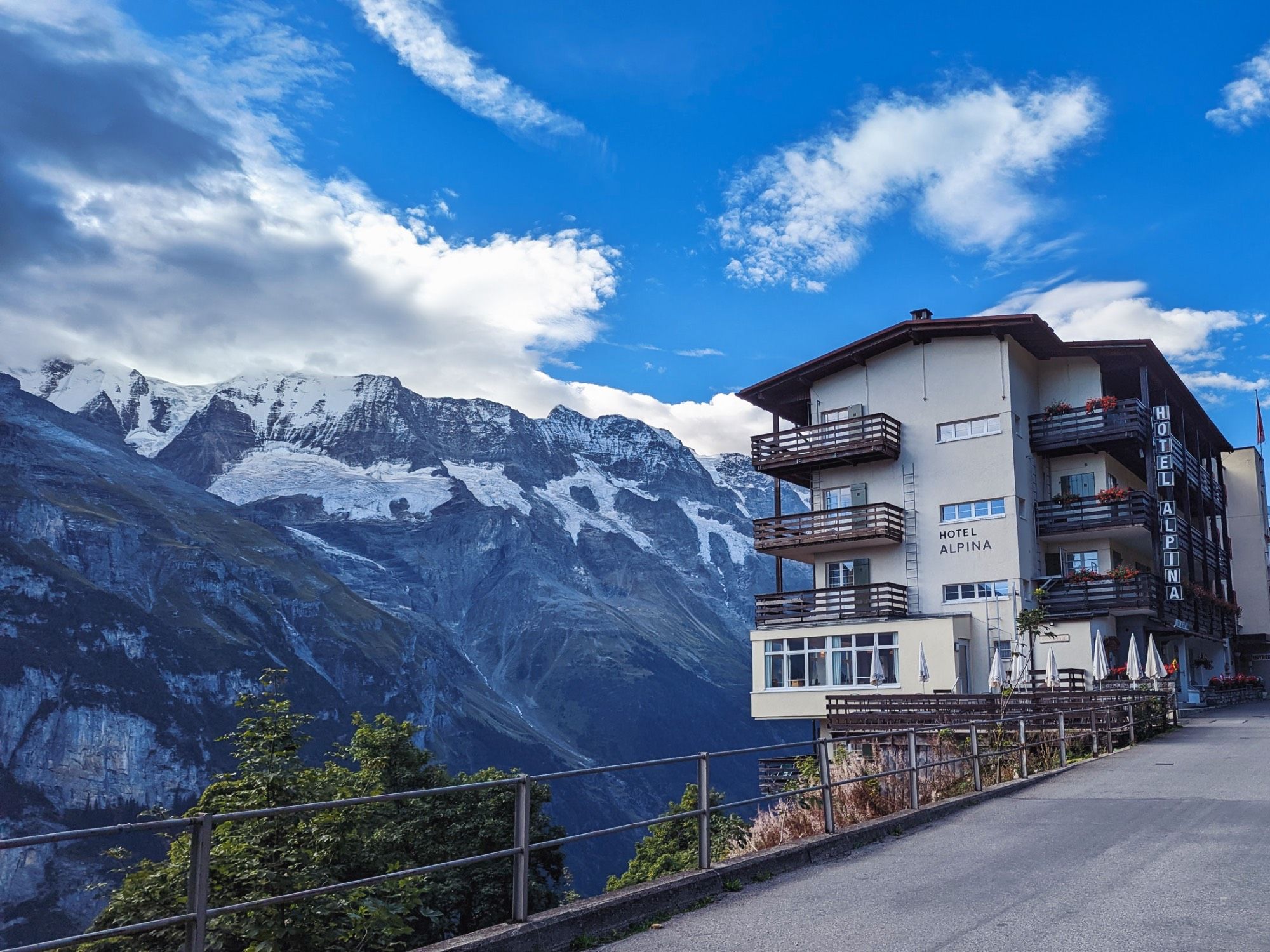 Murren is a small, car-free village that is a short cable car and train ride away from Lauterbrunnen. I stayed here for a night at the Hotel Alpina. I had a single room with a private bathroom and a balcony that had the most imposing mountain view. The room was CHF 95, or $125 CAD.
From Mürren I walked about 15 minutes to the cable car station that went up the Schilthorn–2,970-m. peak in the Bernese Alps. The Schilthorn had a revolving restaurant called the Piz Gloria.
I also took the Allmendhubel funicular which is much smaller and shorter, but is popular amongst children due to its playgrounds. There are some smaller hiking trails from here too. I visited here very briefly because it started to rain.
Grindelwald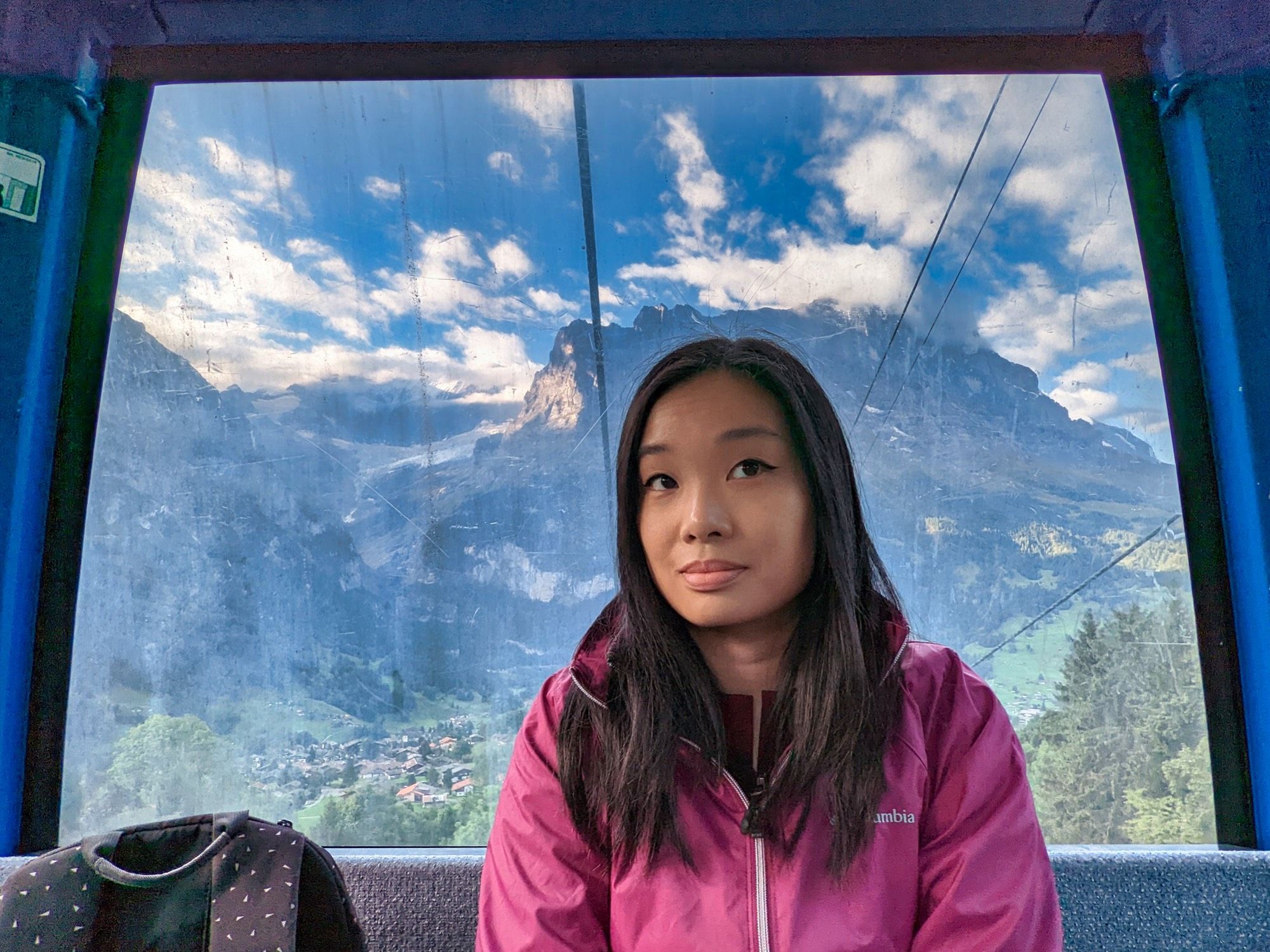 I made my way from Mürren to Grindelwald which took about 1.5 hour. I dropped my bag off at the Central Hotel Wolter which had a balcony view of the Eiger mountain. I stayed here for 2 nights and opted-in for the breakfast option. The single room cost CHF 106 ($140 CAD) per night.
As soon as I dropped off my bag, I walked 10 minutes to First (pronounced "fierce-t") and rode the cable car up to the top of the mountain. I rented a bicycle for CHF 45 ($60 CAD) and rode down to enjoy the scenery. It seemed cloudy and forecasted some rain, but it only drizzled. The ride down took about an hour because I stopped every so often to take pictures. I dropped off my bicycle at the rental branch at the bottom of the mountain.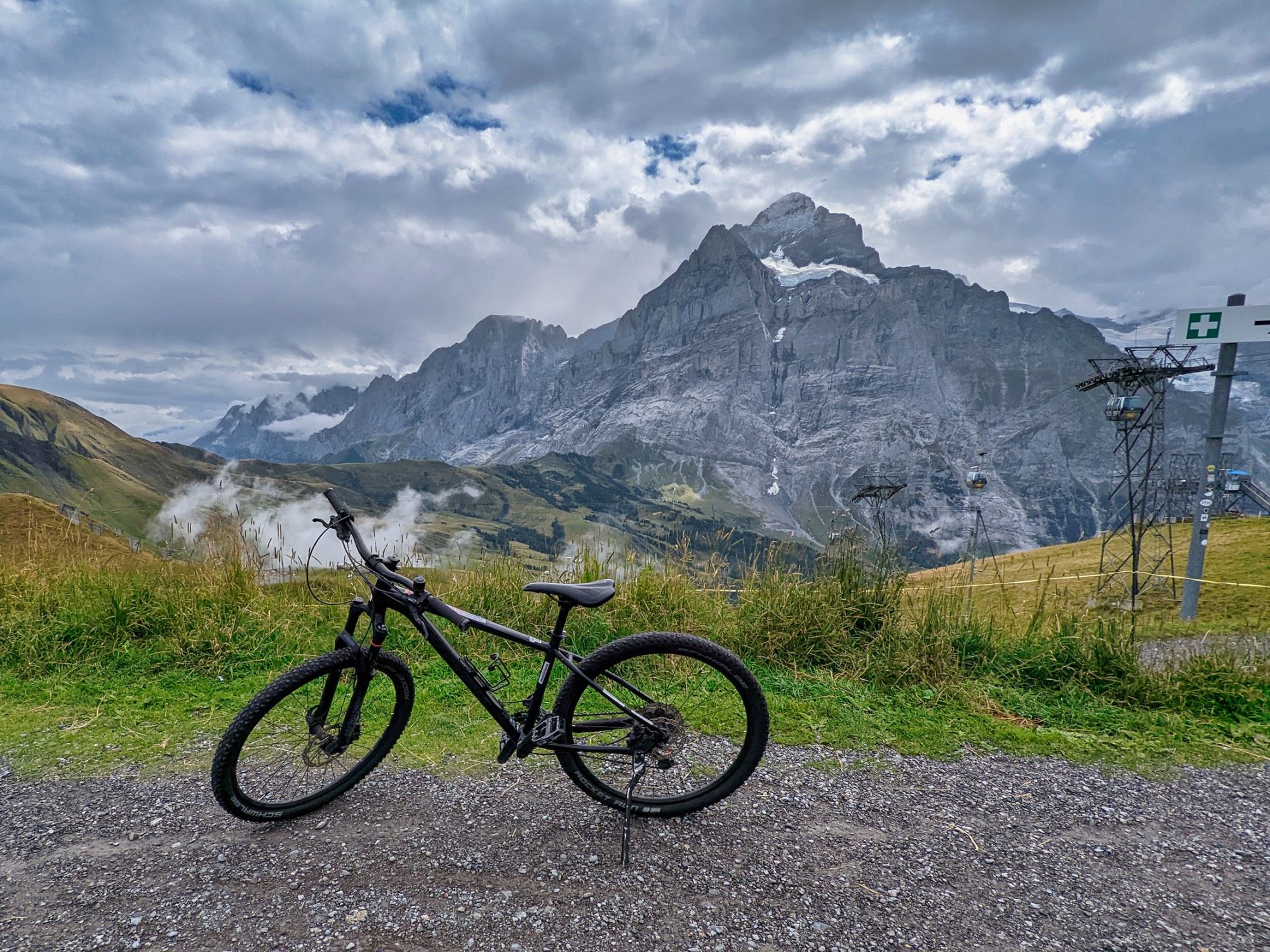 The next day I went up to First again and this time I hiked to Bachalpsee Lake. This hike took 1 hour (can be shorter if you don't stop to take pictures every so often like I did), and I spent about 30 minutes admiring the destination. Then I hiked back and saw the Cliff Walk was very busy so I opted to take the cable car back down.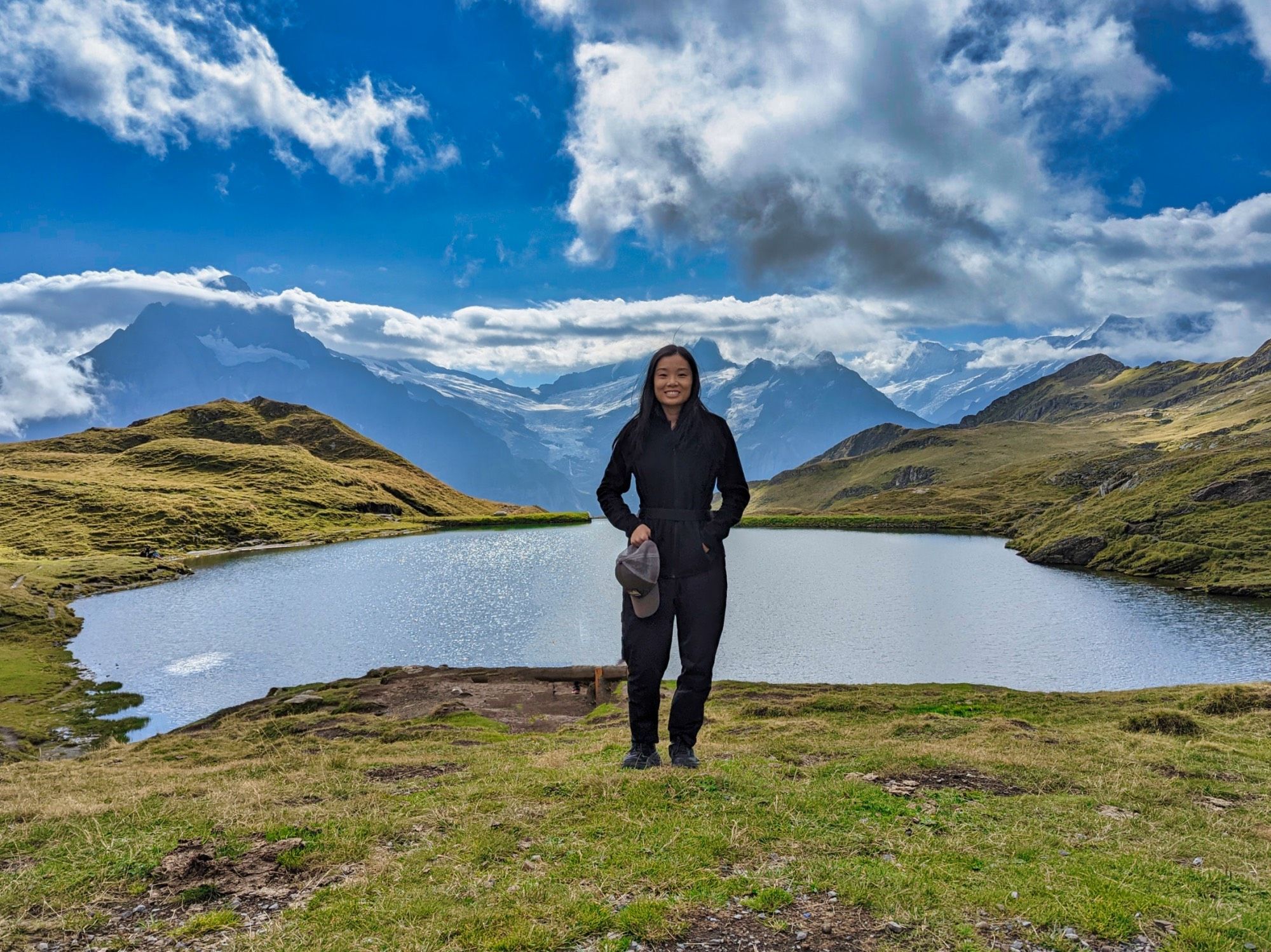 The next morning before checking out of the hotel, I took an early cable car back up to First again to do the Cliff Walk. It was almost empty. There is a hotel at the top of First which I almost booked but it would mean I'd be limited to the cable car schedule if I wanted to return late or leave early. Of course, you can hike down but that would take at least an hour or two.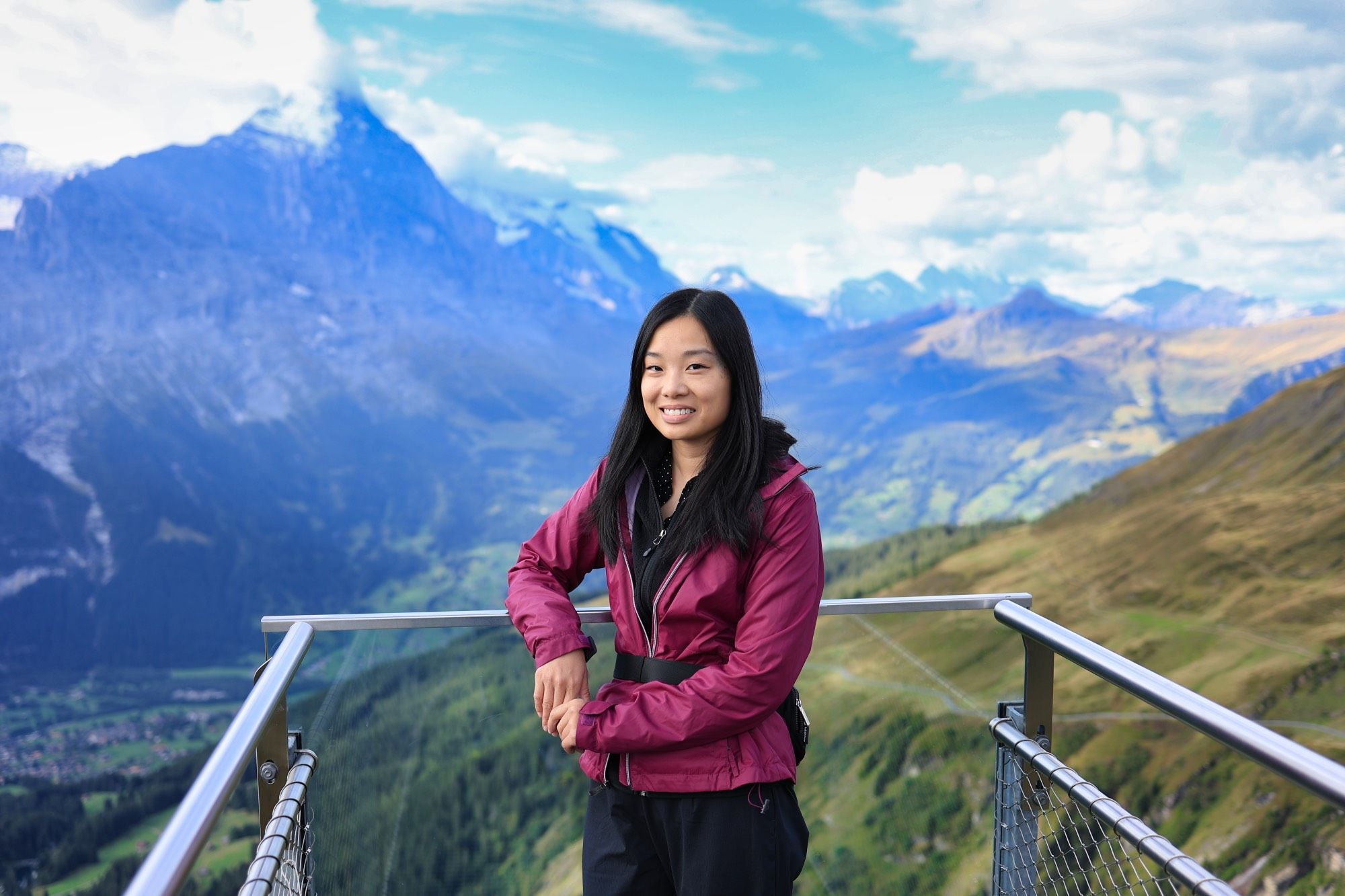 Note about Grindelwald: it is a very built-up town with the conveniences of a large Coop grocery store, pharmacy, restaurants, and souvenir shops. I do not recommend staying here if you want peace and quiet, unless you secure a hotel further out from the main station. My hotel was a 3 minute walk from the main Grindelwald station which was convenient, but didn't realize there was an outdoor music festival happening right outside. There was loud country music until 11:00 pm and I wanted to sleep earlier.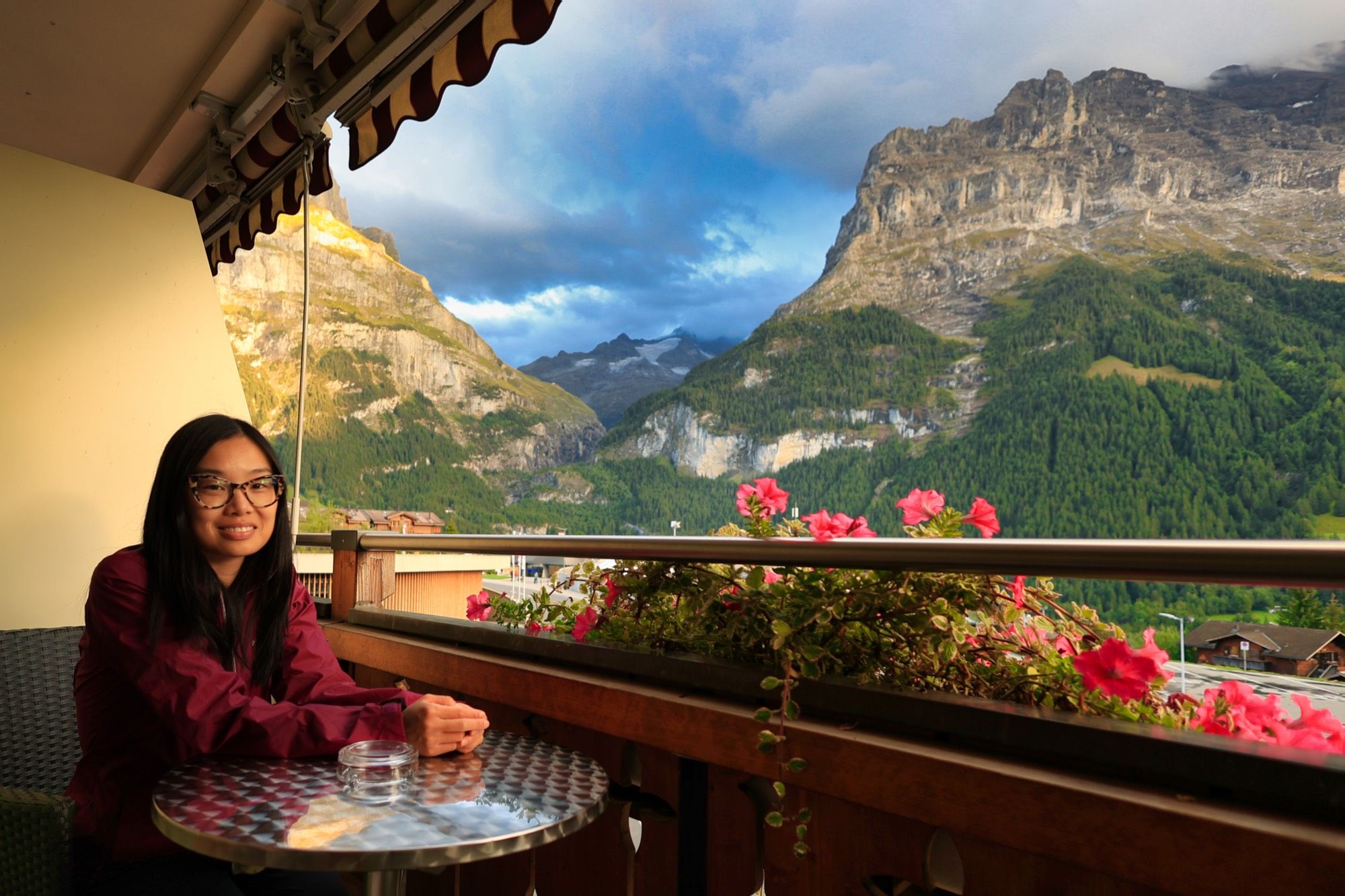 Overall, I think Grindelwald is a great place to spend 2-3 nights!
Wengen
I journeyed an hour from Grindelwald to Wengen, where I spent my last 3 nights. I stayed at the Hotel Alpenruhe, which is a "vintage design hotel". It cost CHF 131  ($173 CAD) per night.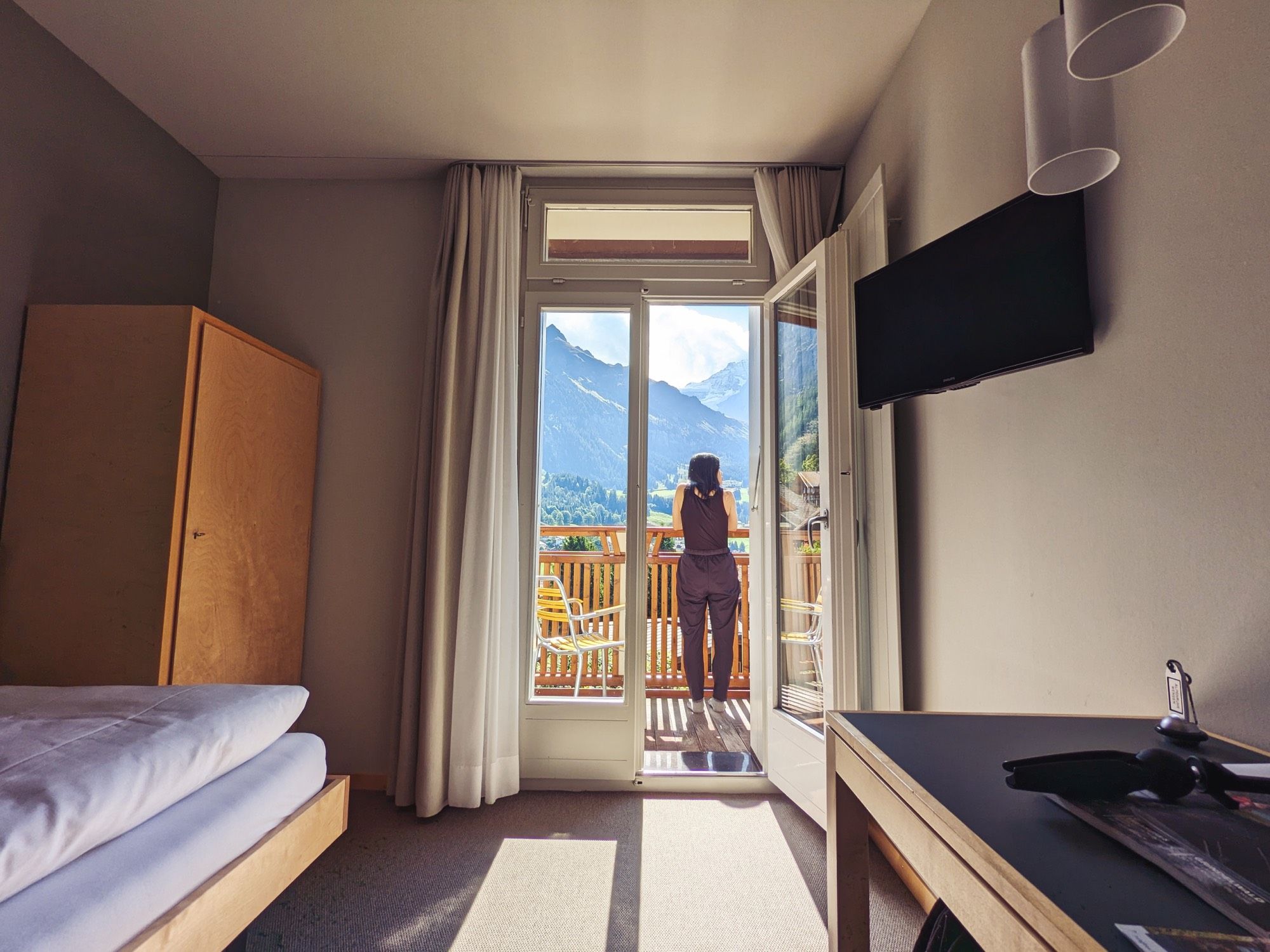 This was my favourite hotel of the entire trip. The decor reminds me of a Wes Anderson movie, full of midcentury modern furniture, minimalism, and subtle details that don't upstage the gorgeous balcony views of the Jungfrau.
The bathrooms have original tilework which are very retro and reminiscent of your grandma's bathroom from the 1970's. The place was clean and impecable. I opted in for the breakfast option and it had so many cheese options I wish I could eat them all.
From Wengen, I ventured up Mannlichen, Kleine Scheidegg, Harder Kulm, Lake Brienz, and Schynige Platte. Wengen is a very good place to situate yourself for day hikes and scenic train rides.
The train ride from Wilderswil to Schynige Platte is a scenic train ride on a very old train. It moves very slowly (10 km/h) so it takes about an hour each way. Budget a morning or afternoon for this, including hikes once you get to Schynige Platte.
On my last night in Wengen, I hiked up to Leiterhorn which was about 30 minutes from my hotel (or 45 minute hike from the main Wengen train station if you're staying at another hotel). Leiterhorn has incredible, sweeping views of the Lauterbrunnen valley and Jungfrau. Just look at this: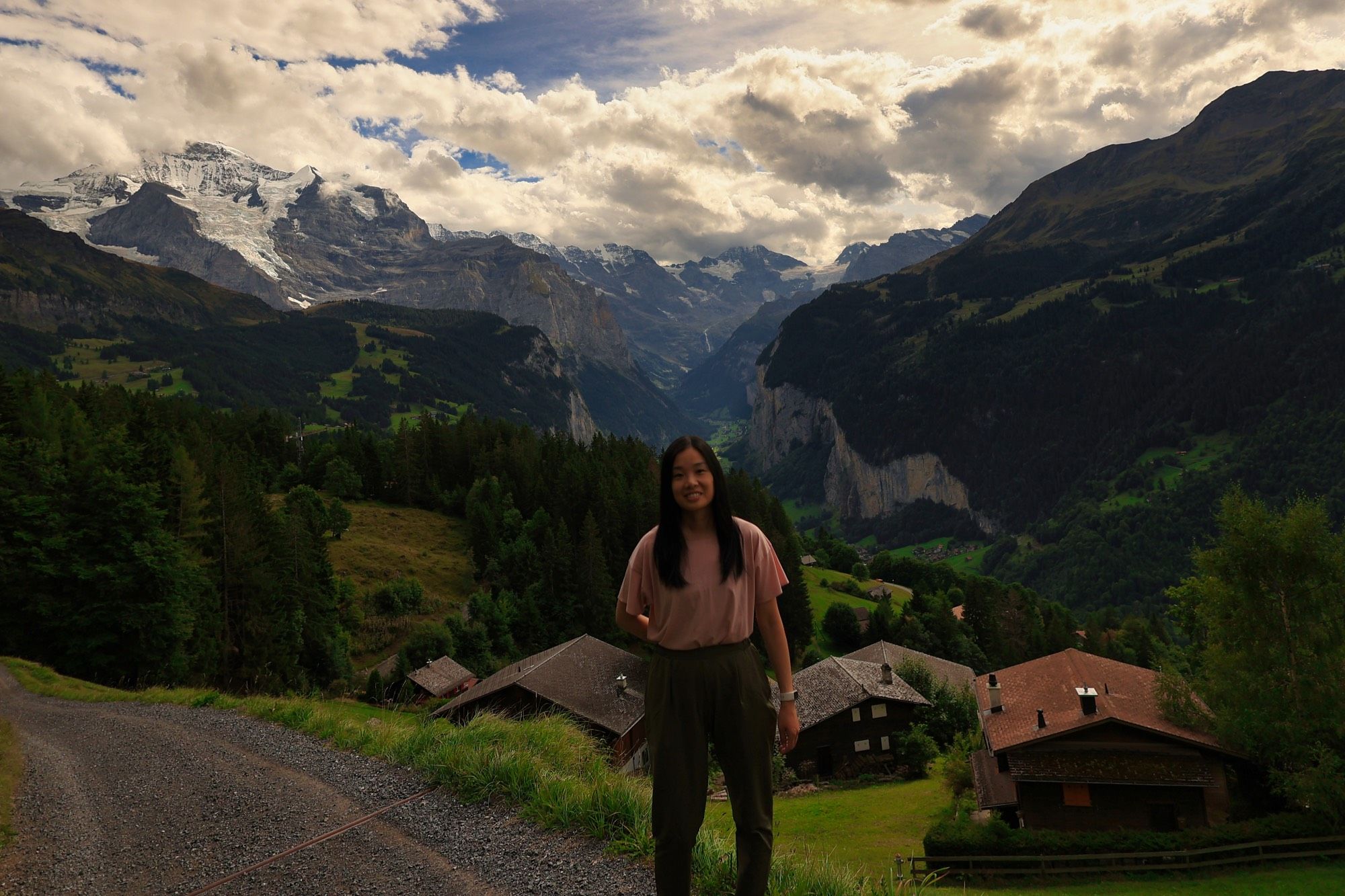 Zürich
On the morning of check out, I took my time waking up and had a leisure, slow breakfast.
From Wengen I journeyed to Zürich which took about 3 hours. I checked into the Radisson Blu Hotel at the airport because I had an early morning flight the next day. The room cost CHF 188 ($250 CAD). I could've stayed in the city because it was only a 10 minute train ride to the airport, but prices for hotels were the same and I wanted to minimize any chance of potentially missing my flight home.
After dropping off my bag, I decided to do a self-tour of all the best craft beer bars in Zurich. I went to Bierwerks Zuri which is a short walk from the main Zurich train station. Then I made my way to BierLab where they had a LoverBeer tap takeover (they are an exclusive brewery from Italy) and enjoyed a flight of their beers.
I ended the night with a few more drinks at Norden, a new bar that specialized in beers brewed by Nordic countries (Norway, Finland, Sweden, Greenland, Iceland, Faroe Islands). I had a great time chatting with Salma, a bartender who had been with Norden since the beginning of its opening in 2020.
Conclusion
So that was my trip! I wouldn't change anything about my trip but if I were to return, I would stay in Mürren and Wengen longer.
For the entire time I was in Switzerland, I got the Berner Oberland Regional Rail Pass which offered unlimited rides on almost all cable cars, trains, and funiculars within the area of validity. The only time I had to pay was to go up the Schilthorn but it was discounted 50% off (regularly CHF 88, but with the rail pass it was CHF 44).
I went the first week of September and the temperatures hovered around the 10-20˚C range, with some periods of drizzling rain. I did not have to pack any puffer jackets and did quite fine with my fleece zip-up jacket under a rain/windbreaker.
Doing carry-on only helped lower any anxieties around lost luggage and only packed a few articles of clothing that I washed every night and hung to dry in the hotel bathrooms. Quick-dry clothing is key to pull this off successfully.
Switzerland is not cheap, but reasonable for what you get to see and explore. I budgeted $5000 CAD for my entire trip (including flights, meals, rail pass, accommodations, and random sundries/souvenirs) and I came under budget by about $80.
It might sound over indulgent for a solo traveler, but I hold a certain standard of comfort (no 8-bed hostels, no cooking – I am on vacation!!, and no 2 hour hikes in the sun if I can get up by a cable car in 20 minutes). Sometimes fun costs money.
If you're into being amongst mountains, hiking, and scenic train rides, and you are okay with spending $40 for plate of cheese, then Switzerland is for you!
Start saving!