Iceland – Day 4: Golden Circle, Skogafoss, Seljalandsfoss, Vík (Ring Road)
Golden Circle, Skogafoss, Seljalandsfoss, and Vík via Arctic Adventures Ring Road tour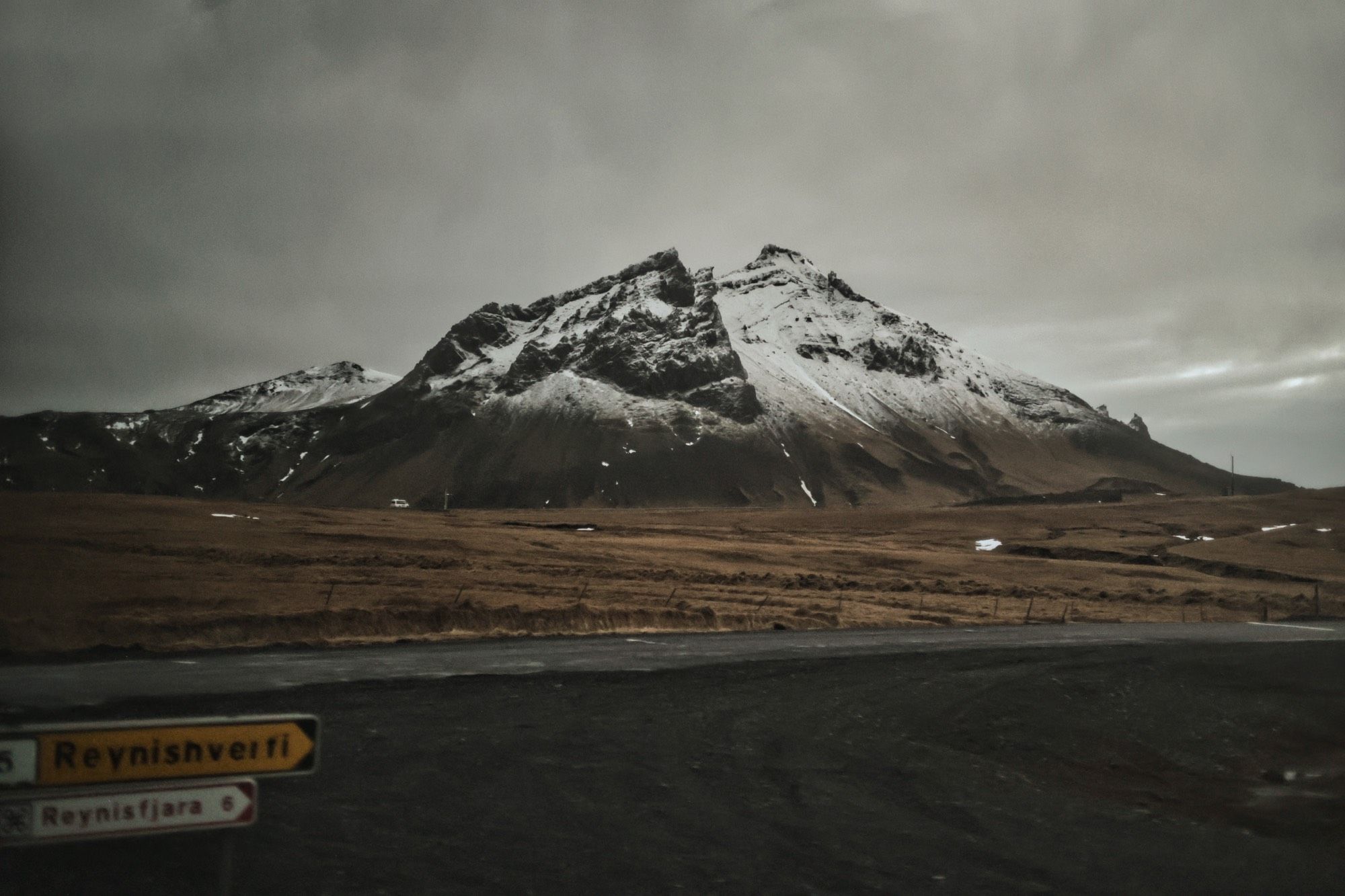 Ahhhh Christmas Day. What better way to celebrate Christmas than to start a Ring Road tour? I signed up for the 6 Day Ring Road tour of Iceland with Arctic Adventures and they picked me up near my hotel in Reykjavik. The tour guide is also the driver (important aspect of this tour – more on this later).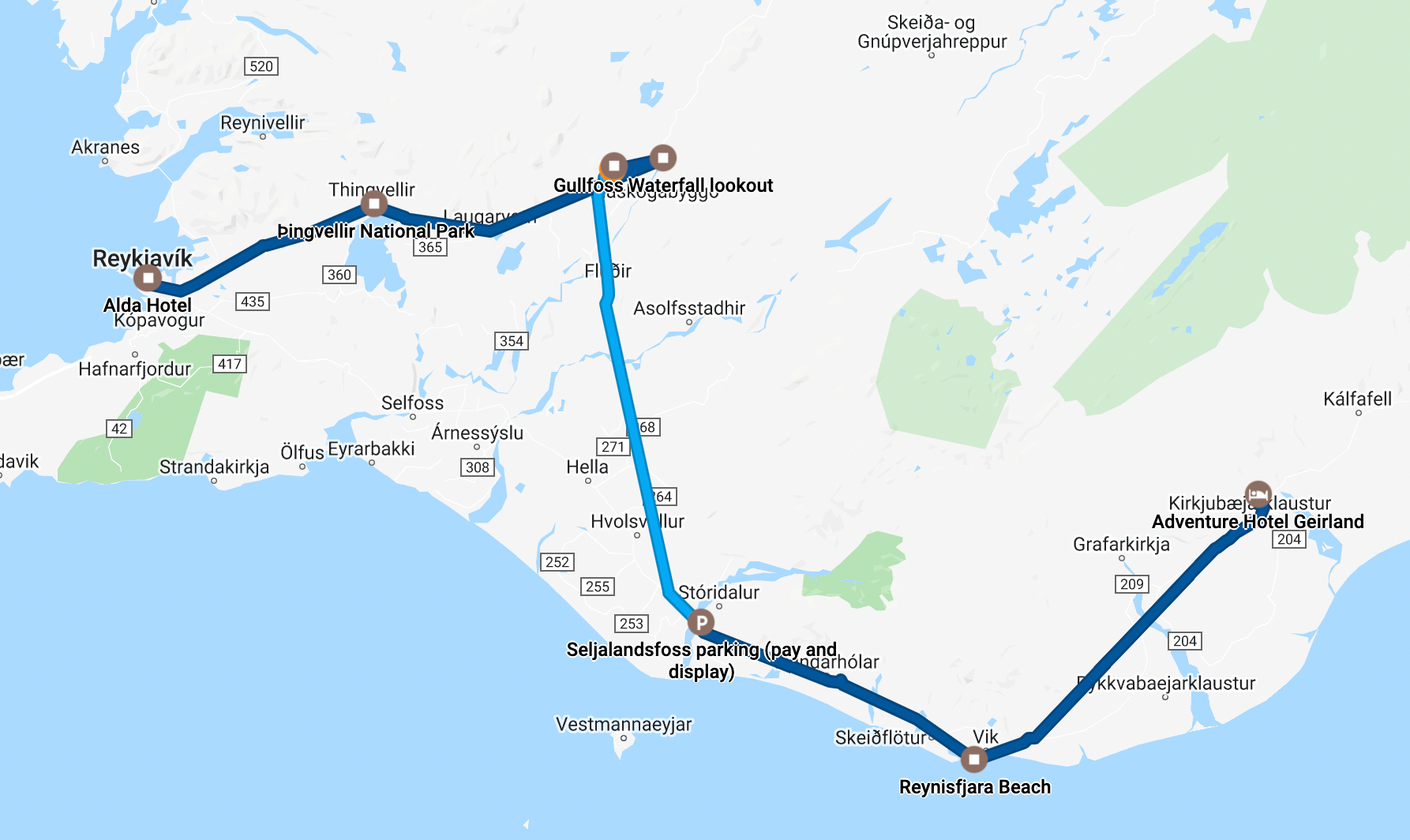 Arctic Adventures tour bus
The seating configuration of the tour bus was 2 - 1, meaning on one side there were side-by-side seats for couples/pairs and on the other side there were solo seats. There were a total of 15 tour members so some solo people were able to sit in 2-seaters because there were more solo travellers than couples/pairs.
Luggage is stored in the back trailer so if you want anything from it before hotel check-in (before 15:00 / 3:00 pm), you cannot access it easily. However, the bus overhead compartment storage is way smaller than a plane. It's about a phone height of space so you can't put anything up there except maybe a book. If you ride one of these busses, I advise you bring a small day pack with whatever you need (water, medication, snacks) that you don't mind keeping on your lap throughout 2-3 hour driving stretches.
At 8:00 am, the moon was still out and sun only rises around 11:00 am during winter months. In my case, I travelled to Iceland in late December with the shortest daylight hours (sun sets at 15:00 / 3:00 pm).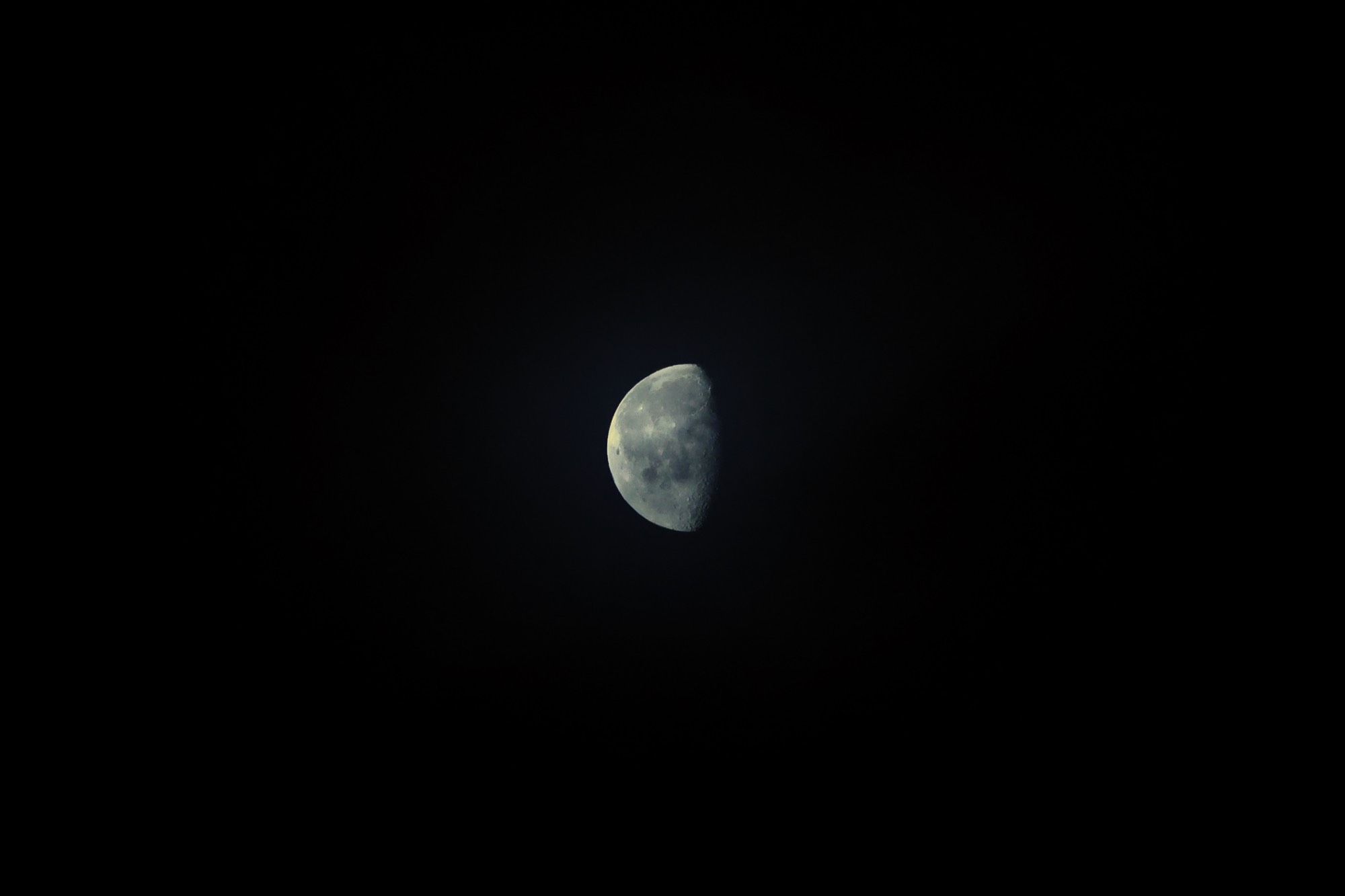 Golden Circle tour
The Golden Circle consists of three locations in Southwest Iceland:
Þingvellir (Thingvellir) National Park
The Geysir Geothermal Area
Gullfoss Waterfall
Our first stop from Reykjavik was Þingvellir (Thingvellir) National Park and it was hard to see anything. It was almost pitch black still around 9:30 am: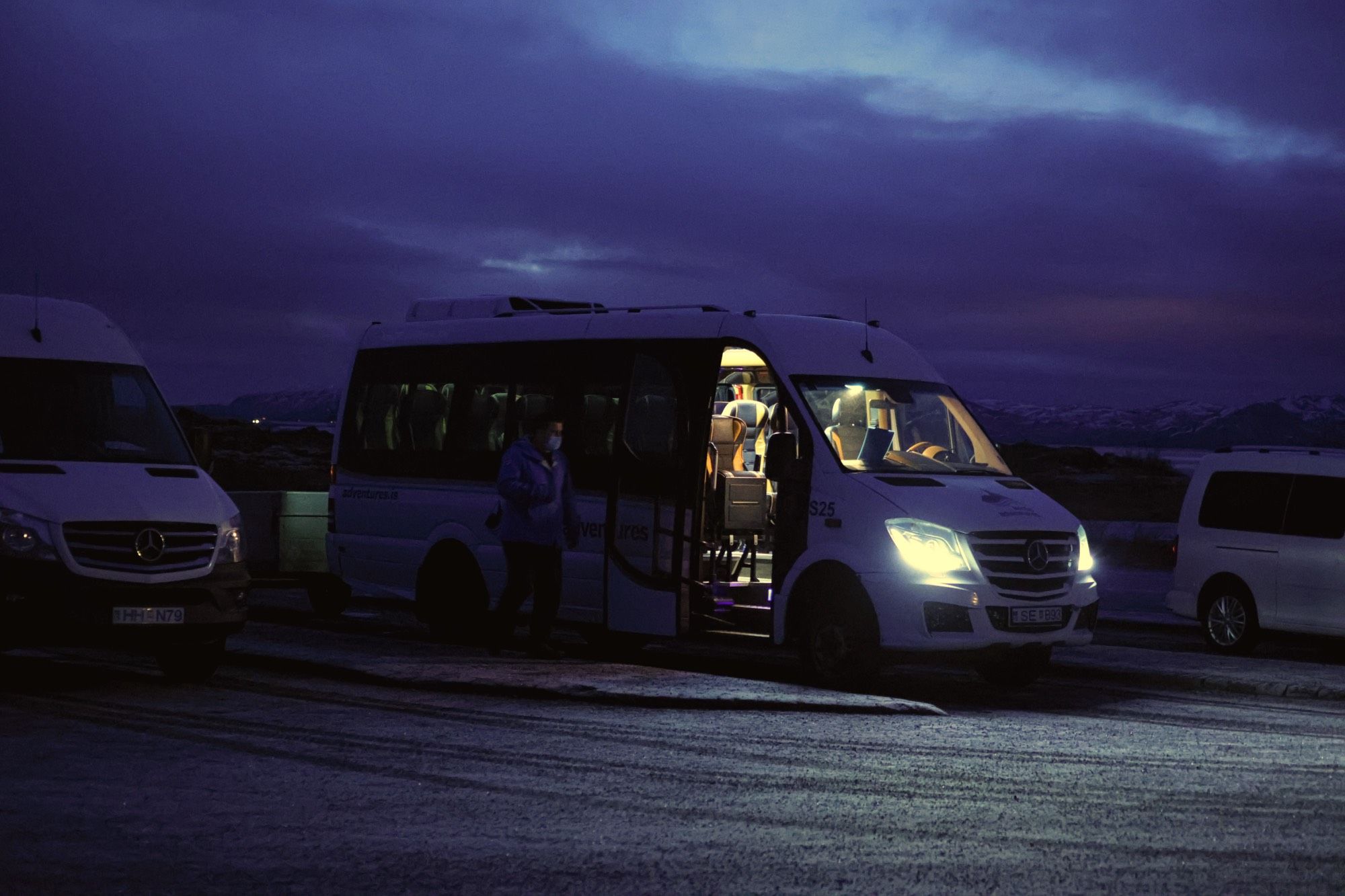 We were there for about 20 minutes, so a little bit of daylight seeping out into "blue hour".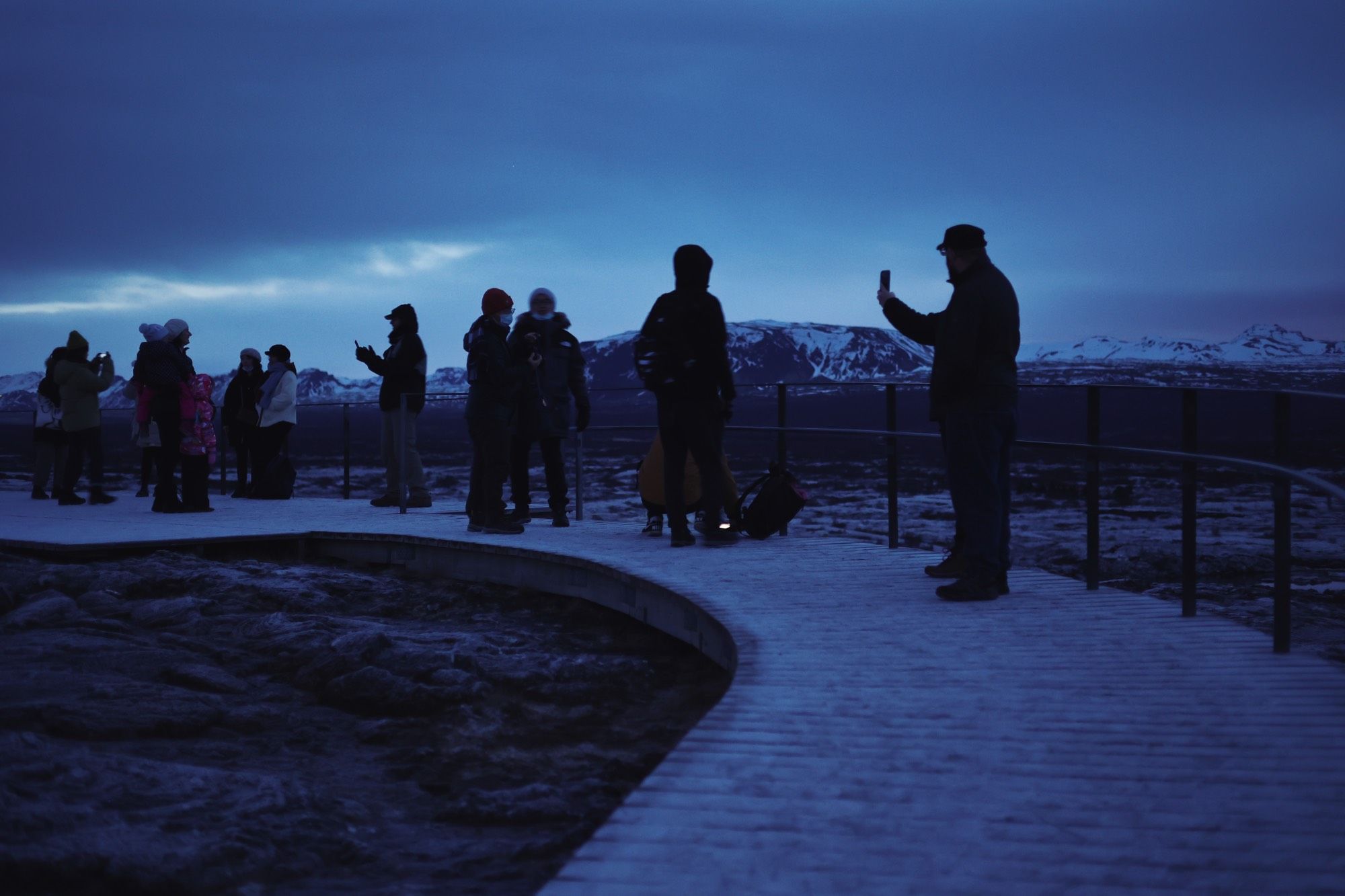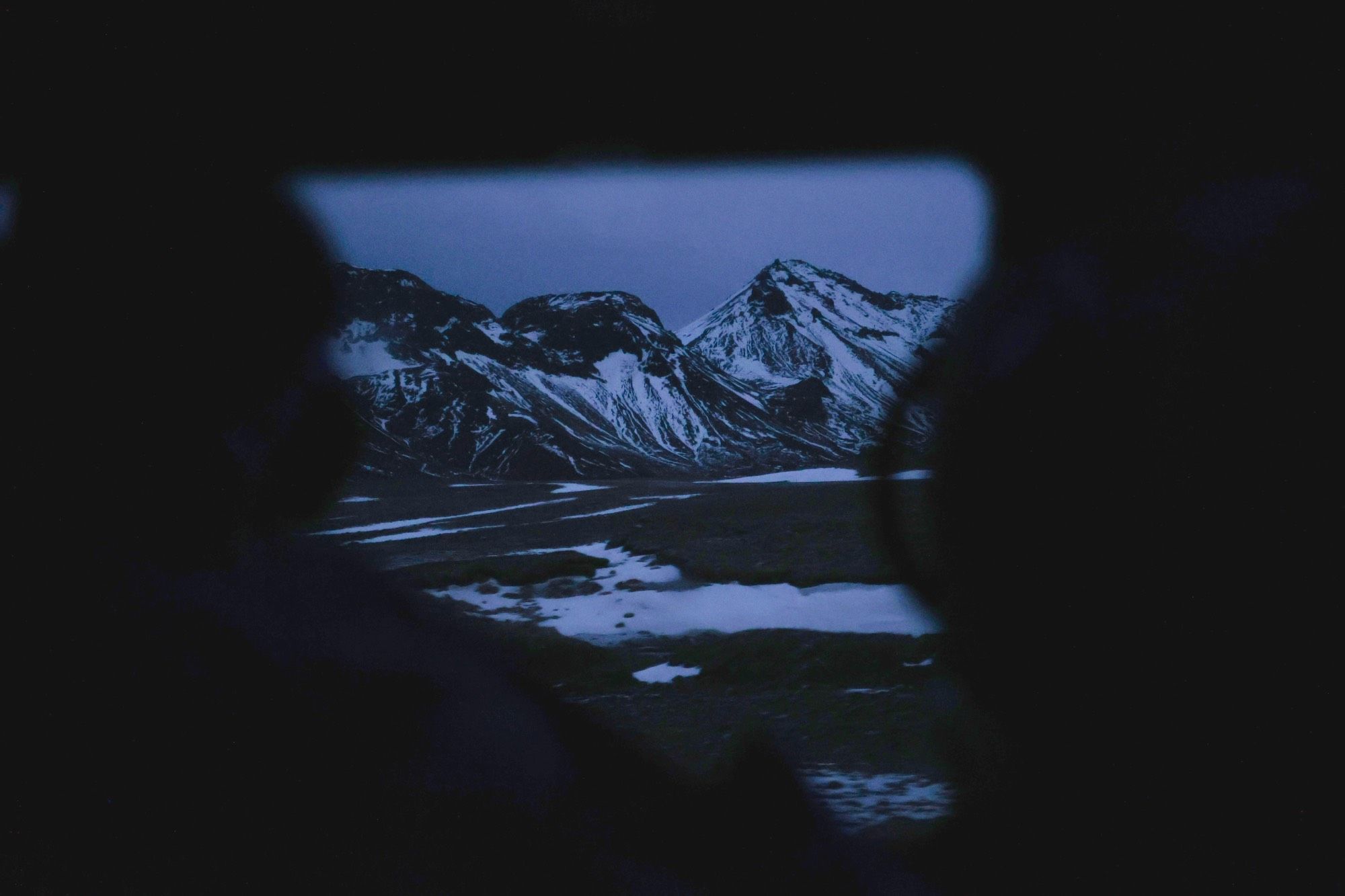 The Geysir Geothermal Area was my least favourite part of the Golden Circle tour. I guess I'm not easily enthused by boiling, bubbling puddles of hot water from the ground. I mean, I think it's wild that deep inside our earth is basically fire and the surface of the earth reveals this in the form of squirts and steam, but I don't know.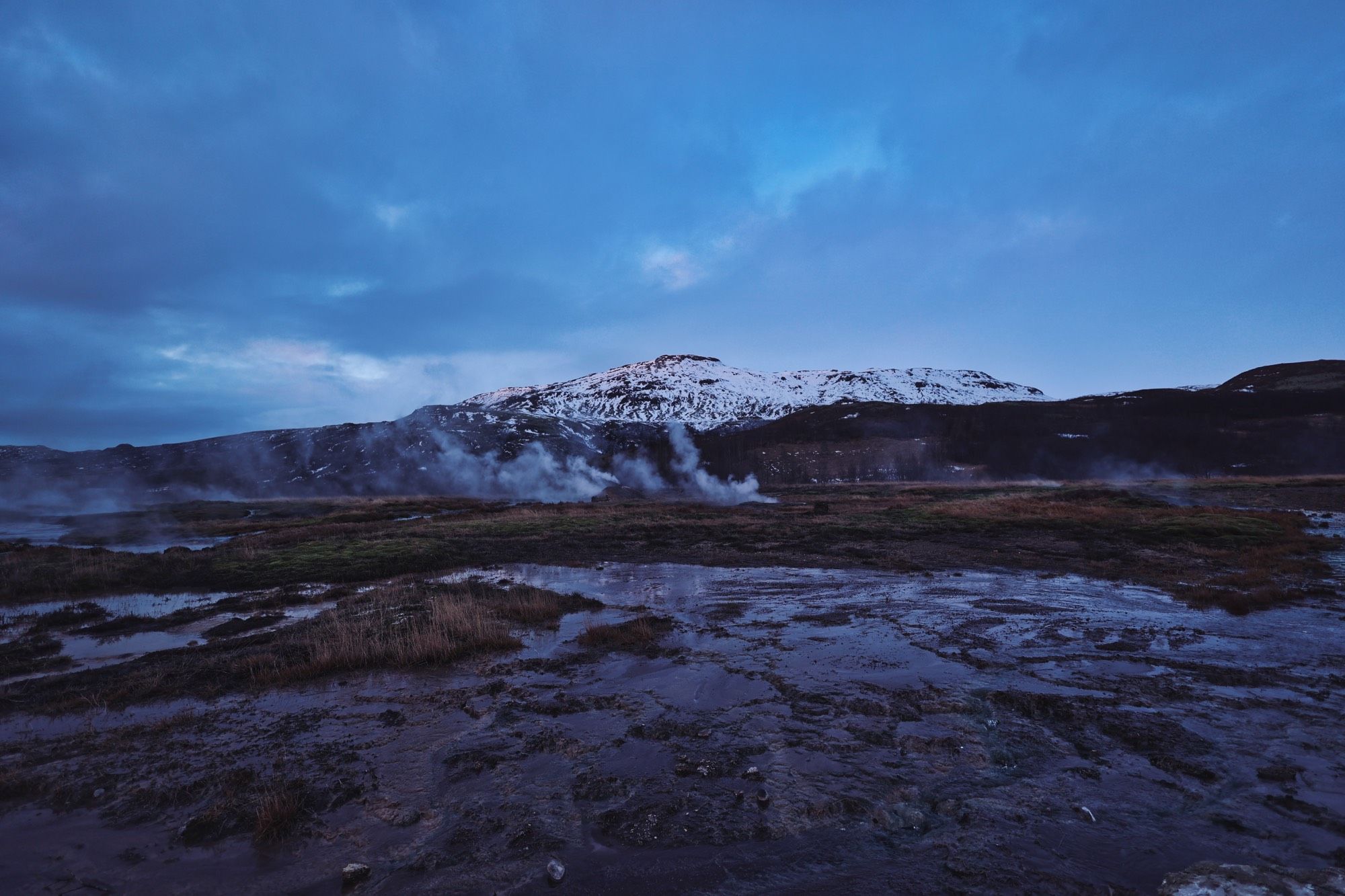 It also smelled like sulfur which resembles rotten eggs and farts.
Gullfoss Waterfall had the coldest wind ever. You absolutely need to cover your ears, hands, and face.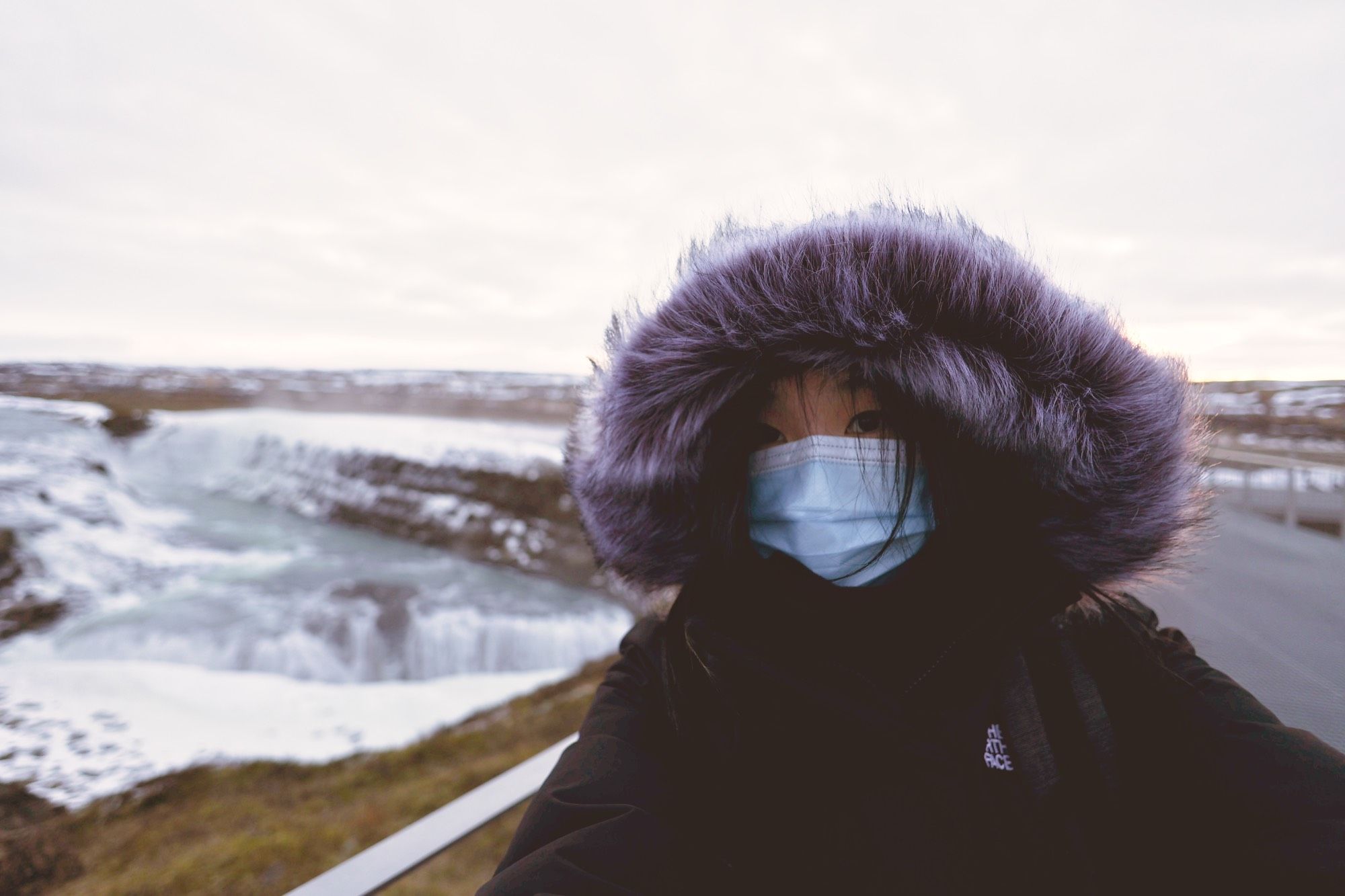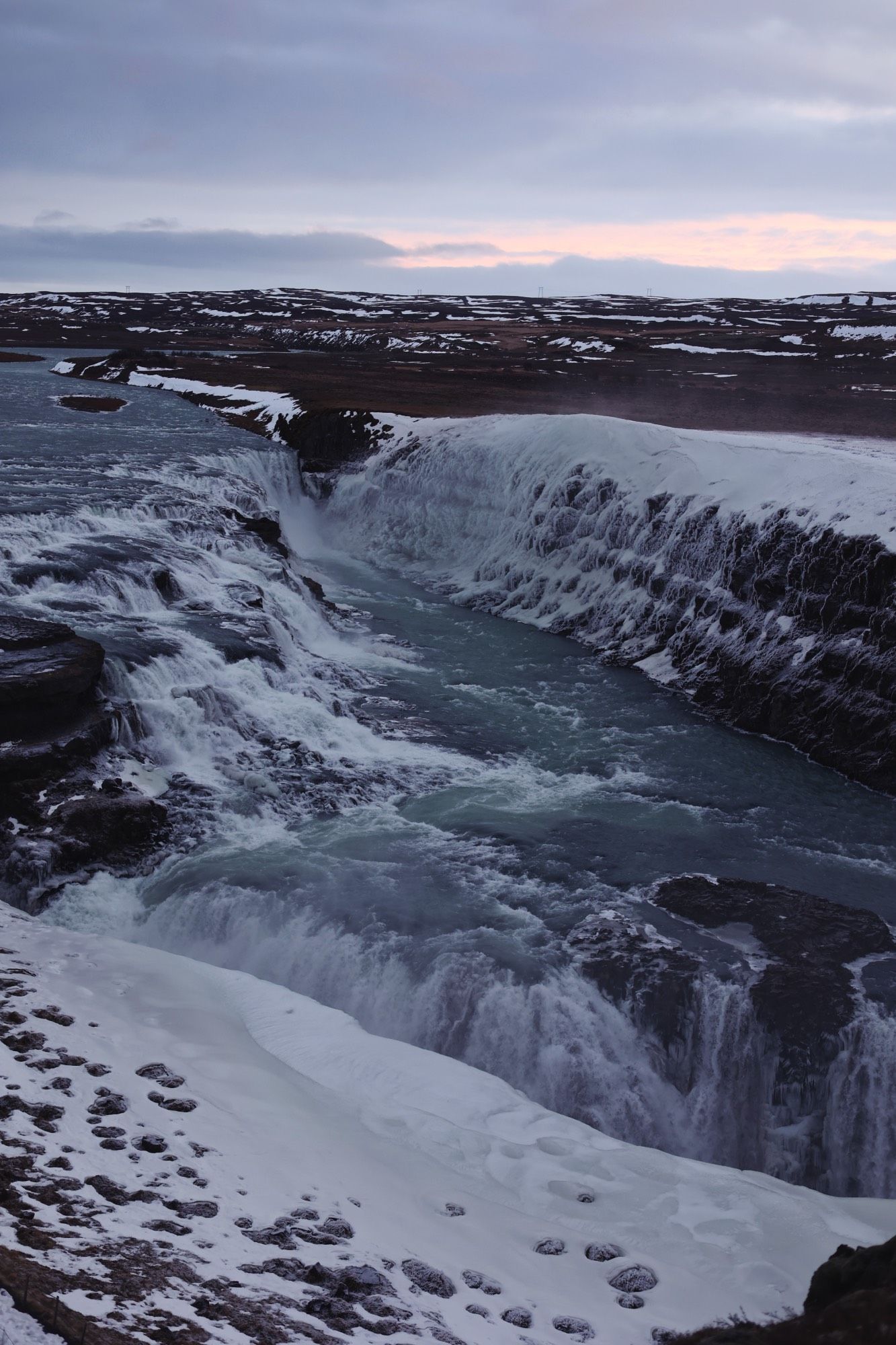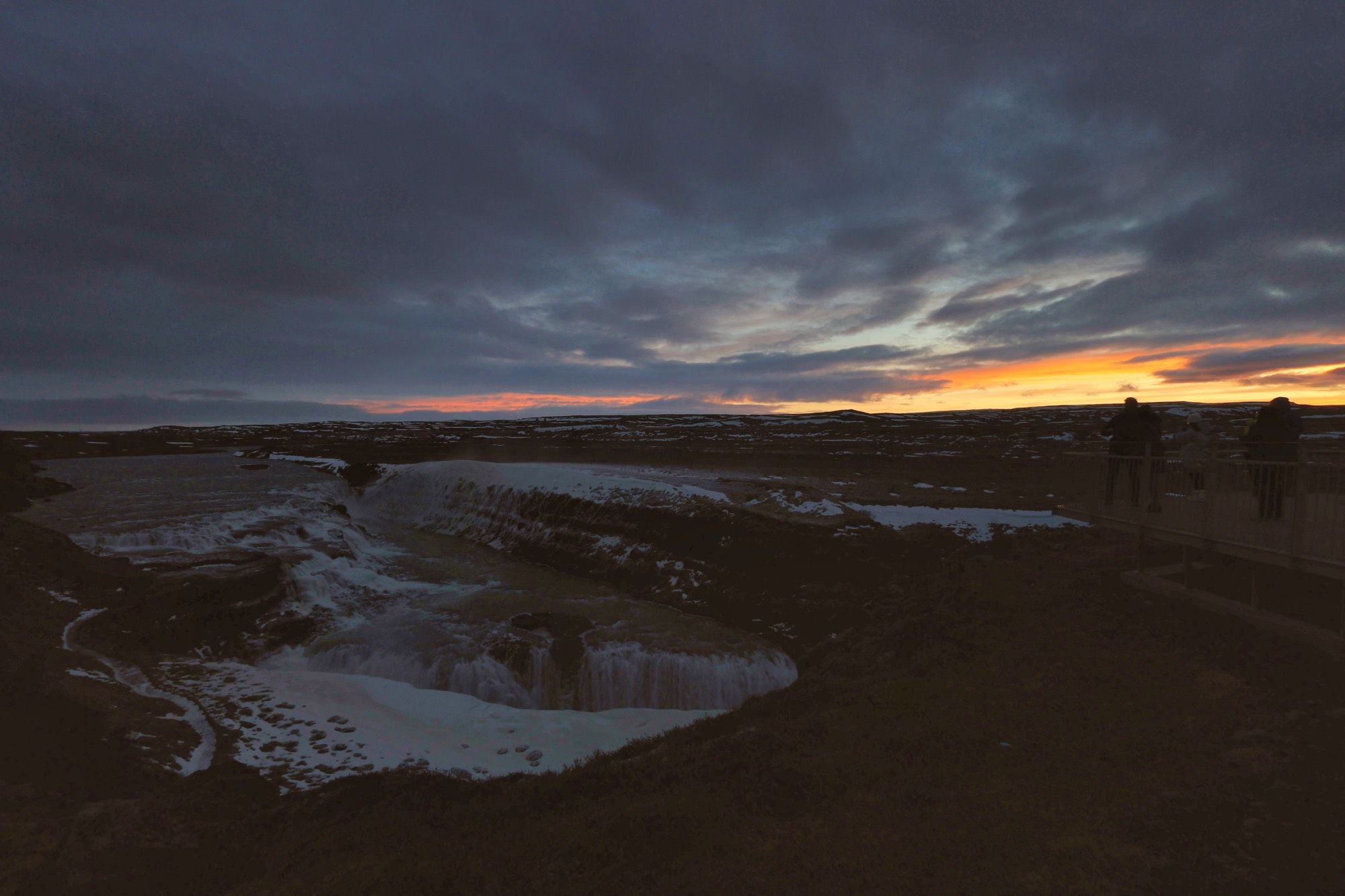 Skógafoss
Skógafoss is a waterfall on the Skógá River in the south of Iceland at the cliff marking the former coastline. This was my favourite waterfall of all and I am definitely returning to this spot when I revisit.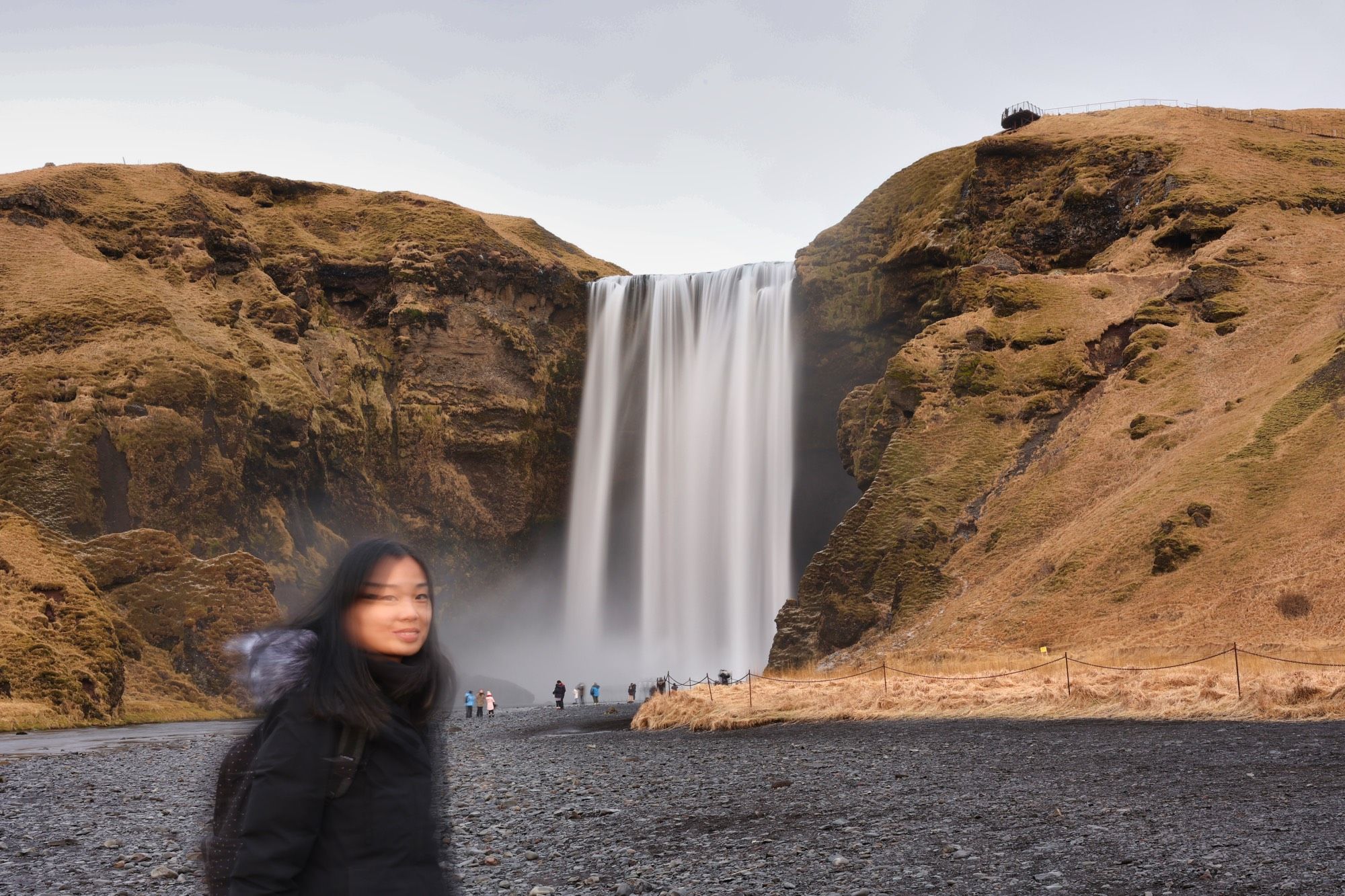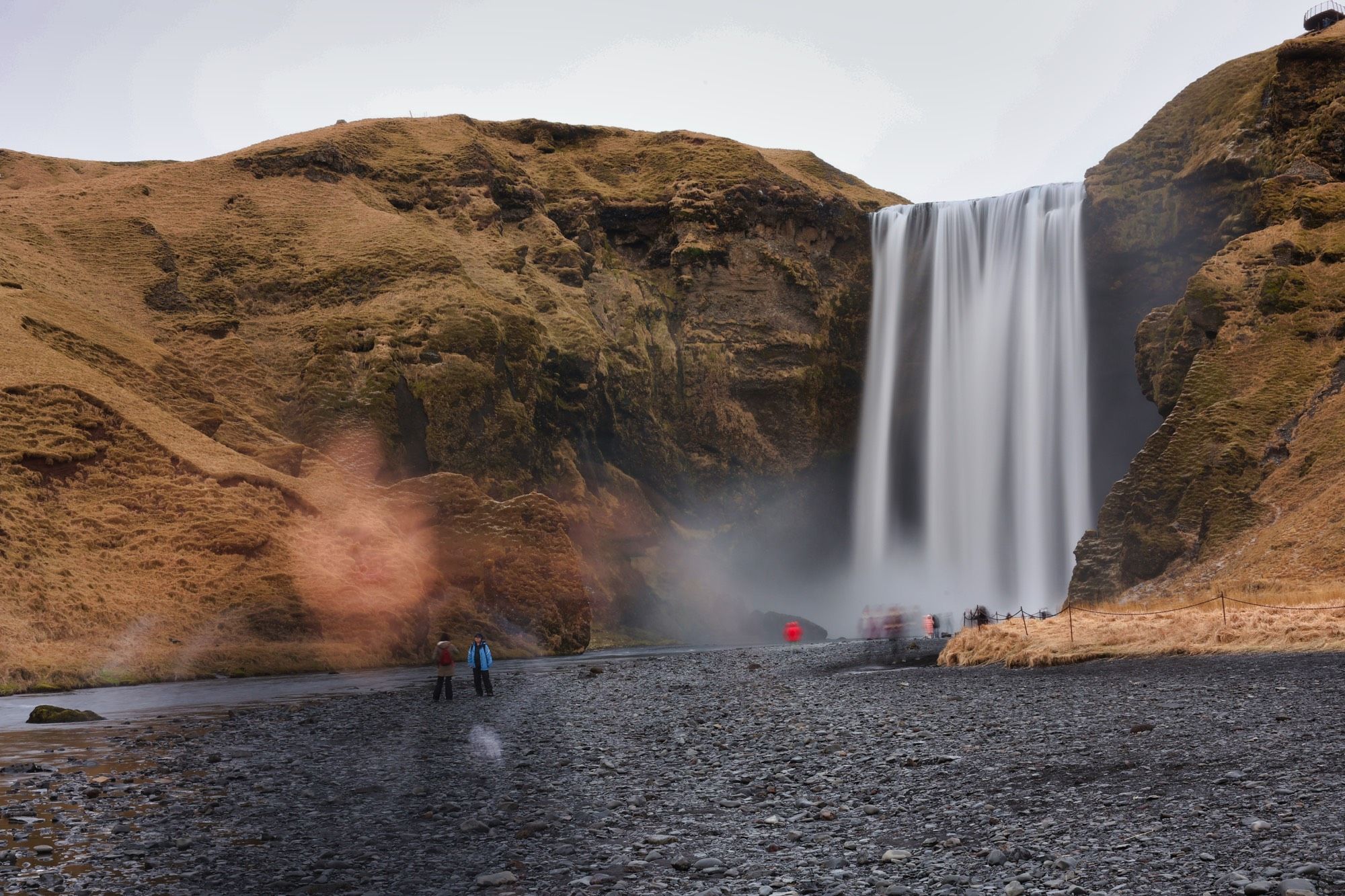 Seljalandsfoss
Seljalandsfoss is a waterfall, situated on the South Coast of Iceland close to the Ring Road, with a drop of 60 metres (200 feet).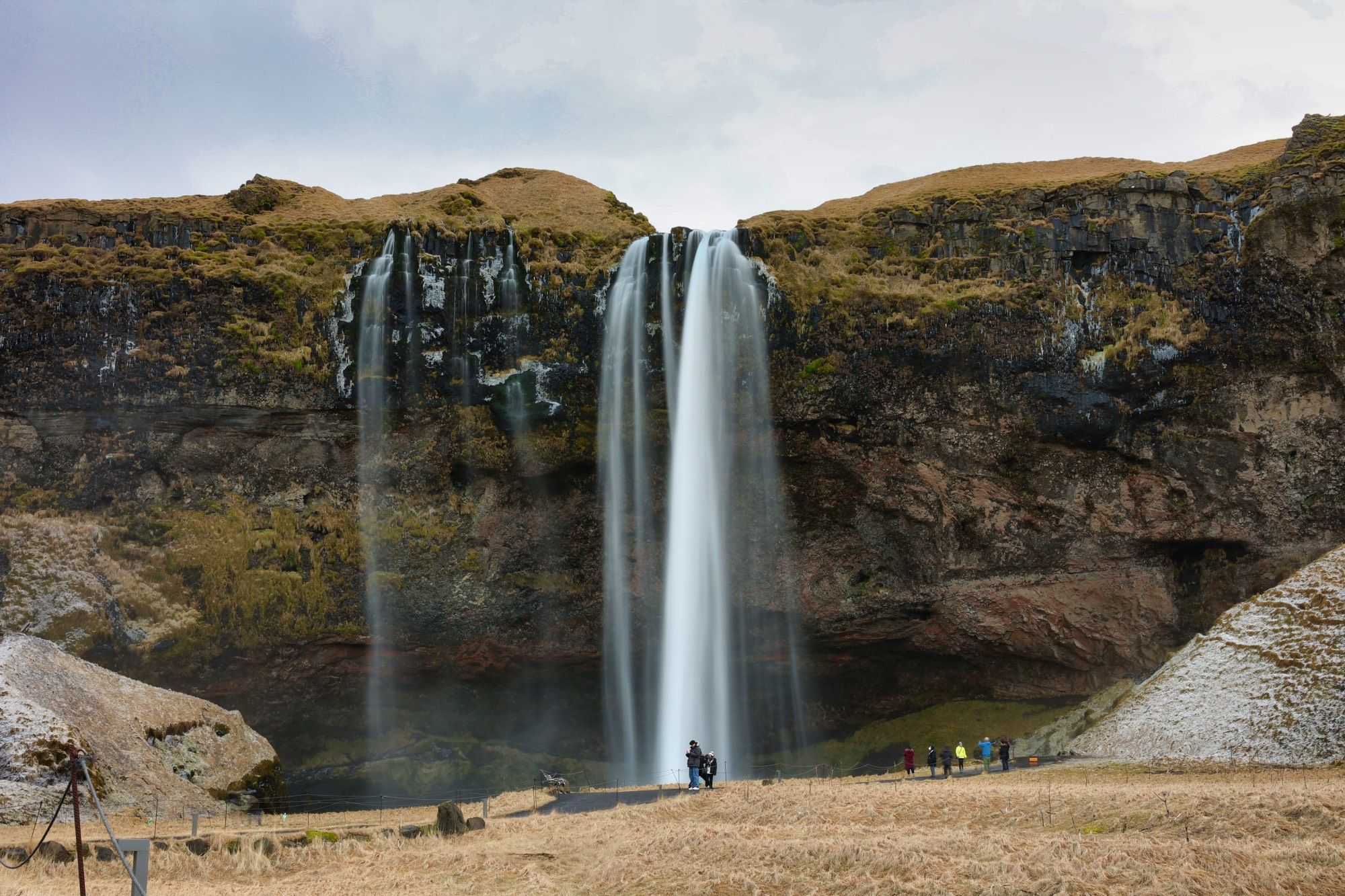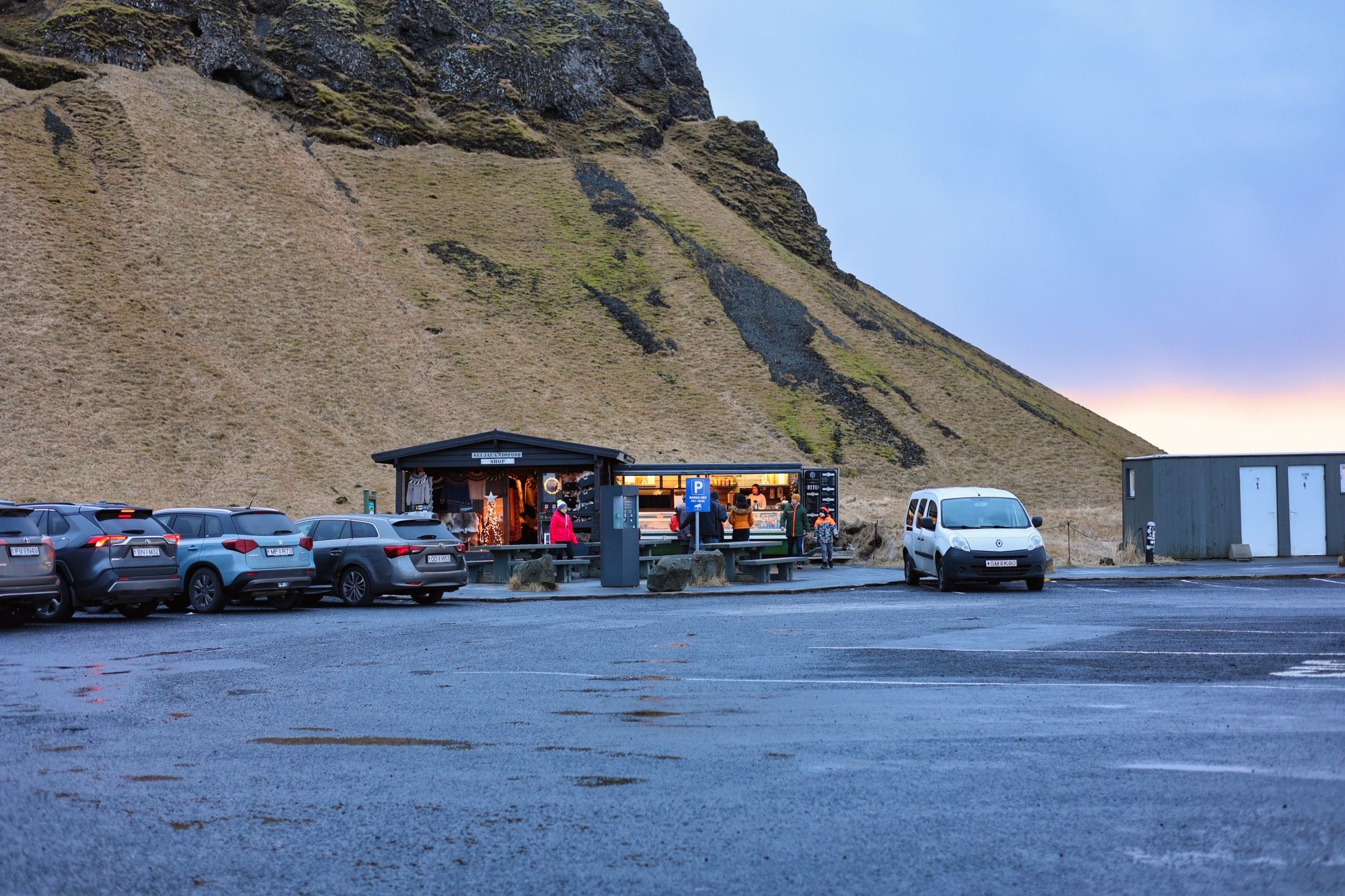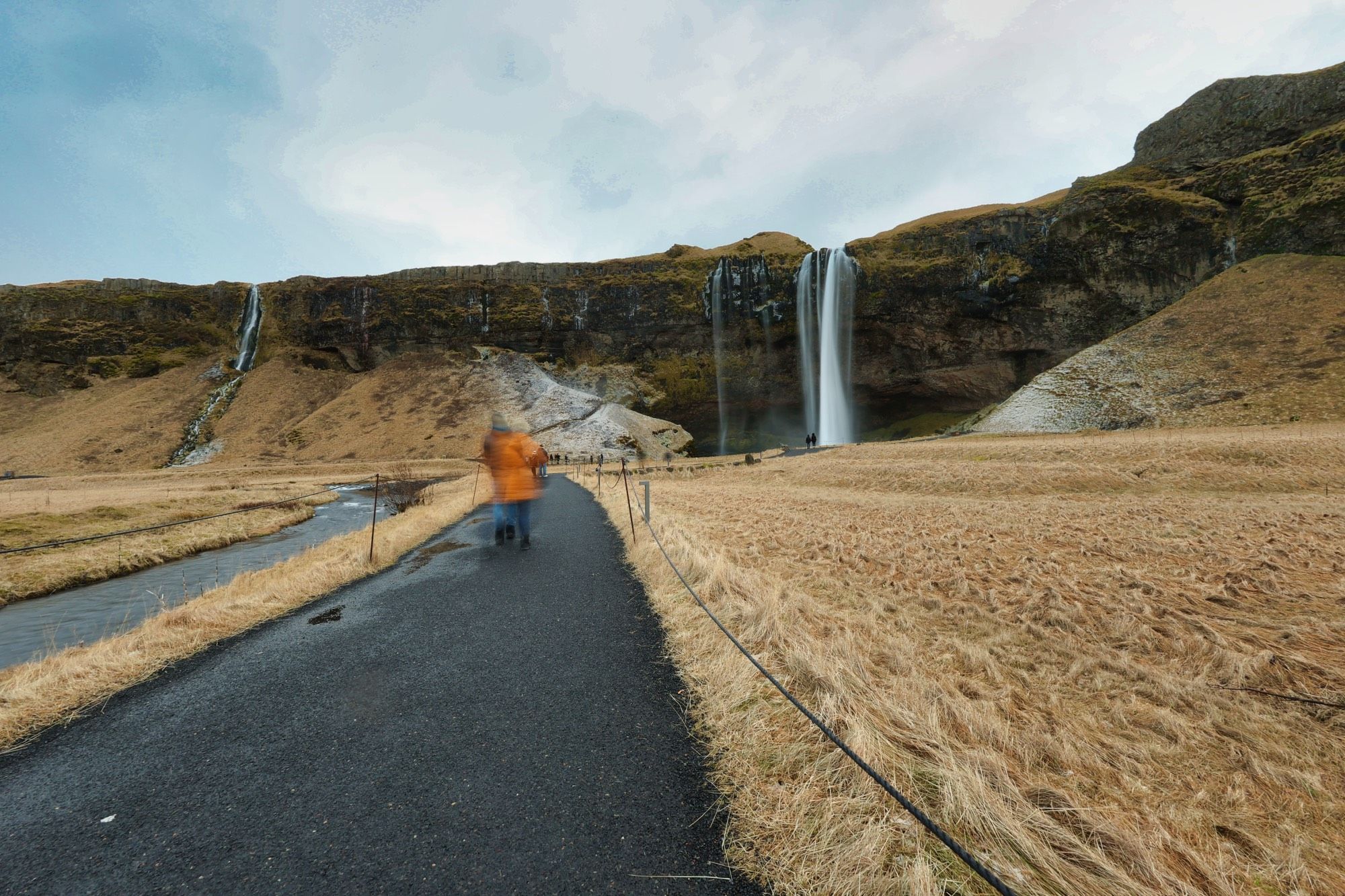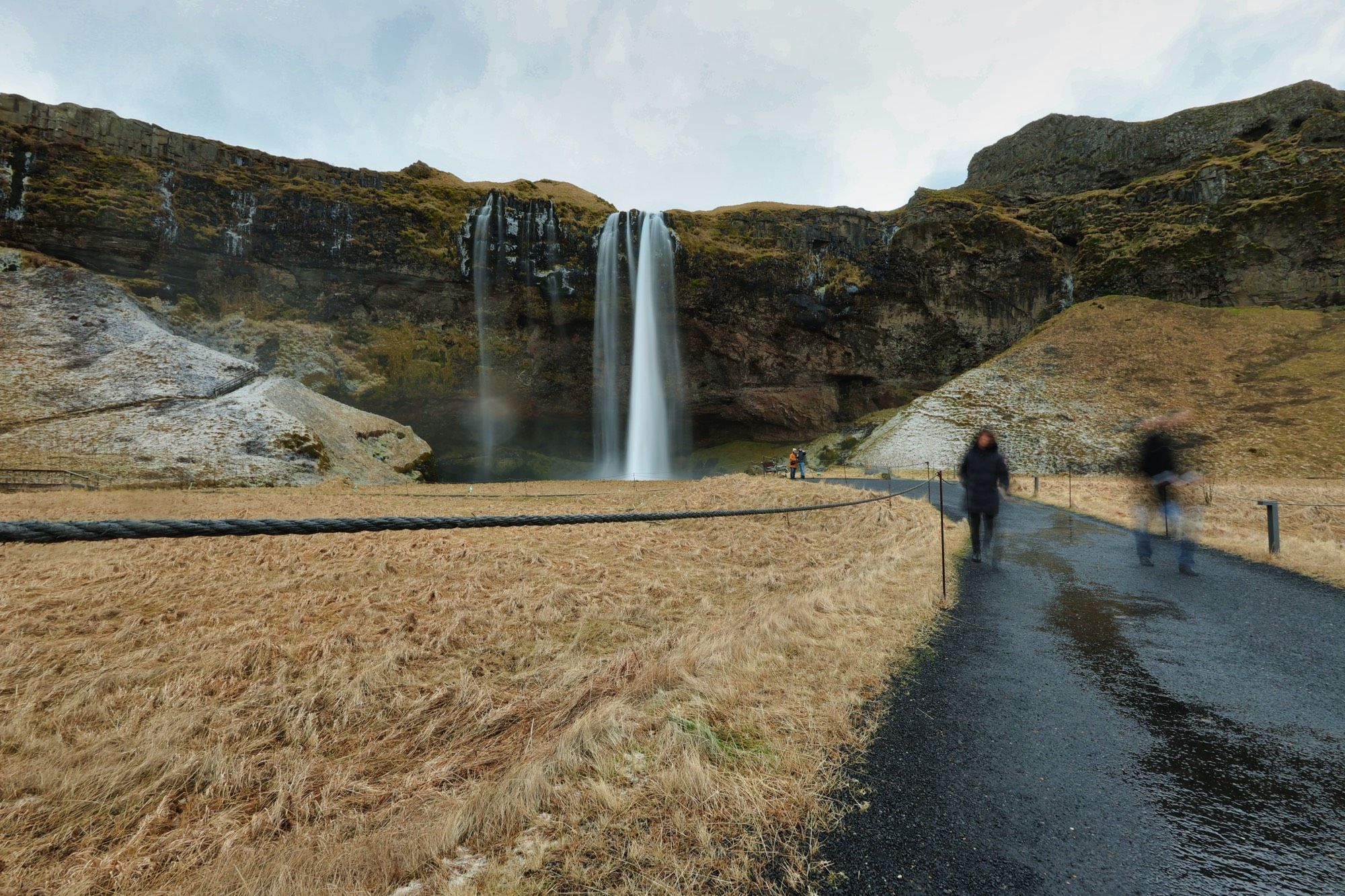 Reynisflara
Reynisfjara is a black-sand beach found on the South Coast of Iceland, just beside the small fishing village of Vík í Mýrdal.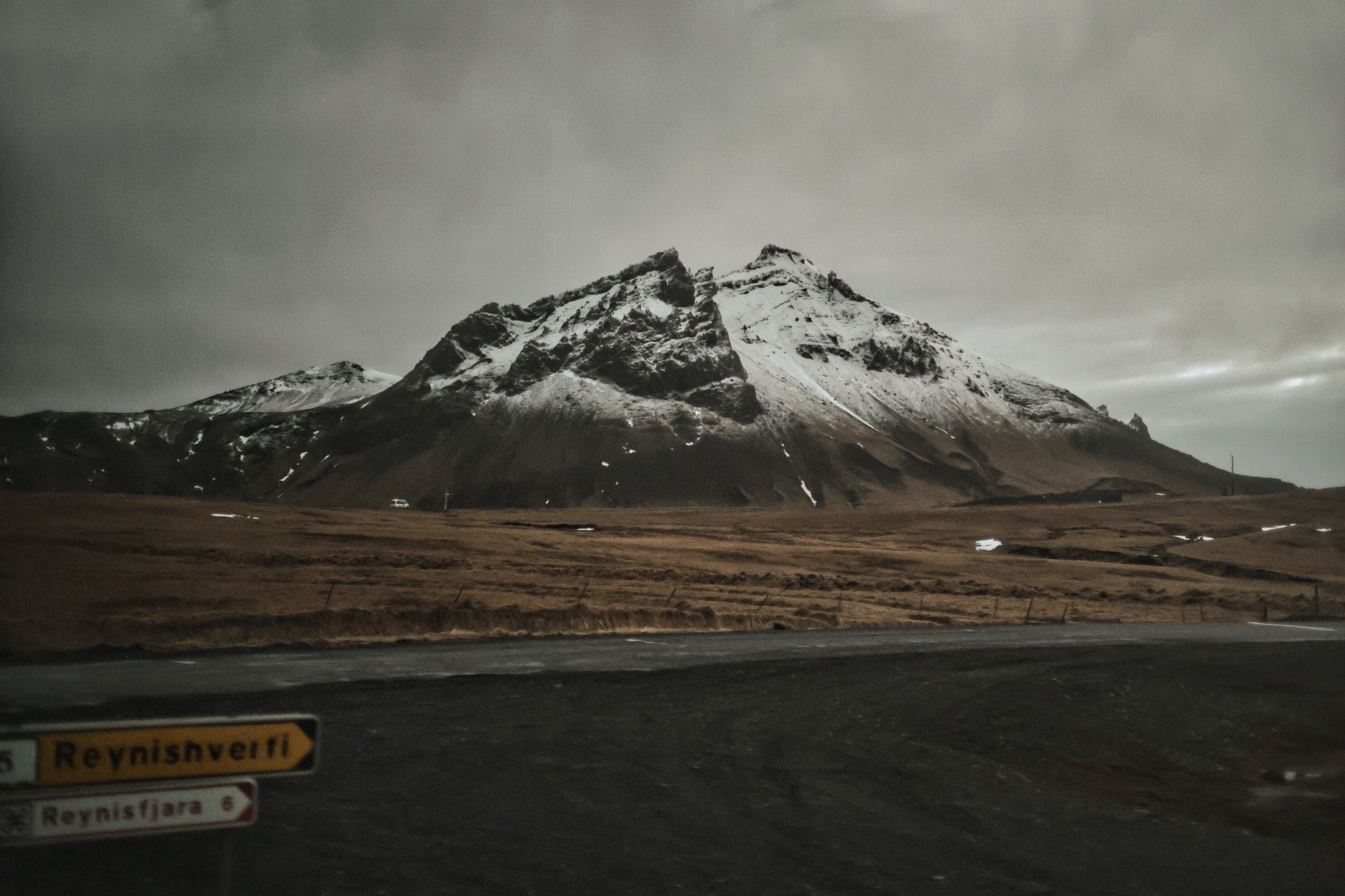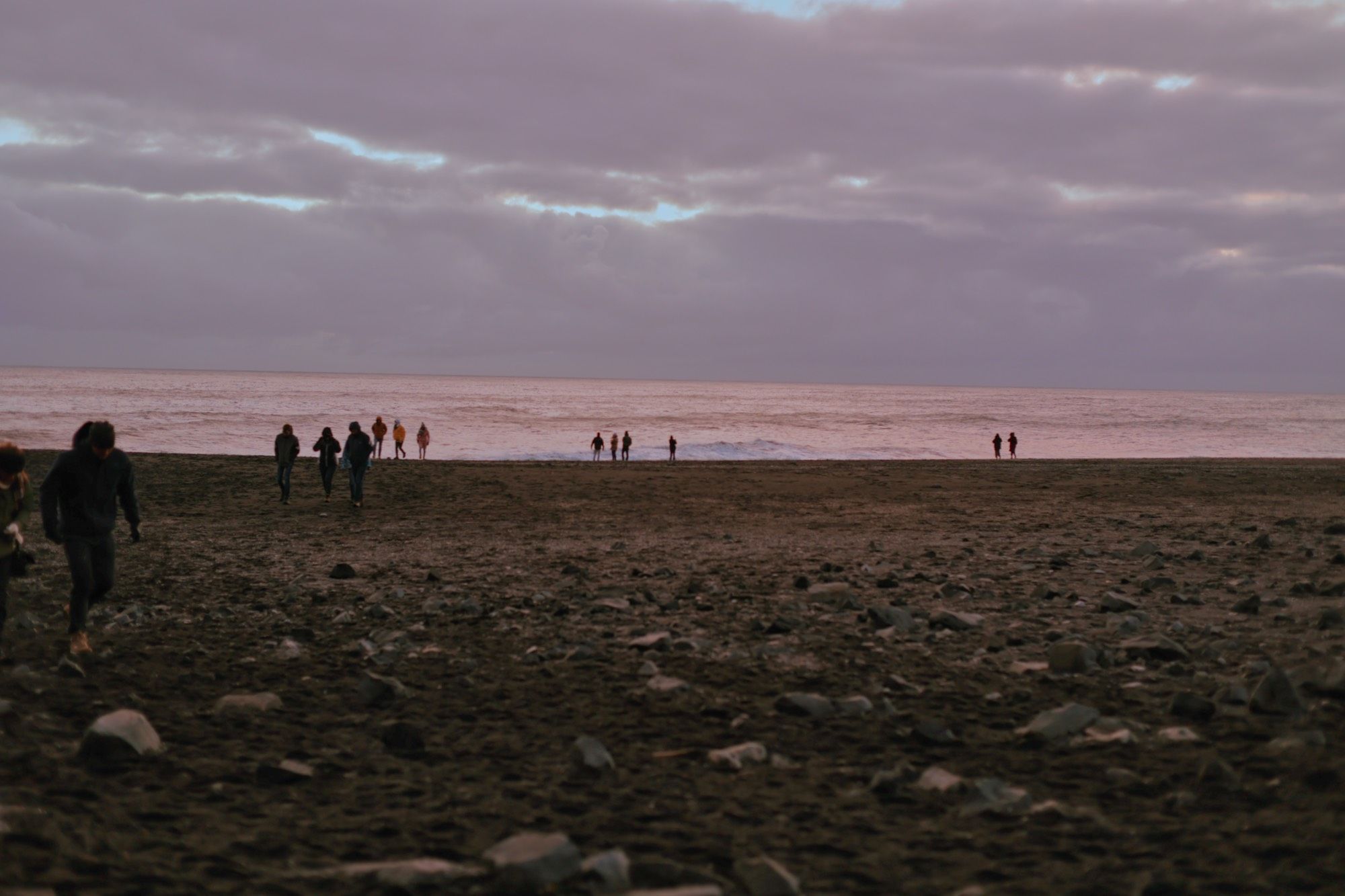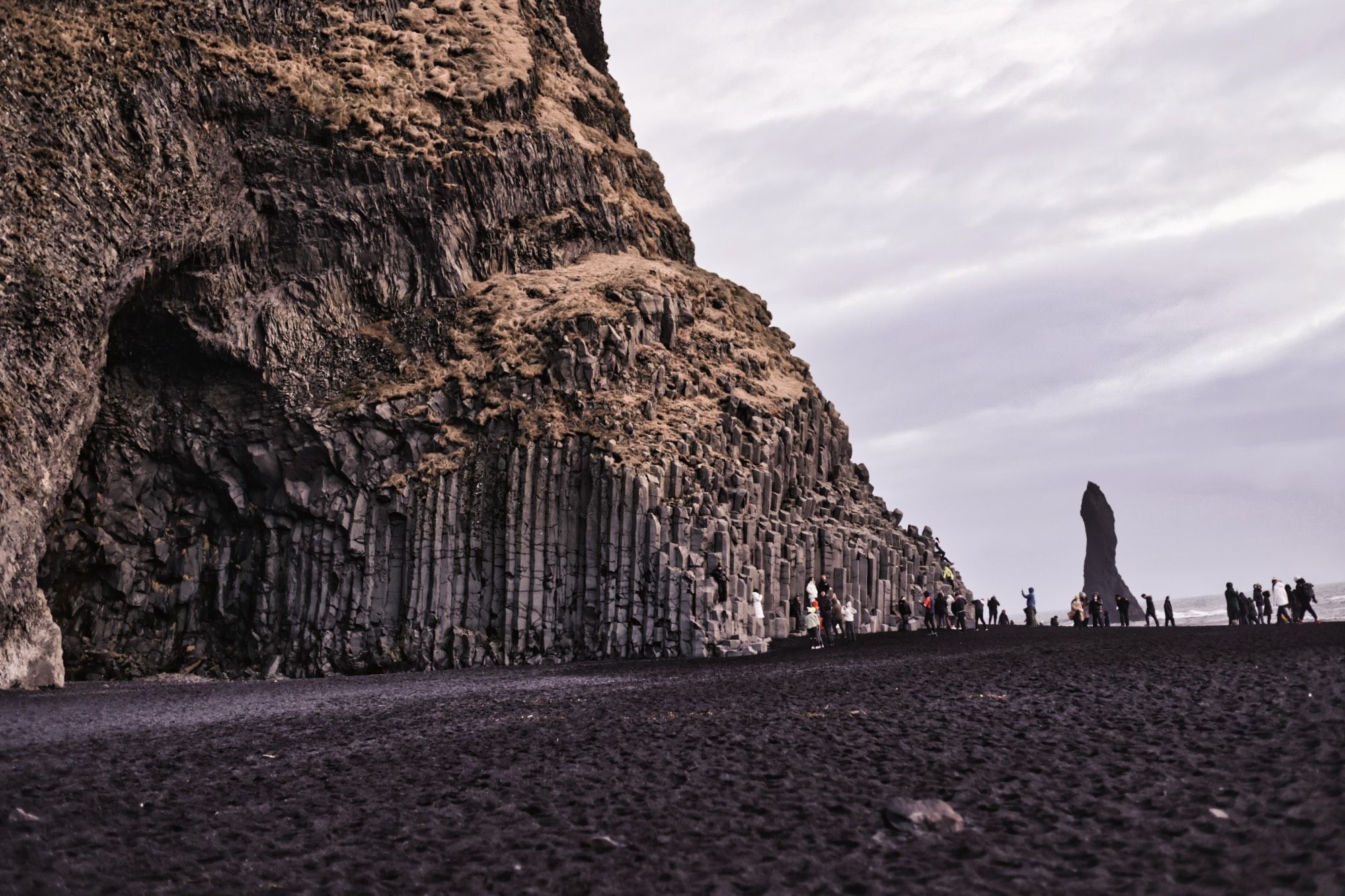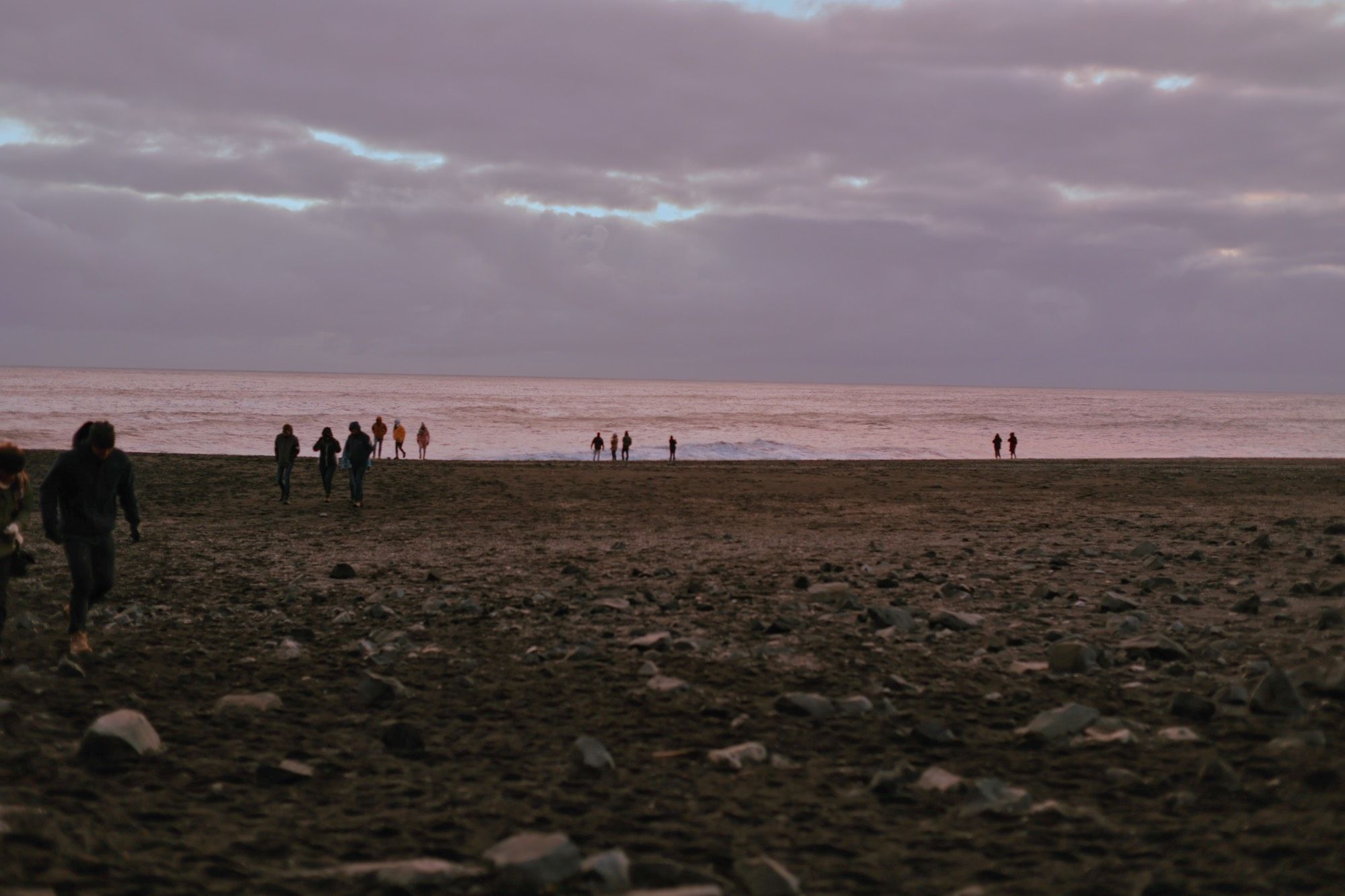 We packed in a lot that day! Our hotel for the night was Adventure Hotel Geirland which was really low budget but did not mind because I was so tired!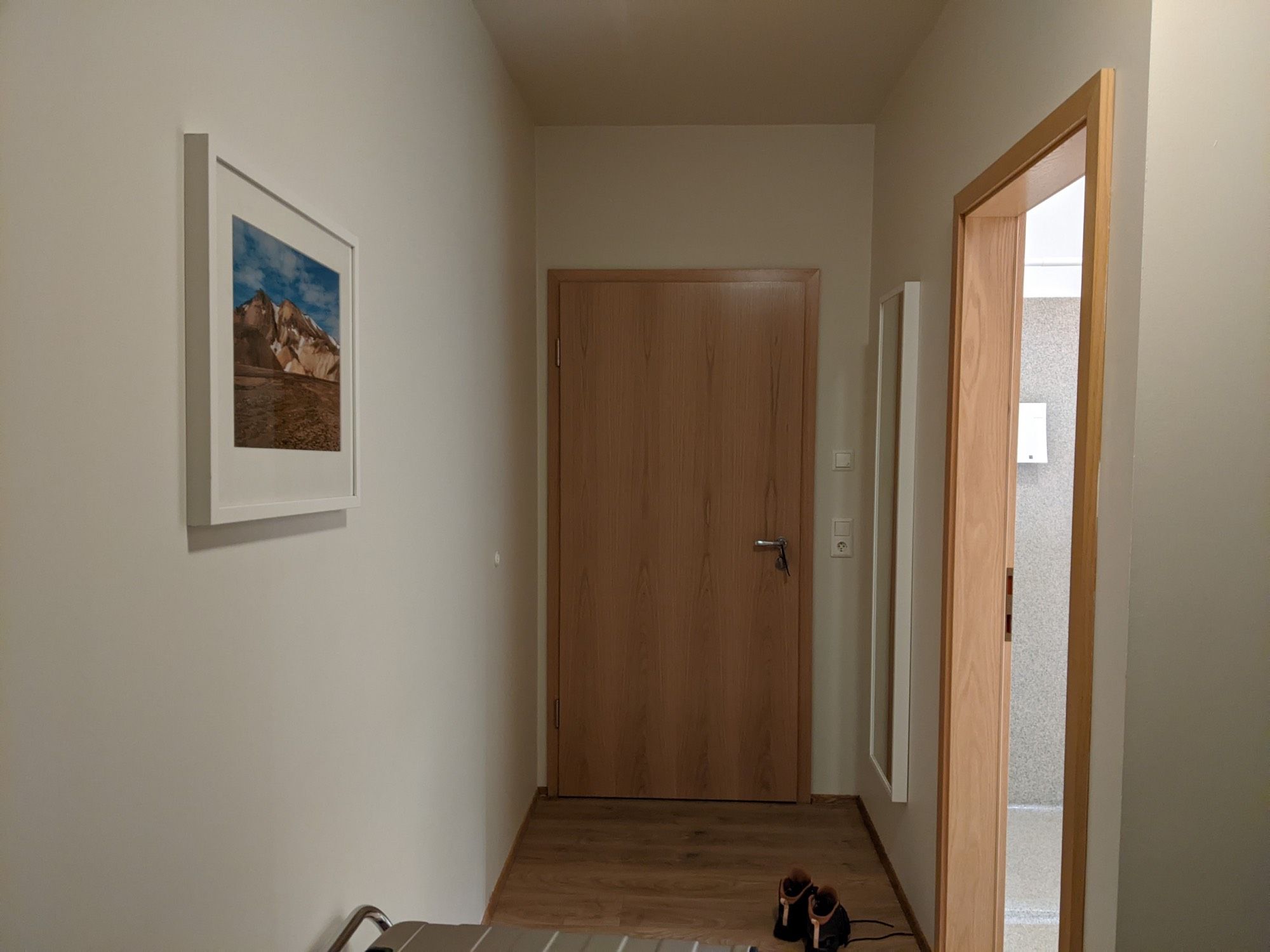 Check out Day 5 / 2nd day of the Ring Road tour!