Cycle Osaka tour review
Best way to see Osaka is through this small cycling tour visiting all the highlights like backstreets of Fukushima, Osaka Castle, and Tsuruhashi (Osaka's Korea Town).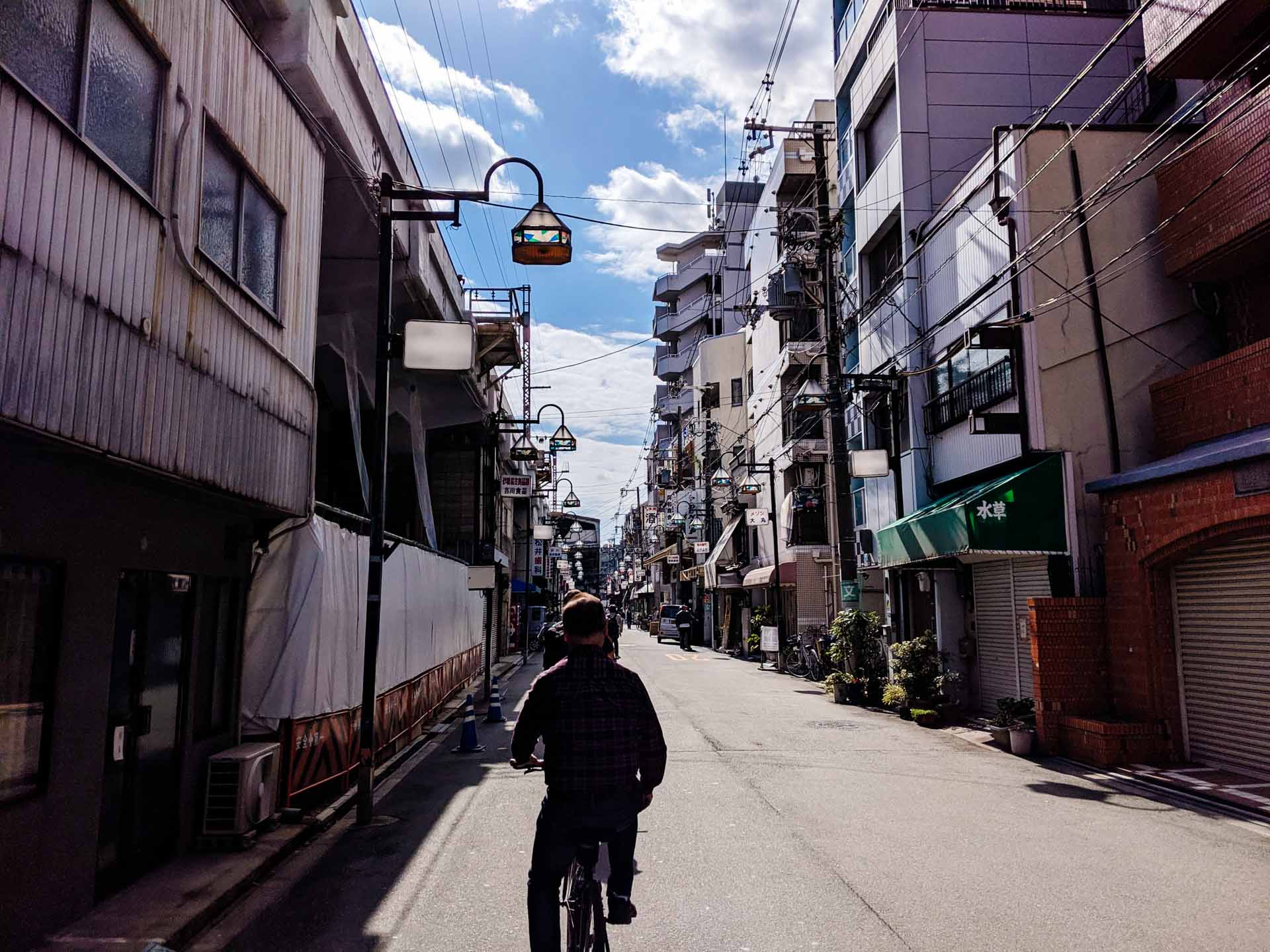 The best way to see any city is by bicycle, and Osaka is no exception to that. In November, when we went, there were sunny blue skies and a light breeze, perfect for cycling through a city. It got as warm as 18˚C/64˚F and as cool as 10˚C/50˚F in the shade and at night.
As someone who knows how to ride a bicycle but hadn't ridden one in years, I found the pace totally manageable. Though, the day after, your thighs might be sore if you don't work out the legs in that fashion on a regular basis.
With the full day bicycle tour hosted by Cycle Osaka, you'll meet up at the headquarters located in the Fukushima neighbourhood at 10:00 am, after the morning rush hour. You'll get fitted for a bicycle, get an introduction from your guide, and meet your cycle mates.
Your guide will take you along backstreets and sometimes cross major intersections. Our guide, Yuki, never left anyone behind. If you couldn't make a crossing light, he'd wait. The pace was just right – not too slow, and not too fast.
He also pointed out some great restaurants to try later on, such as this gyoza (dumplings) restaurant. It is tucked away in this alley and you could nearly miss it!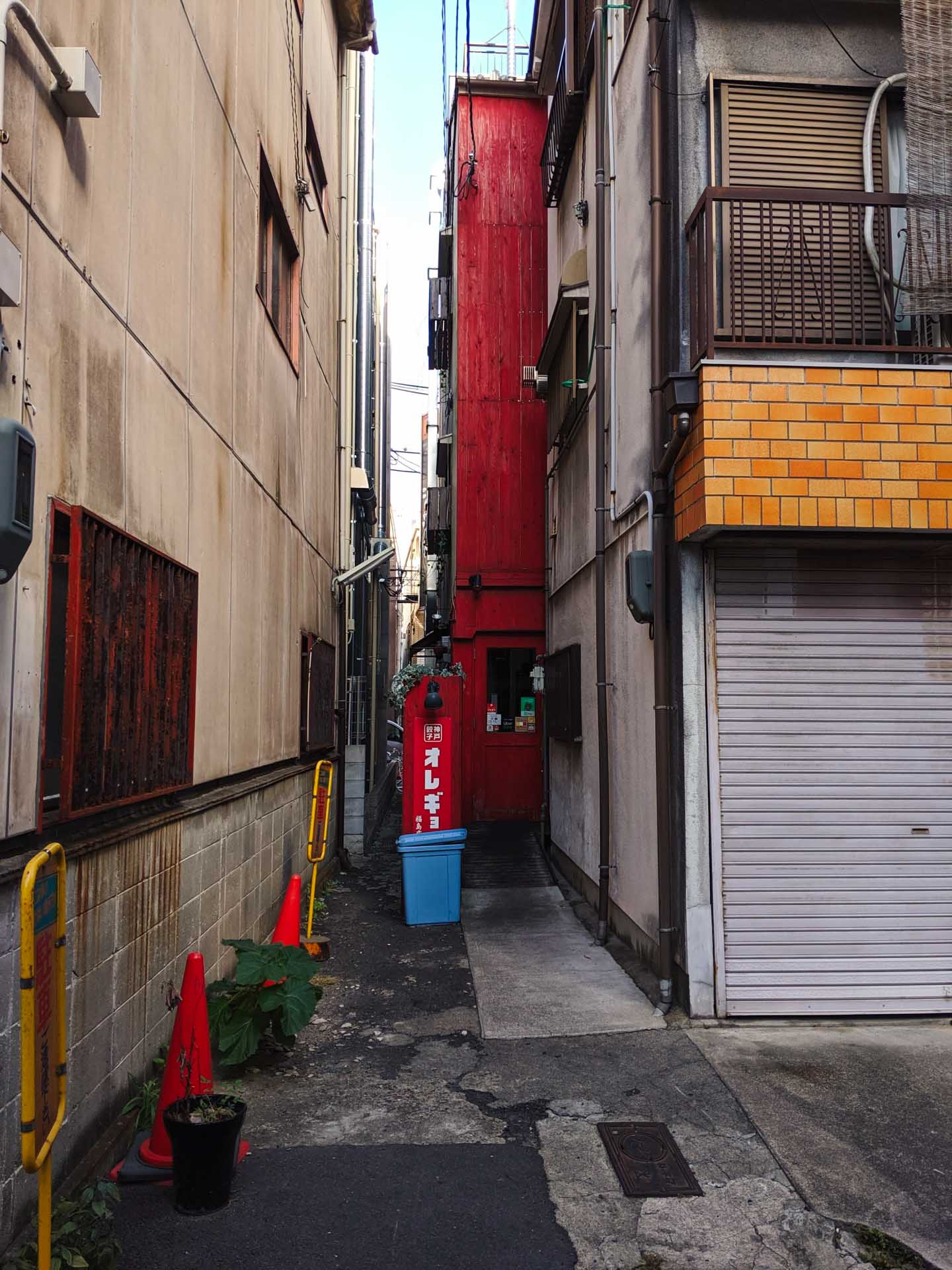 And yes, we went back later for those gyoza dumplings and they were to die for. They had English menus too.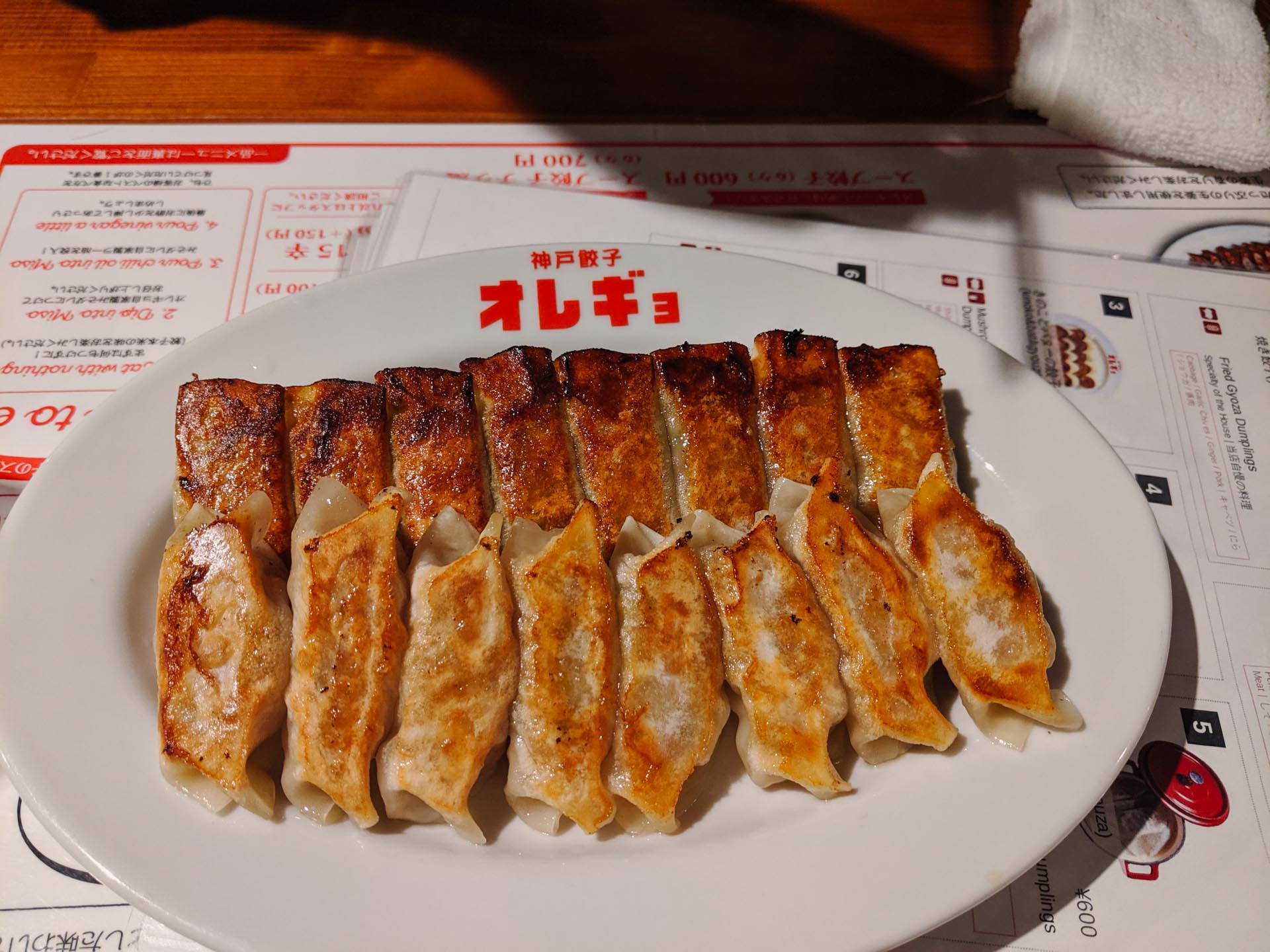 At some stops, Yuki would give us 15-20 minutes to explore the area on our own. At other stops, he'd give us a brief historical overview of the area and show us pictures of the neighbourhood from 50 years prior. If you are interested in learning about the architecture of the places you visit, this tour offers that.
Here's a shot taken from Nakanoshima Island, one of the first stops on the tour. Take note of the modern tall buildings surrounding a shorter, old tea café: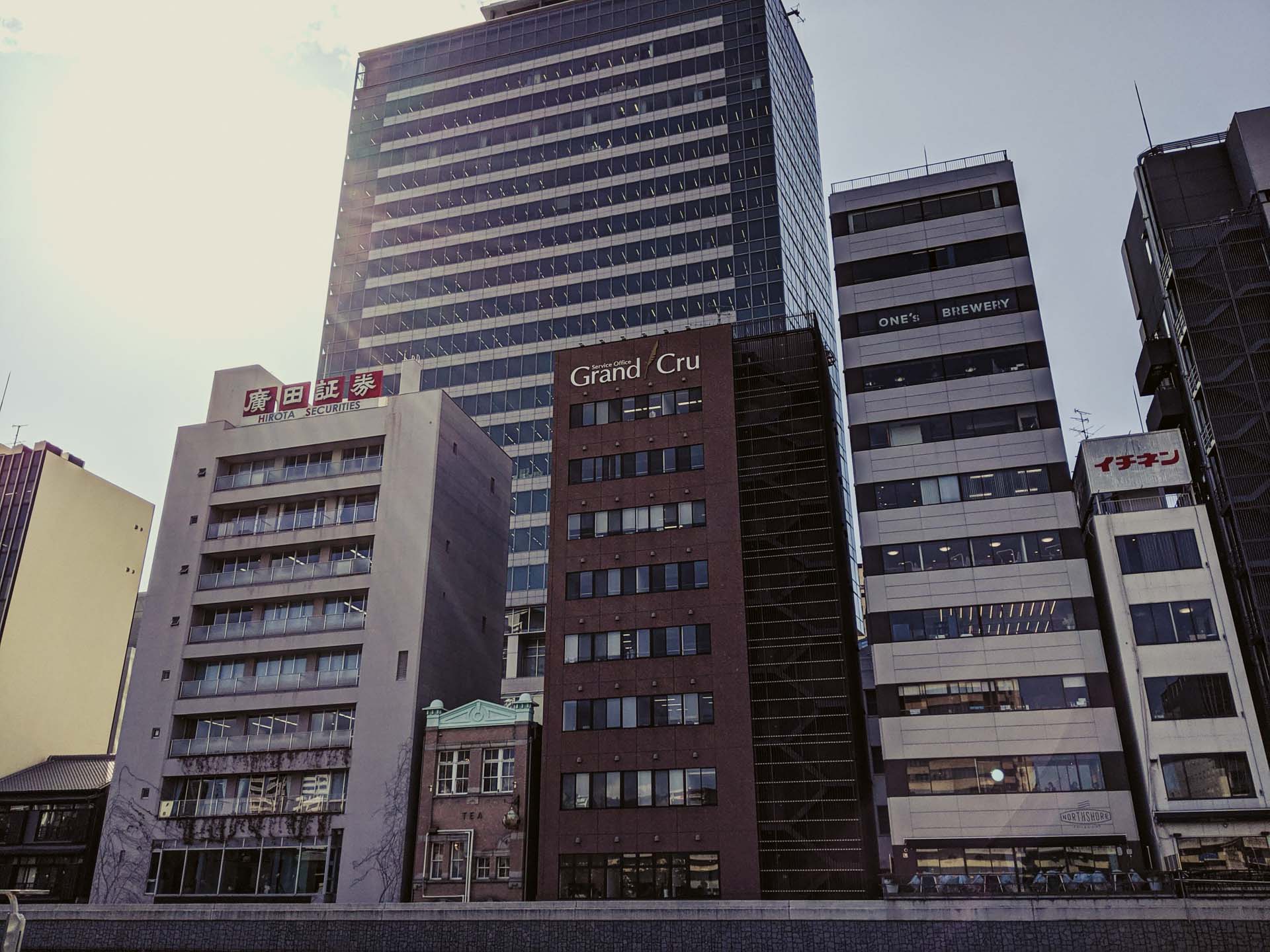 According to our tour guide, the café building is a registered tangible cultural property of Japan built in 1912. It is an actively operating café called Kitahama Retro. Before World War II, all buildings around it were around the same height.
We continued riding along spacious paths surrounded by beautiful trees such as this along the O River: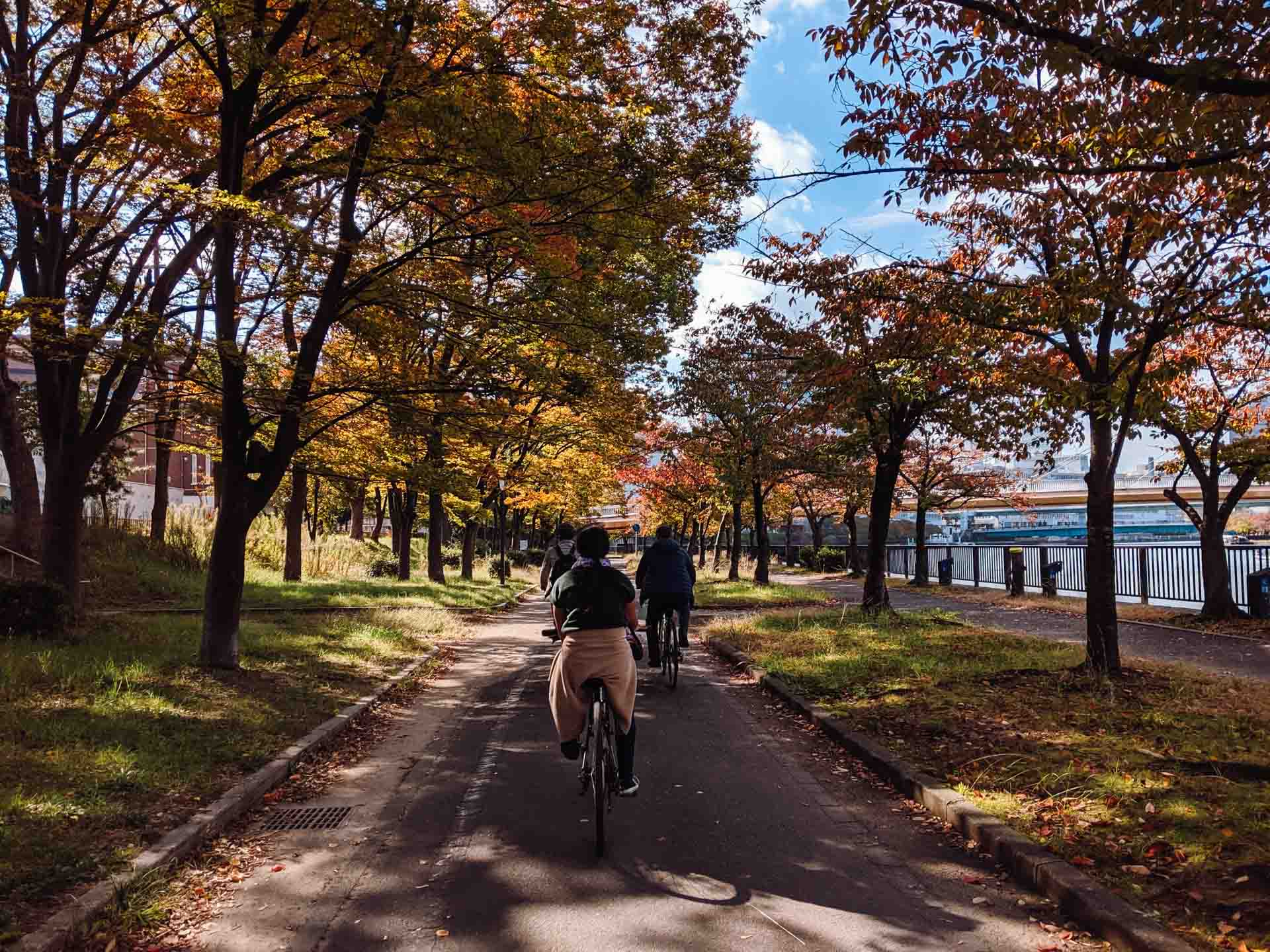 When we visited Osaka Castle, Yuki brought us to the most picturesque photography spot that was populated by few tourists. We even found an herron walking around in the foreground – it was picture perfect!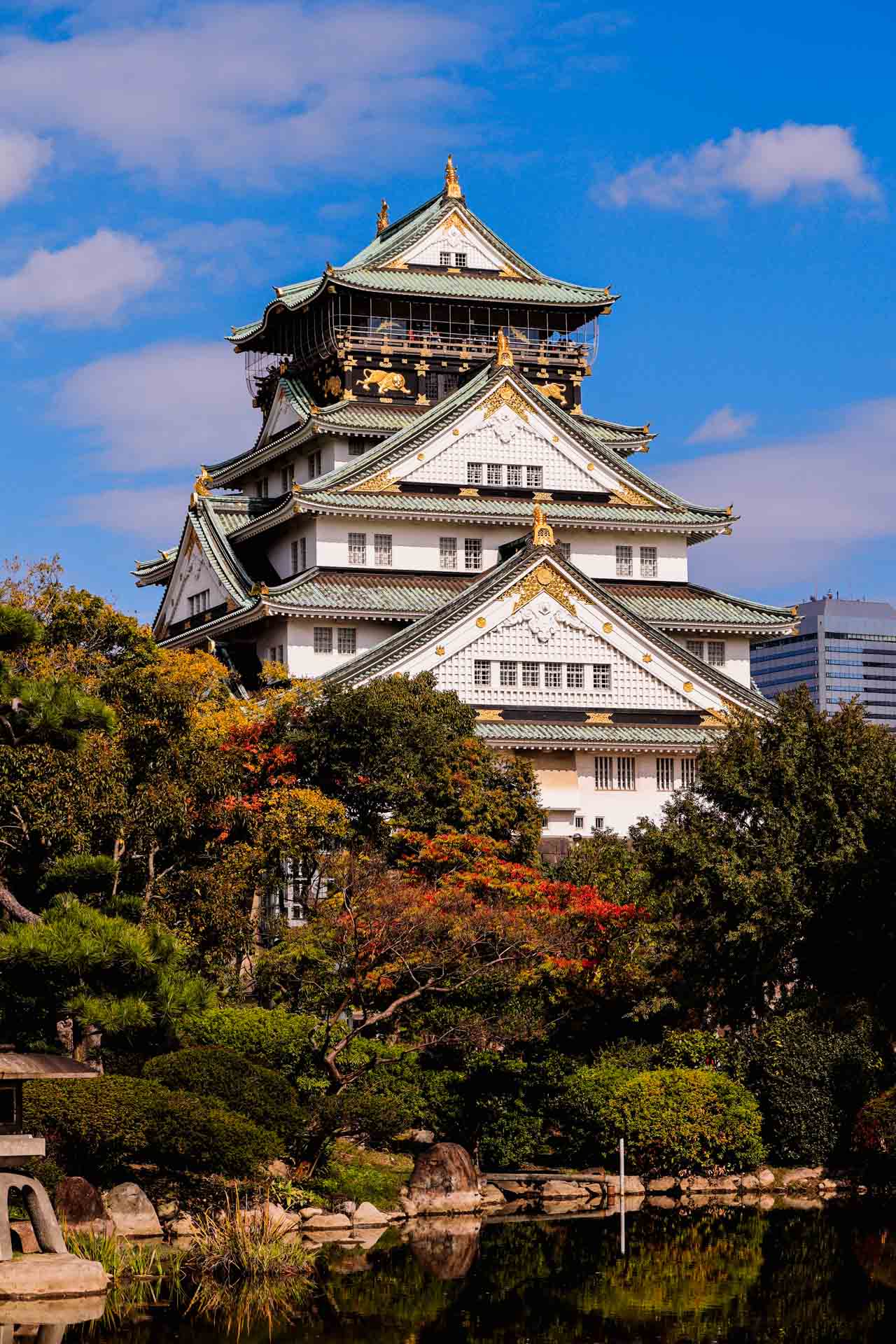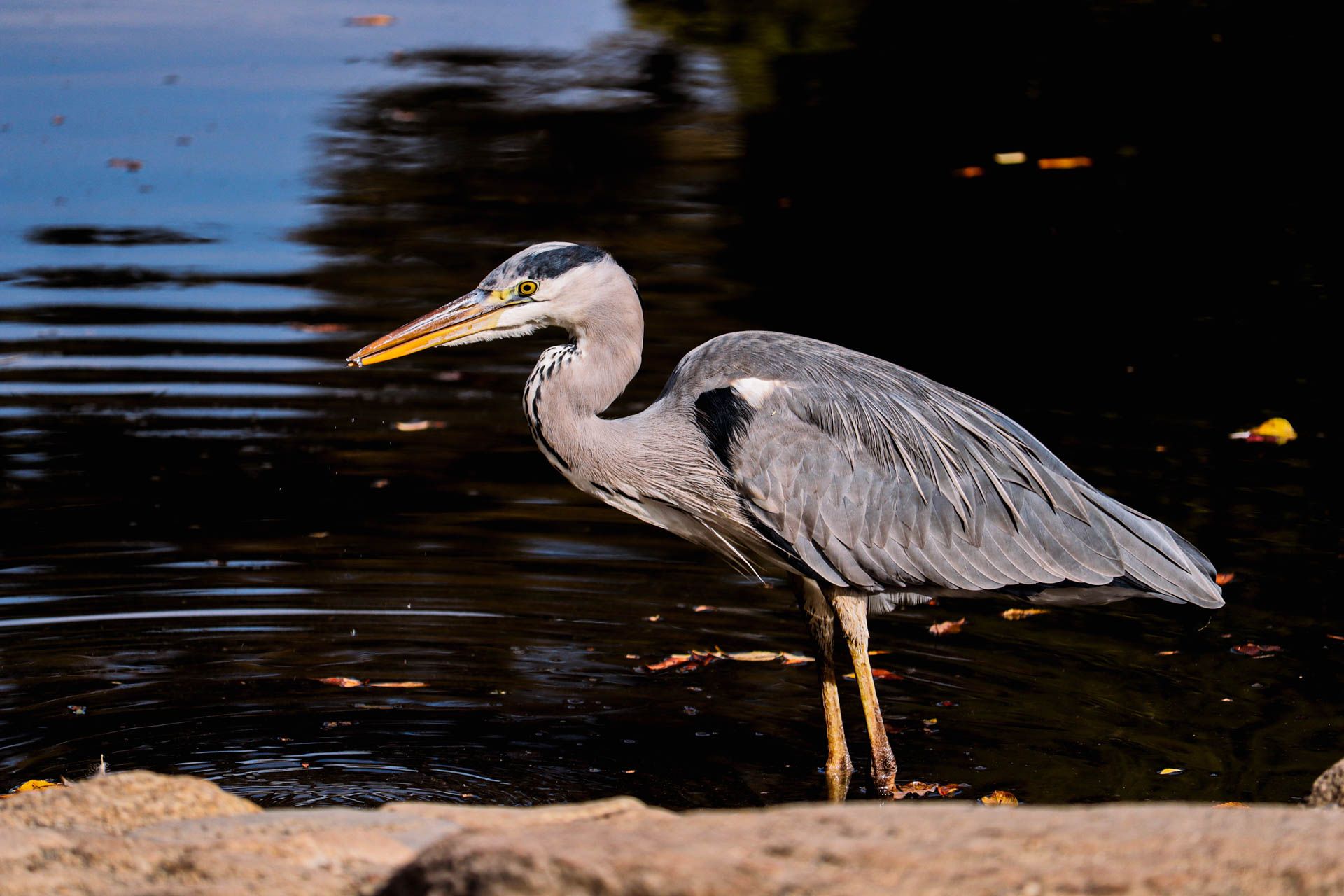 We stopped for a Korean pancake snack at Tsuruhashi, one of the largest Korean neighbourhoods in Japan. There were so many open air food stalls, I wish I had several stomachs to eat everything.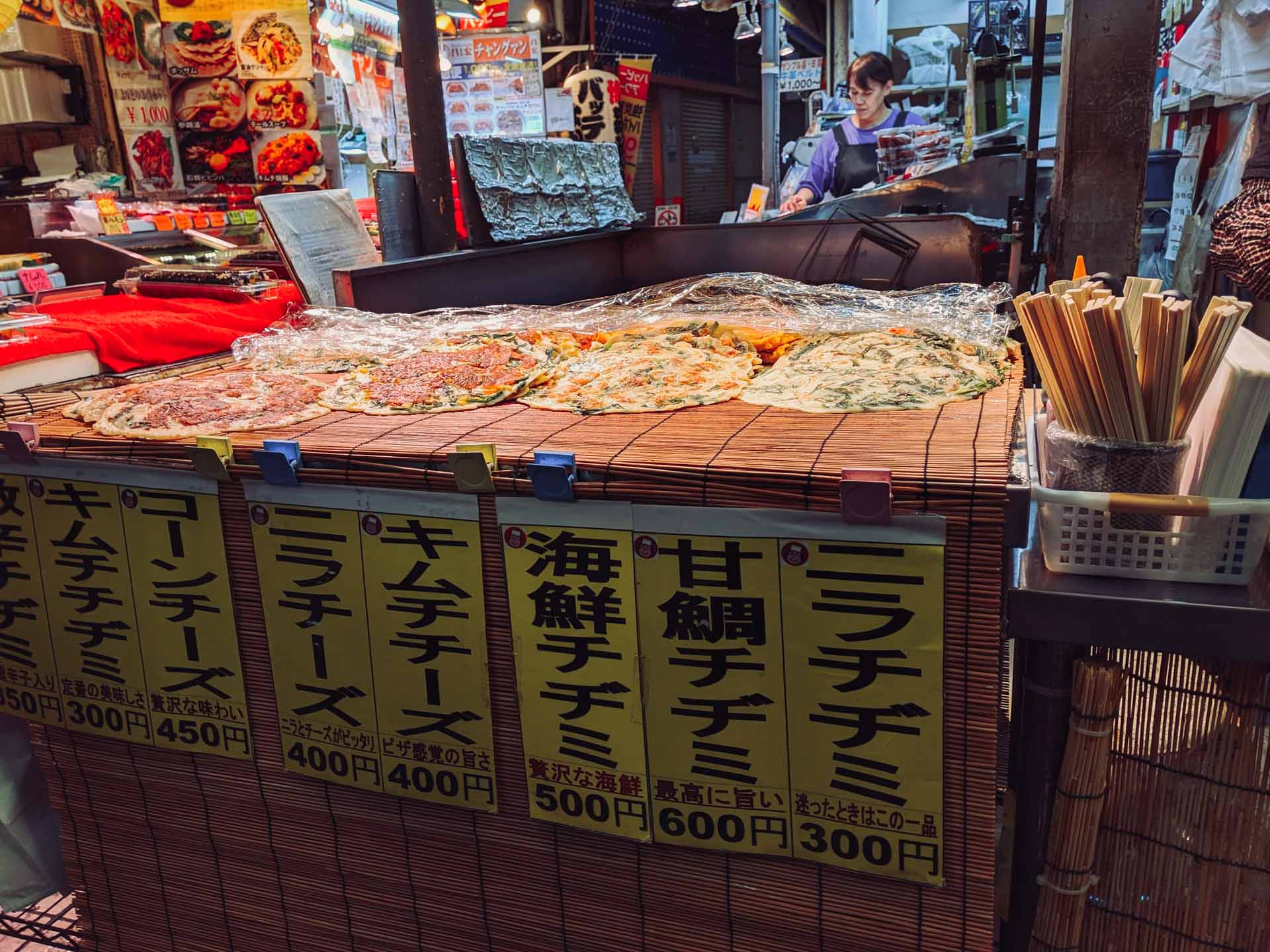 Then we had lunch at Yamatoya Honten, a local joint that serves up kushikatsu (deep-fried breaded skewers) near Shinsekai. The place is a blast from the past. They played mid-90's Japanese synth rock and the menu is plastered all over the restaurant: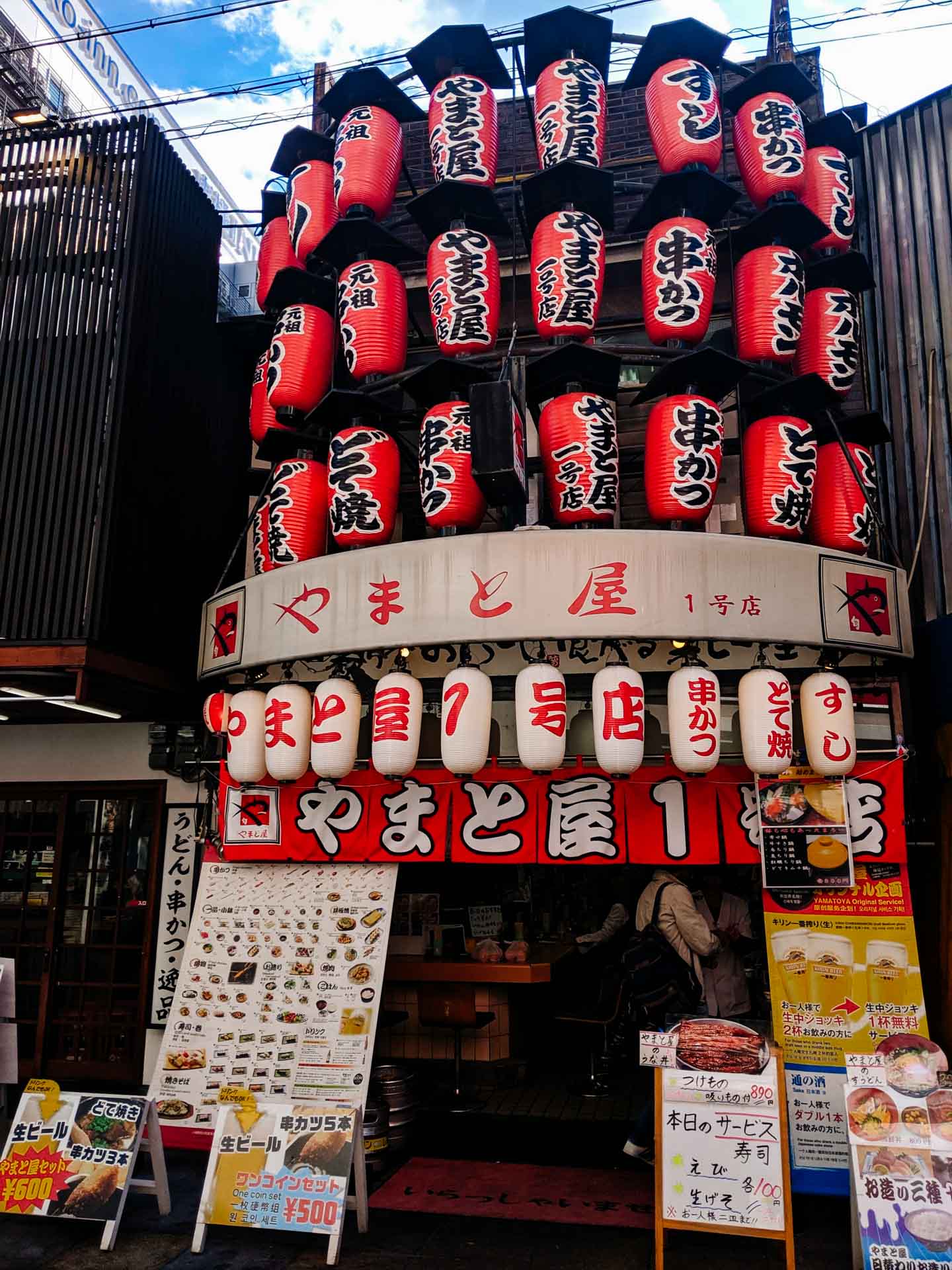 My favourite stop was Shinsekai (literal translation is "New World"). We saw the Tsutenkaku Tower, which was built in 1912! For some reason, I was so drawn to the design of this tower. It's sharp and the early 20th century's idea of "futuristic".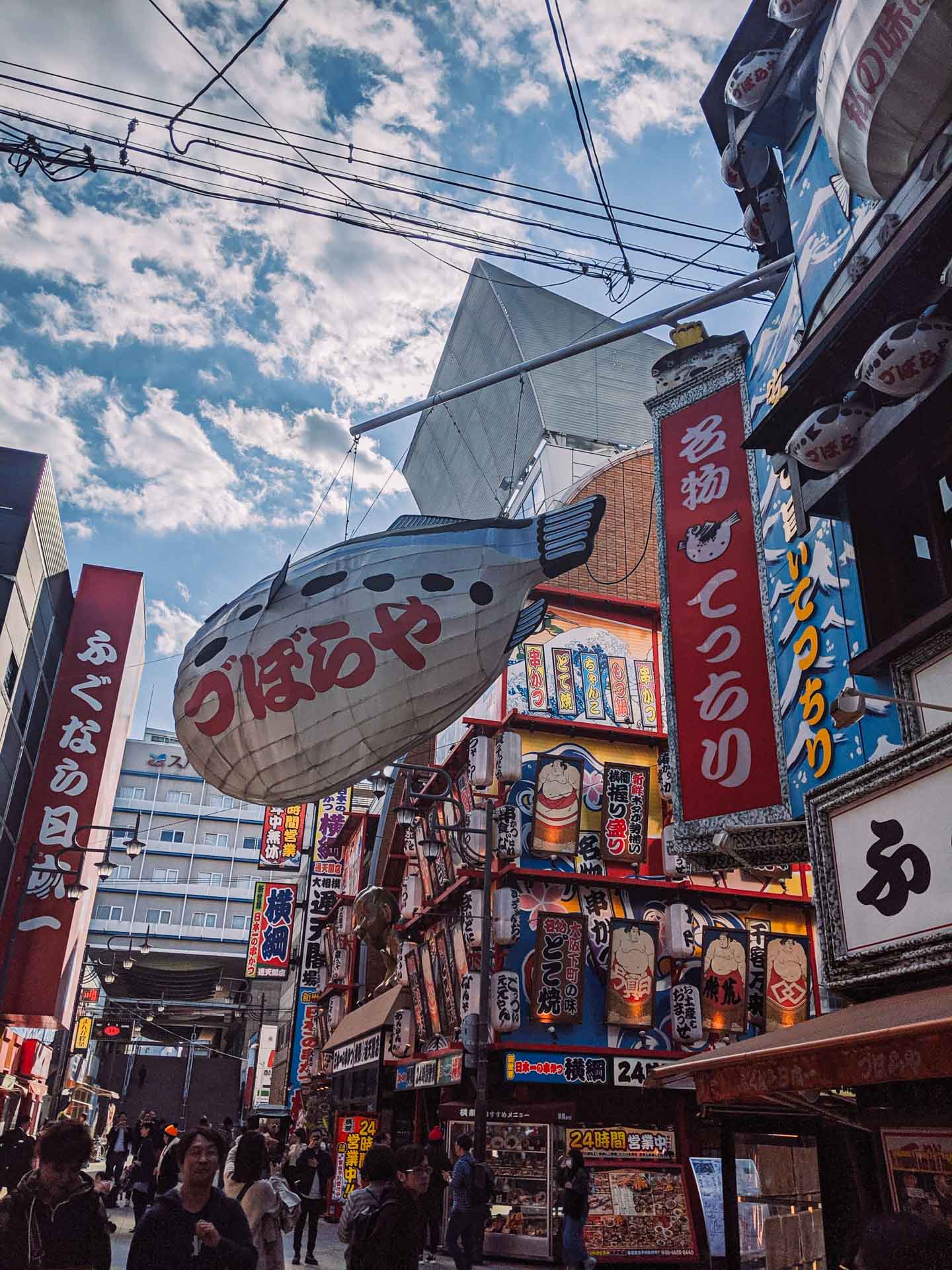 Lots of neon lights that I have to go back at night to take a picture of: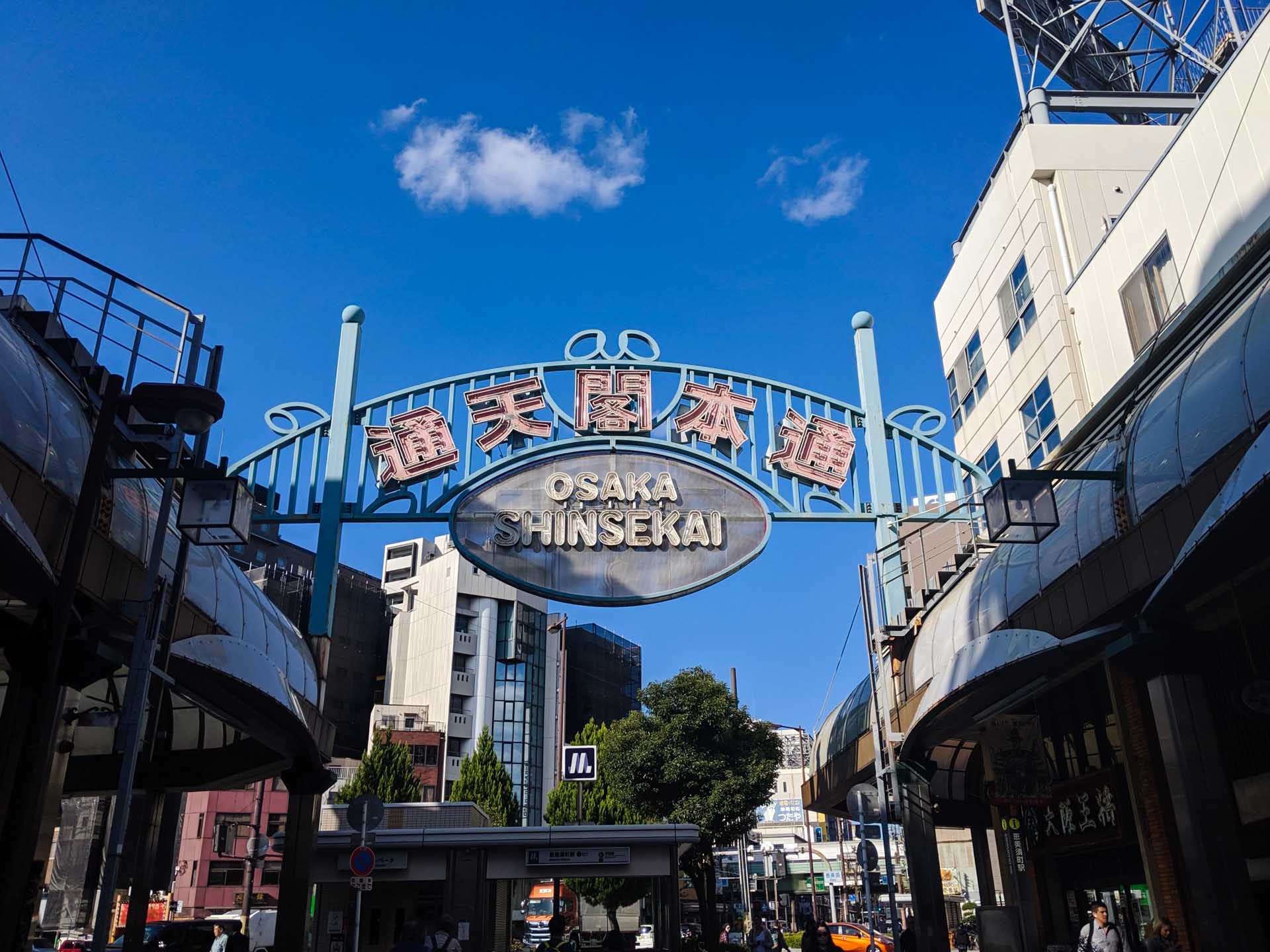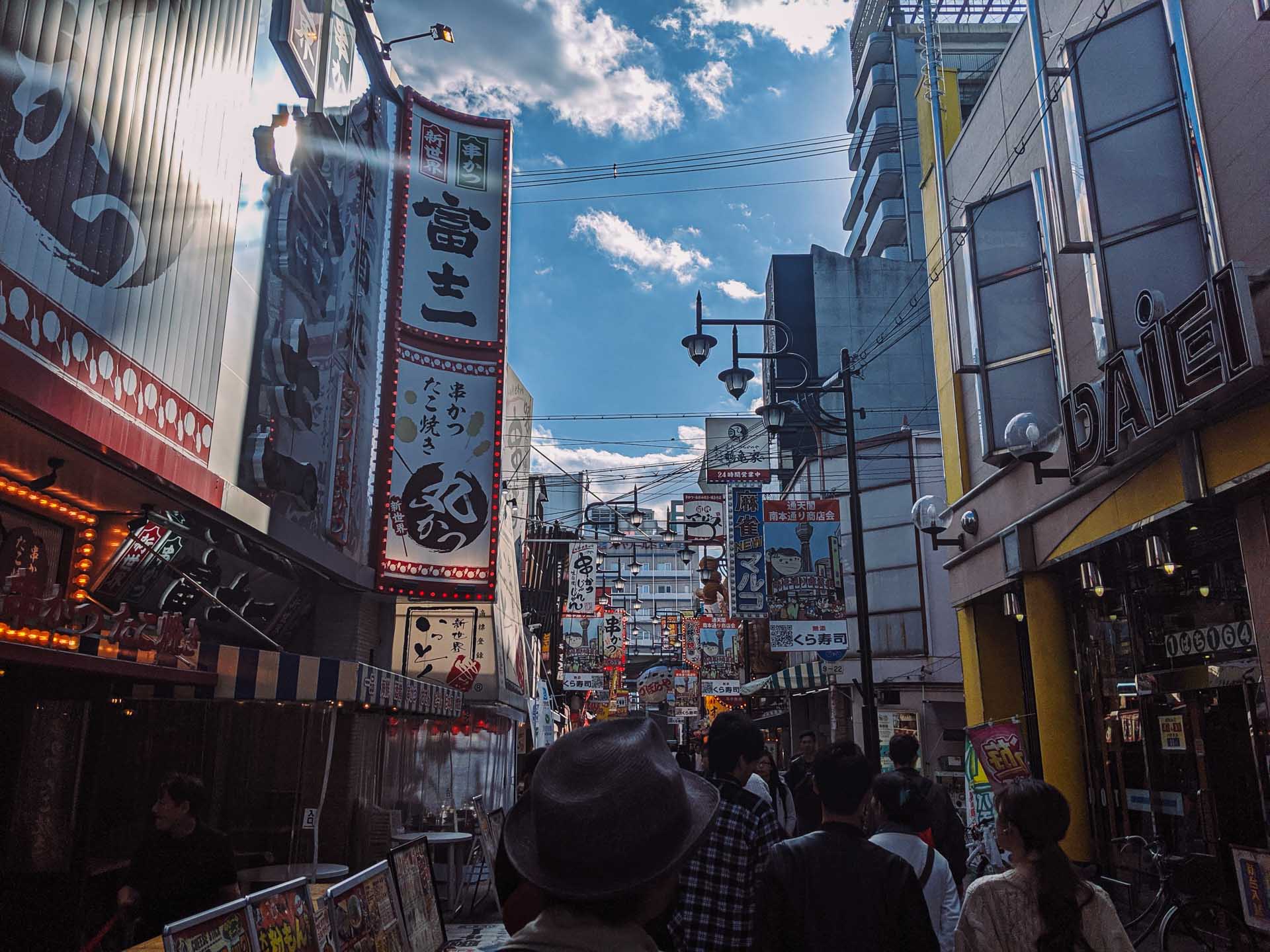 Temples and shrines galore
If you are a temple and shrine enthusiast, there is no shortage of that on this tour: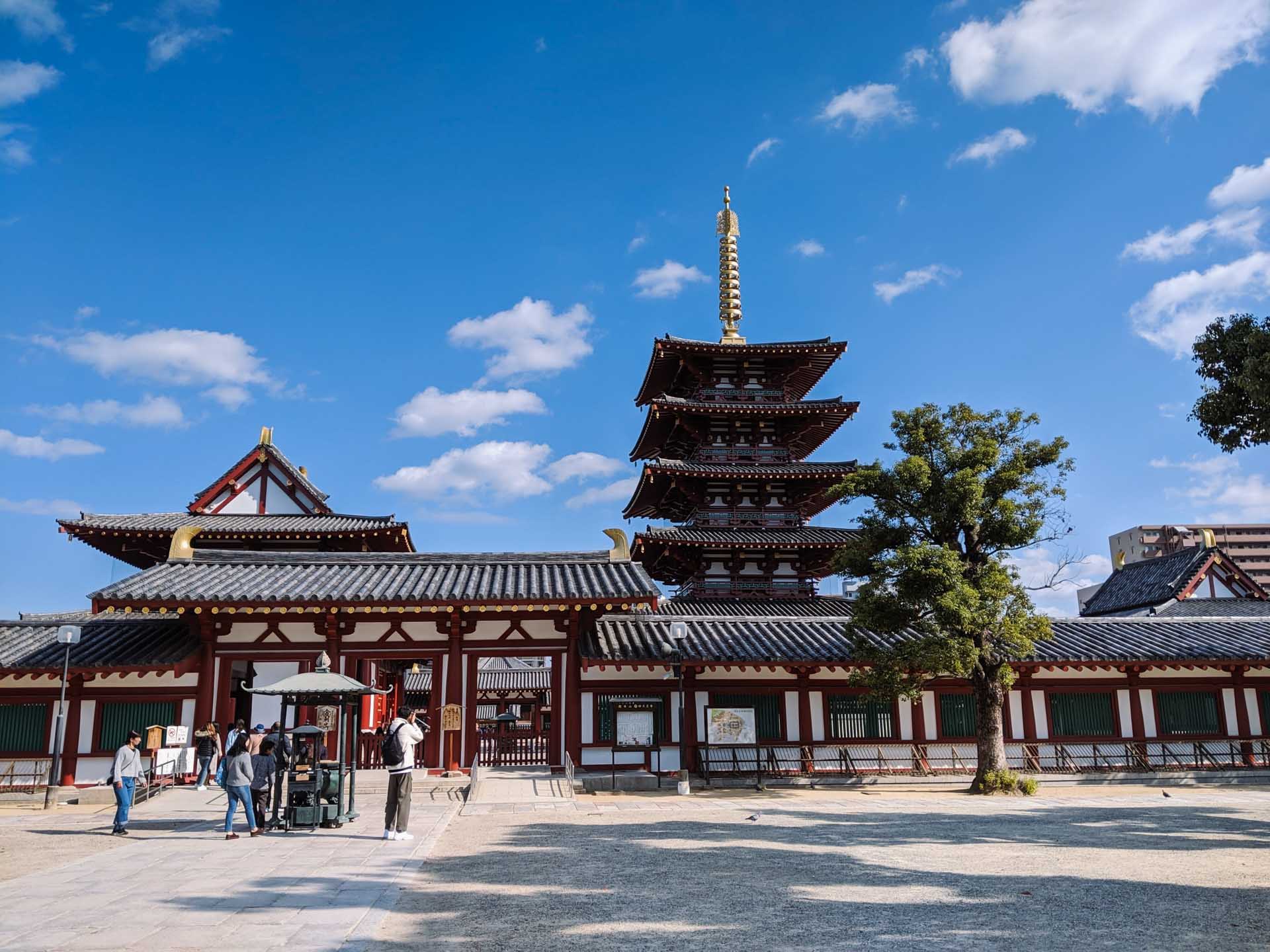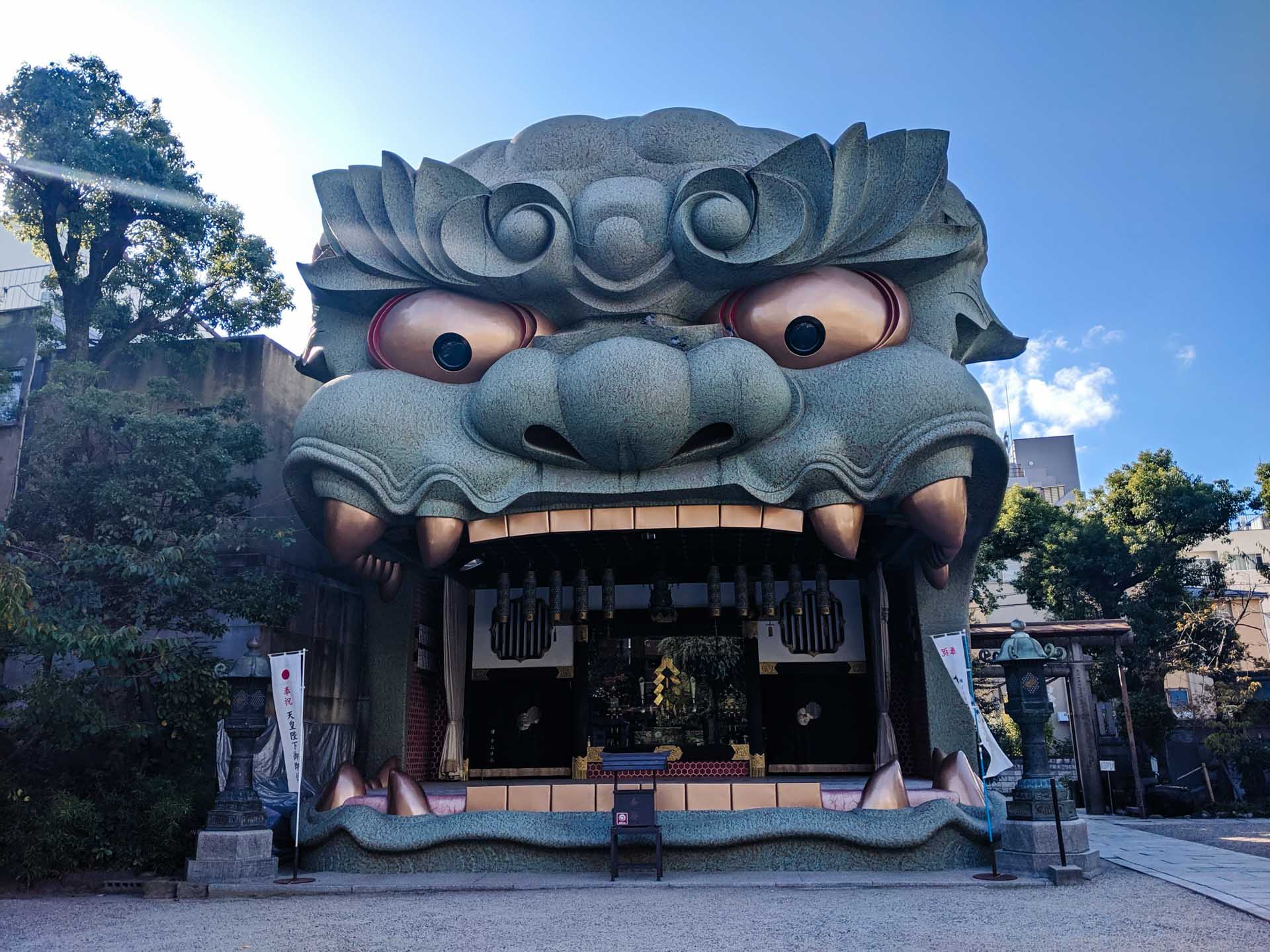 Parks
We also visited a bunch of parks. They are great for getting vending machine drinks, restrooms, and shade relief.  Here is Utsubo Park, a large public park constructed at the site of a former air field of the United States Army: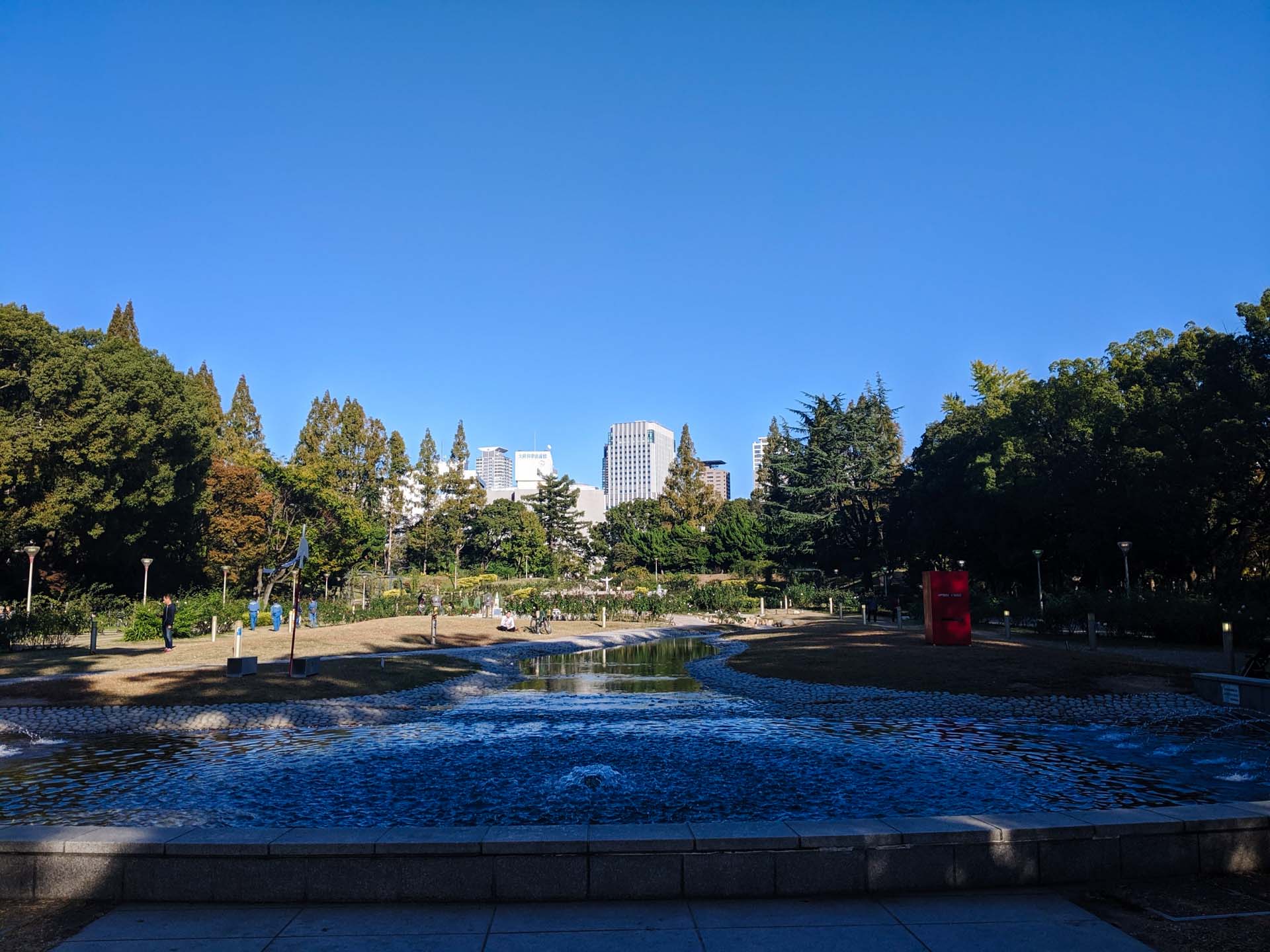 Tips when on this tour
On your phone, turn on Location Services. Or on your camera, turn on GPS. Every picture you take tags the location. This is helpful if you want to return to the place on your own at night or another day.
Dress in layers. At times you may find yourself removing a jacket, or needing a jacket while in the shade. Dress in layers so you can respond to your body temperature fluctuations quickly.
Pack light. It might get annoying carrying a backpack after a while. The largest bag you should bring is a fanny pack for your camera, wallet, and passport. If you want to bring an interchangeable lens camera, opt for a mirrorless rather than a DSLR.
If you want to give your tour guide something for great service, bring a gift (like chocolates or maple syrup) as it is not customary in Japan to give cash tips.
Bring 100 yen coins for the vending machine drinks to stay hydrated!
Final thoughts
While it is a 5-6 hour tour, you will have breaks in between to walk around, have washroom breaks, recharge, etc. Don't be turned off by the idea of being "stuck" with a group for that long. The time goes by very quickly!
I never thought I'd be so charmed by Shinsekai and Tsuruhashi (Korea Town). I loved that Shinsekai is stuck in the 80's and hasn't moved on. I loved that Tsuruhashi feels endless and rough around the edges. If you want to be pleasantly surprised and introduced to many places at a high level, go on this tour.
You will enjoy all the highlights and you can choose to return to the ones you liked the most at night, or enjoy them another day at your own pace. If you're sold, head on over to Cycle Osaka to book your Full Day Tour!