Cabinscape Dashi cabin review
Experience off-grid cabin living in Bluewater, Ontario offered by Cabinscape.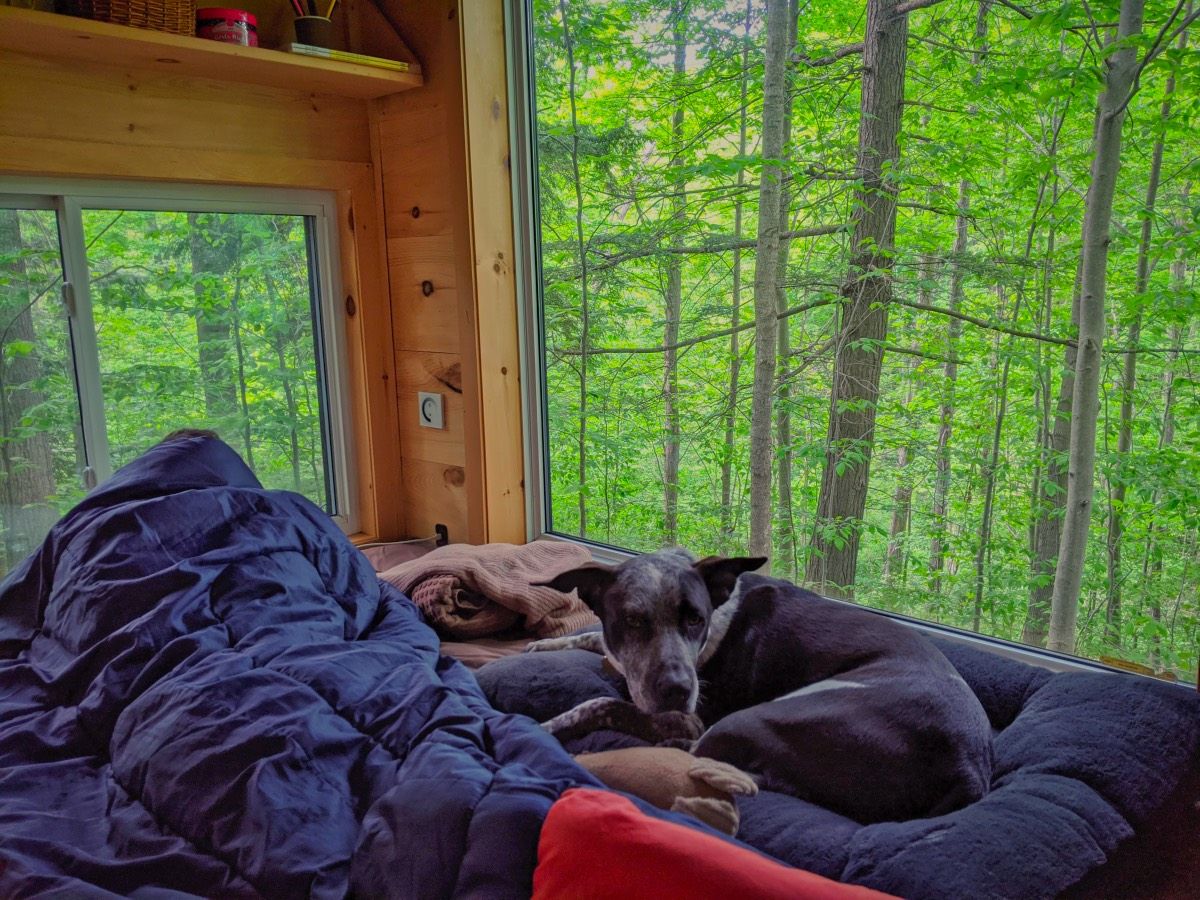 Since international air travel is still restricted, staying in a cabin is relatively safer when it's just yourself and a partner (whom you've been living with since the start of the pandemic).
Enter Cabinscape: an off-grid cabin, typically powered by solar energy and water pumped from nearby stream. We stayed in one of these for two nights in late May. This post is applicable to any cabin, but the one we stayed in in particular was called the "Dashi".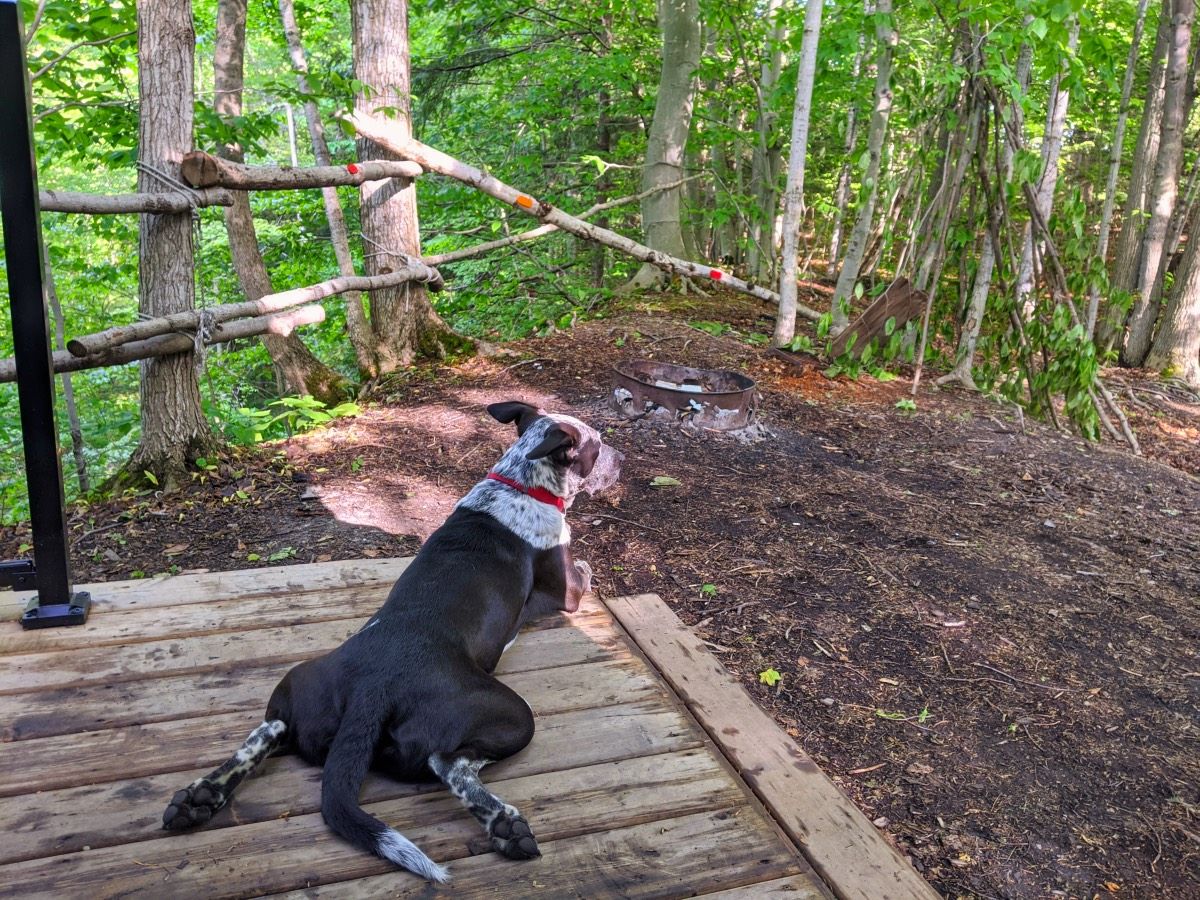 We brought our dog for an extra pet fee. I have a section below on dogs that you might find helpful!
First Day
A day before you check-in, the owners email you a guide on navigating the cabin, water usage, and the lockbox code to enter the cabin.
When we arrived, the space was clean and stocked with all the supplies we needed for two nights: toilet paper, kitchen utensils, and even a propane barbecue.
After a 3.5 hour drive into the cabin, the first thing we did was unpack and fire up the barbecue!
The cabin is designed efficiently, making use all the space. The vertical height is utilized with shelves and hooks all the way up to the ceiling.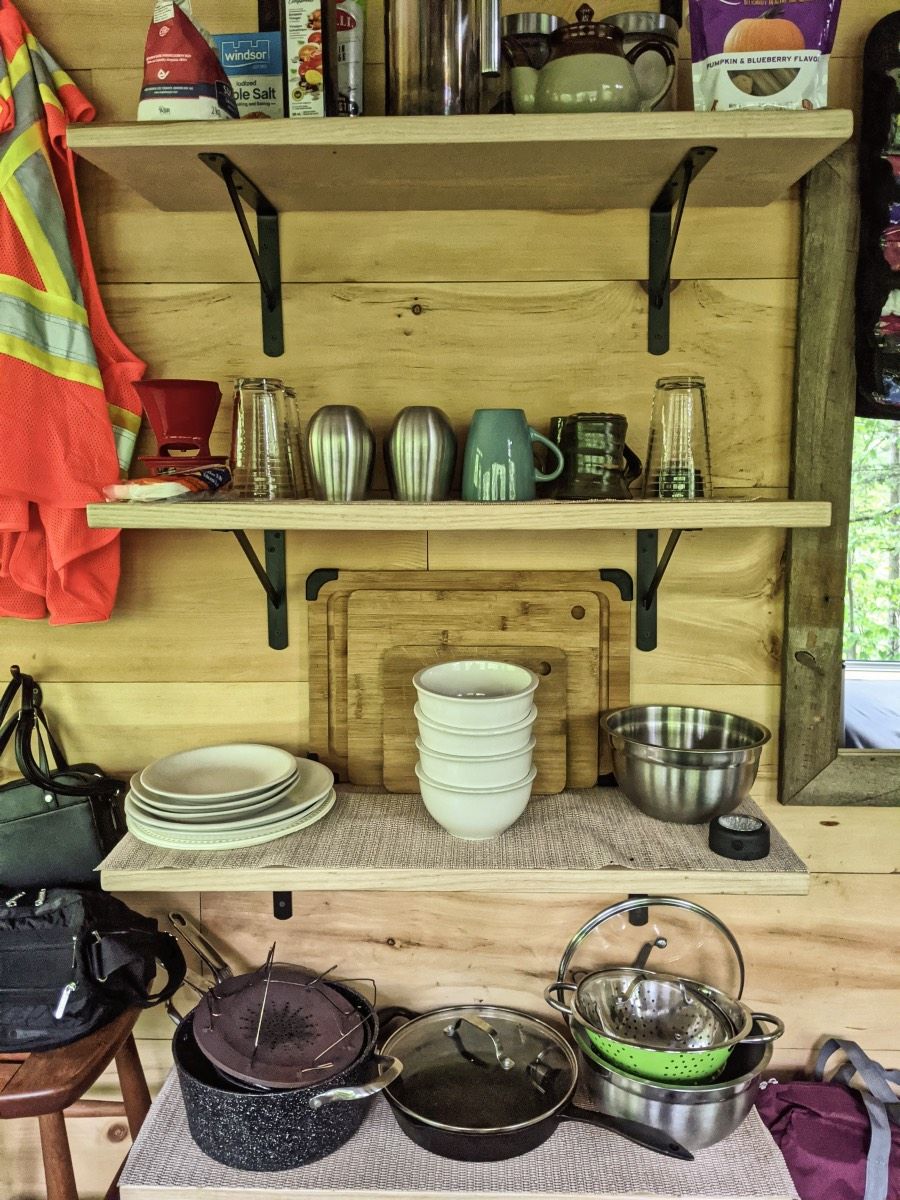 Because check-in is at 3:00 pm, you're going to want supper. Make sure you pack enough food for 3 days and 2 nights (for a 2 night stay). So that's going to be 2 suppers/dinners, 1 lunch, and 2 breakfasts. Check-out is 11:00 am so don't linger to make lunch.
Food and Water
The tap water is pumped directly from the stream below so it is recommended for only washing your hands. They provide you 20 litres of drinkable spring water that they replenish after each guest stay. If you have the space in your vehicle, bring extra jugs of water from your own home if you're a heavy consumer of water (or if you plan to make anything on stove top like pasta, eggs, soup). You could technically just boil the tap water, but it is up to you.
We brought a cooler with food purchased from our hometown instead of purchasing them locally since we needed to limit the spread. There was a mini fridge if we wanted to keep anything cold, but to conserve the solar battery, we chose to leave it unplugged. Ideally, bring your own cooler filled with reusable ice packs. Our cooler was able to keep things cold for more than 24 hours so we did just fine keeping frozen meats in there overnight.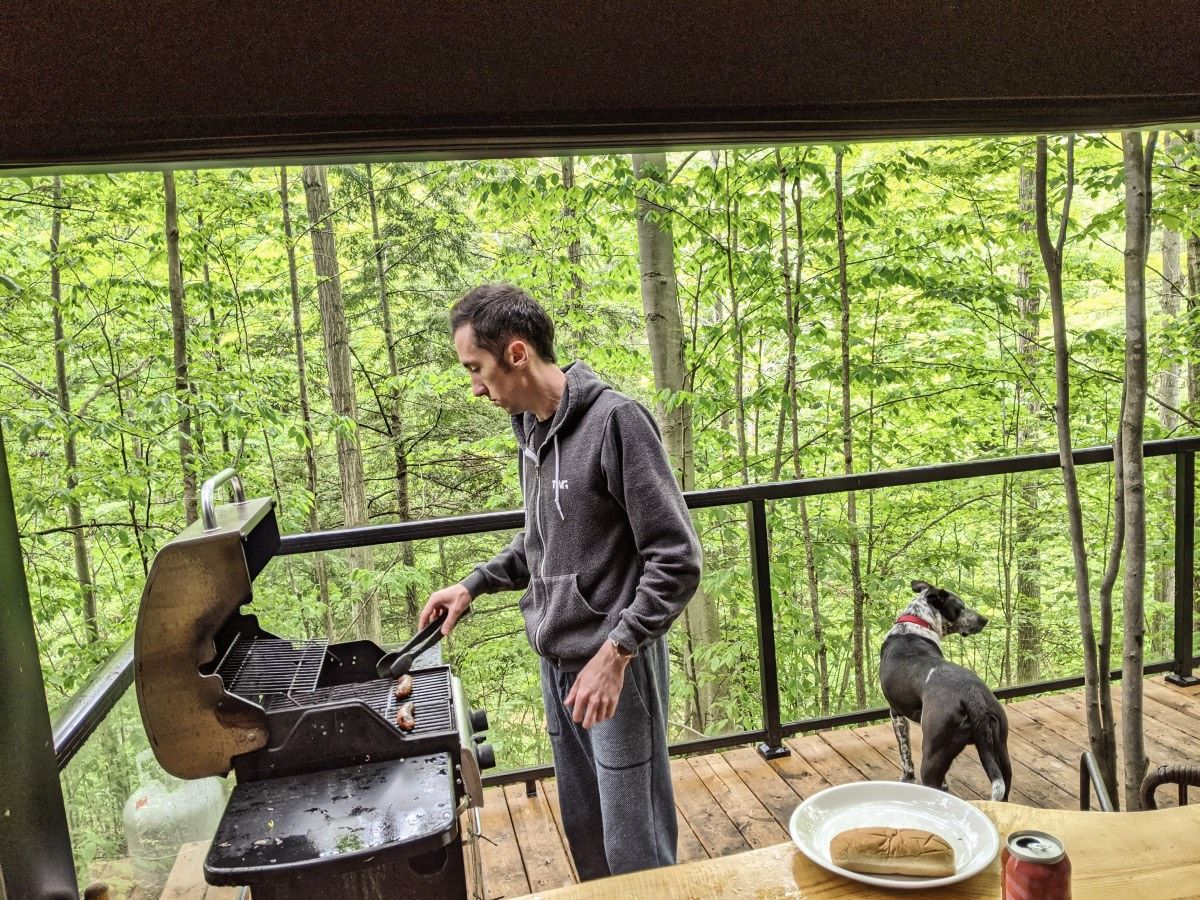 On the last/third day the meats started to get thawed and mushy if not properly refrigerated so it's best to cook up all your food for the first 2 days/nights and have something you can eat without cooking (like a bread and nut butter, veggie sticks and dip, or cheese and crackers).
Don't forget condiments like ketchup and mustard! The typical-sized bottles take up a lot of space in the cooler, so I would recommend putting however much you need in a smaller jar or bottle. Alternatively if you have take-out condiment squeeze packets lying around and not expired, bring those and dispose the packaging responsibly (toss in a bag and bring home with you).
The cabin had bowls, plates, pots and pans, utensils, cutlery, and barbecue tools. If you're so inclined to bring your own, feel free. It's a good idea to bring your own barbecue grill cleaner paddle because the wire brush they have has seen better days. Whatever you bring, don't be too precious about them because you might forget them after washing and leaving them to dry! Just remember to spot check the drying rack before you leave.
Drinks
Drinks will probably take up the most space in your cooler. Ideally, bring a bag-in-a-box wine that doesn't need to be served cool (i.e. red wine) if you're into drinking that. I highly recommend Nero Red Wine from The Wine Rack (it's a dry red!).
If you're into cocktails, prepare to bring waterless ice cubes or a bag of ice cubes. If cold spirits, beer, and wine is that important to you, bring a separate cooler for that.
Off-Grid Life
Every off-grid cabin is equipped with a solar energized-battery for lights.
Because there is no sewage system, there is a composting toilet. You must sit down on the toilet to do your business, because the toilet seat compression opens the flap to receive your poop and pee. There is no other elegant way to put that. It goes into a compostable bag that gets emptied before the next guest. So in a way, it's like a port-o-potty, but there is a fan inside that blows the stank outside. It never smelled bad every time I used it. You can bring your own air fresheners if you want that new car smell.
There is NO WI-FI. There is some cell service available, but you're encouraged to explore the forest or read a book. It's the perfect getaway from the city and from other people. The Instagram stories can wait when you're back in the city with all the other basic folks.
Sleeping
To access one of the two beds, you need to climb a ladder bolted to the wall adjacent to it. It can be a bit tricky and scary to get up there.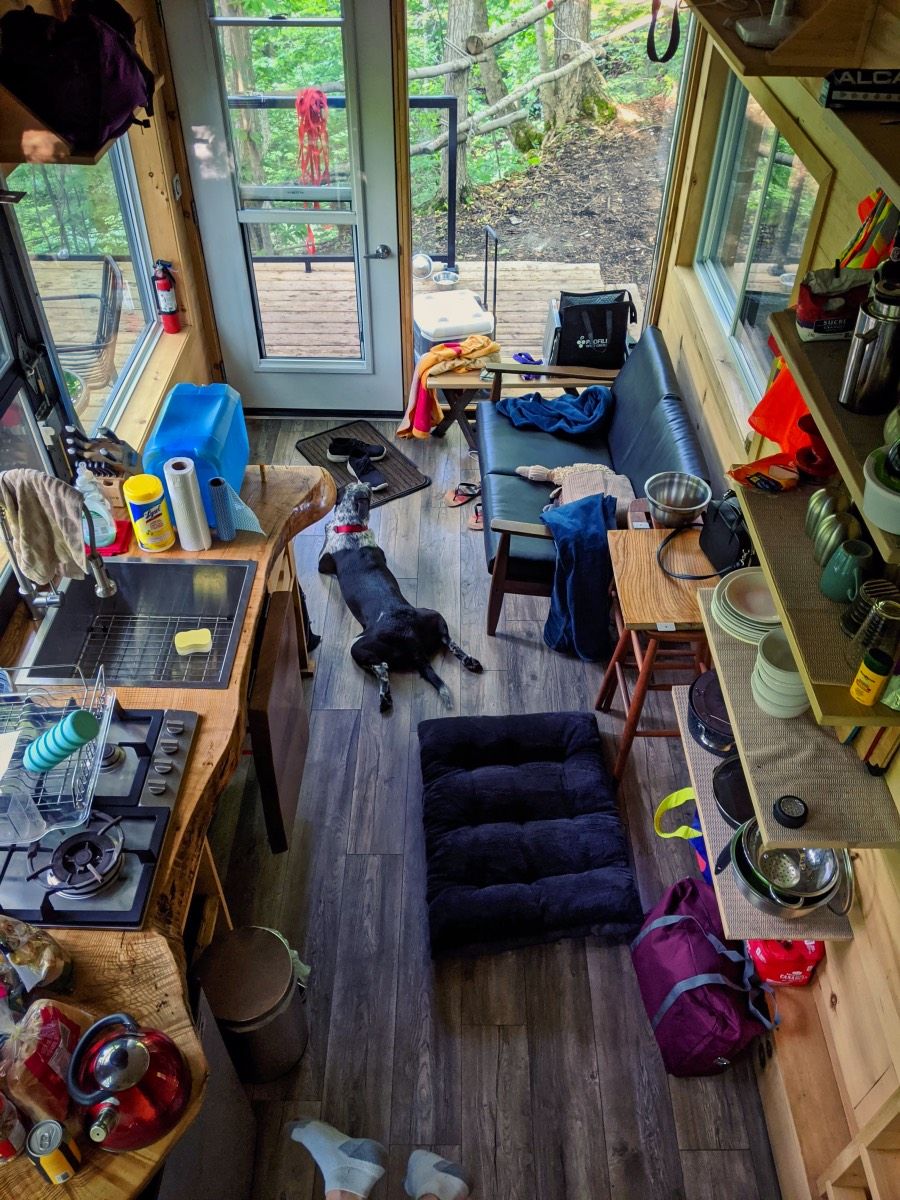 Once up in the loft, the bed was comfortable. They felt like the ones from Casper or Endy. There were pillows but if you have a special one, bring it. While they had sheets on the mattresses that they change after every guest, you should bring your own sheets to cover them. I brought blankets while my partner brought his sleeping bag.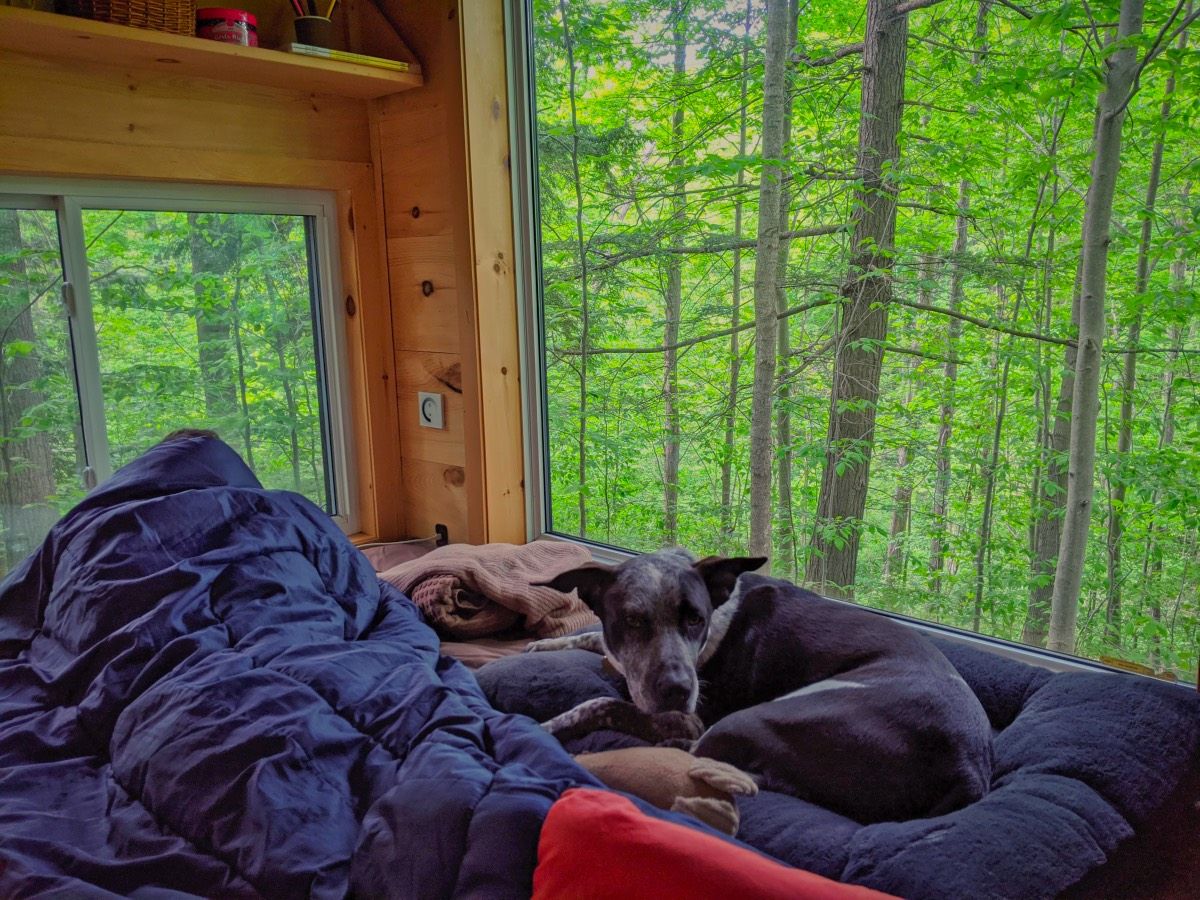 At times it felt cold with temperatures dropping to 13 degrees celsius, but not unbearable. An insulated sleeping bag is really key. If it's really hot, you can open the windows.
Entertainment
We explored the wooded area around the cabin. There were some mosquitos, so I would suggest bringing some bug spray. Bring hiking boots as the terrain can be tough to navigate with running or walking shoes. I also brought rain boots as there was rain while we were there and I was trudging through a lot of mud.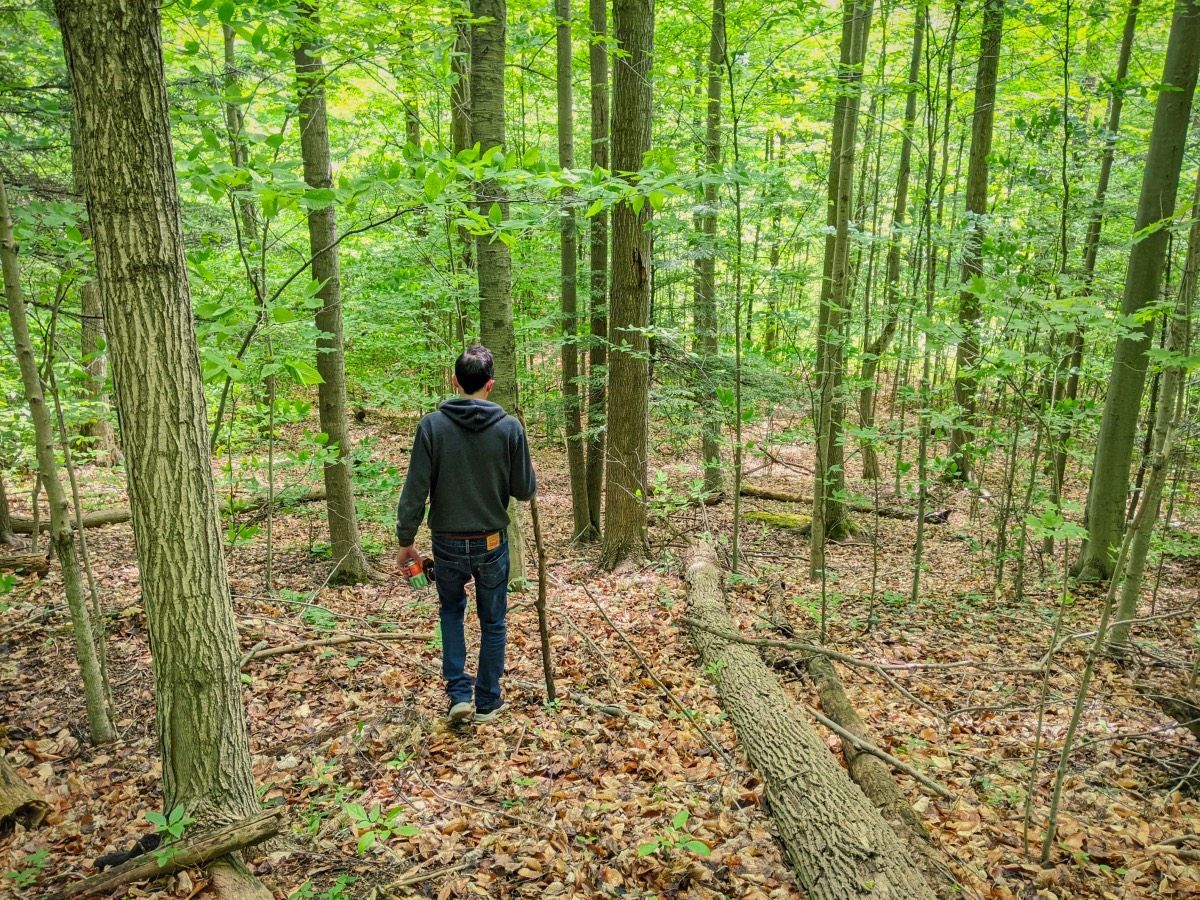 There's a deck around the cabin, so you can bring a yoga mat and do your stretches out there amongst the trees. It feels absolutely delightful.
Coffee and Tea
I know some of you are big coffee drinkers so this section is for you. The cabin includes a French press. I personally don't like making coffee with a French press because I dislike the clean-up.
I brought my own Melita pour-over cone, grind, and paper filters. I ground the beans and stored them in a resealable container. I kept the used paper filters in a green waste bag that I brought back home to dispose of in my own green waste bin. If you bring a reusable filter, remember to bring a small brush or new toothbrush to scrape the grind out.
For milk, I could have brought a small 250 mL milk carton from the convenience store, but I wanted to minimize entering stores. I didn't want to bring a 2L carton of milk, so I poured about 250 mL or 8 oz into a Swell bottle, which keeps liquids cold for 24 hours. I kept the bottle in the cooler and it kept cool for 3 whole days!
There was sugar in the cabin, but I like to use brown rock sugar so I brought those sugar packets you can get at the milk/sugar area at Starbucks.
Sometimes late at night I felt like drinking tea. There is a kettle provided so you just fill it with drinking water (or stream water, if you're so inclined) and heat it up on the gas stove. Keep an eye (or ear!) on it because it's the kind that whistles rather than auto shuts-off. While they provided some green tea bags, I have preferences when it comes to tea, so I brought my own.
Garbage
While I recommended bringing small packets of things, you have to be mindful of putting the trash where it belongs.
The cabin has one medium-sized garbage bin that fills up quickly. They had a supply of large garbage bags, but it's better to contain stinky meat trays and wrap them up in small plastic bags. With larger garbage bags you will feel inclined to only tie up when it gets really full and that does not keep smells at bay. If you're going to bring stuff that will definitely stink overnight like fish on styrofoam trays, bring some baking soda to sprinkle on them after use so that they absorb any odours.
You must bring your garbage back to your home. Sort your recycling, garbage, and organics where possible and dispose according to your municipal requirements.
Dogs
We wiped our dog's paws before letting them enter the cabin. Remember to bring multiple towels for each day and wash them when you return home. Our dog also got into the stream and had a swim, so big towels are also a necessity. If your dog likes to play fetch, bring a rubber ball that you can rinse off easily rather than those fuzzy tennis balls.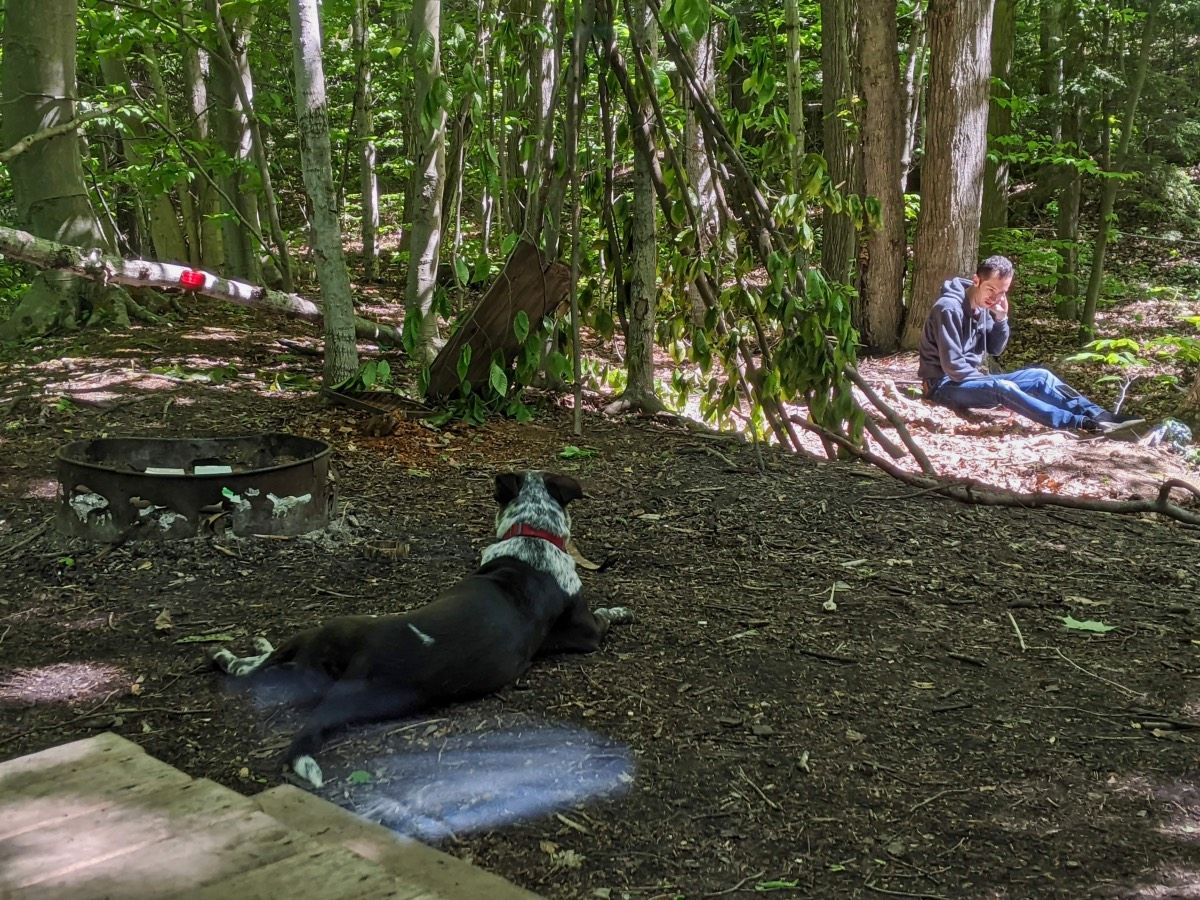 As for letting your dogs roam around, it's best not to for the first day. Get a good bearing of what's around (e.g. animals, potential sharp rocks or traps, etc.). Also, if they run around and poop, you will never be able to find where they pooped! So keep a close eye on your dog when they're running around. Fit them with a blinking collar or high-visibility vest when they're loose.
For fun, I'd like to strap a GoPro on their back, and see where he gets up to! Though if they lose it from excessive shaking, good luck trying to find it! Strap on a cheap one and let them go.
Campfires
Fire pit fires near the cabin are the best! Just remember to supply your own firewood (can be obtained from a hardware store or gas station), or bring dry non-painted corrugated cardboard. Do NOT try to burn things like plastic water bottles.
We saw some left over in the fire pit from previous guests and that's just terrible. Anything you burn should be dry and as organic as possible. There are matches in the cabin, but it's a good idea to bring your own too.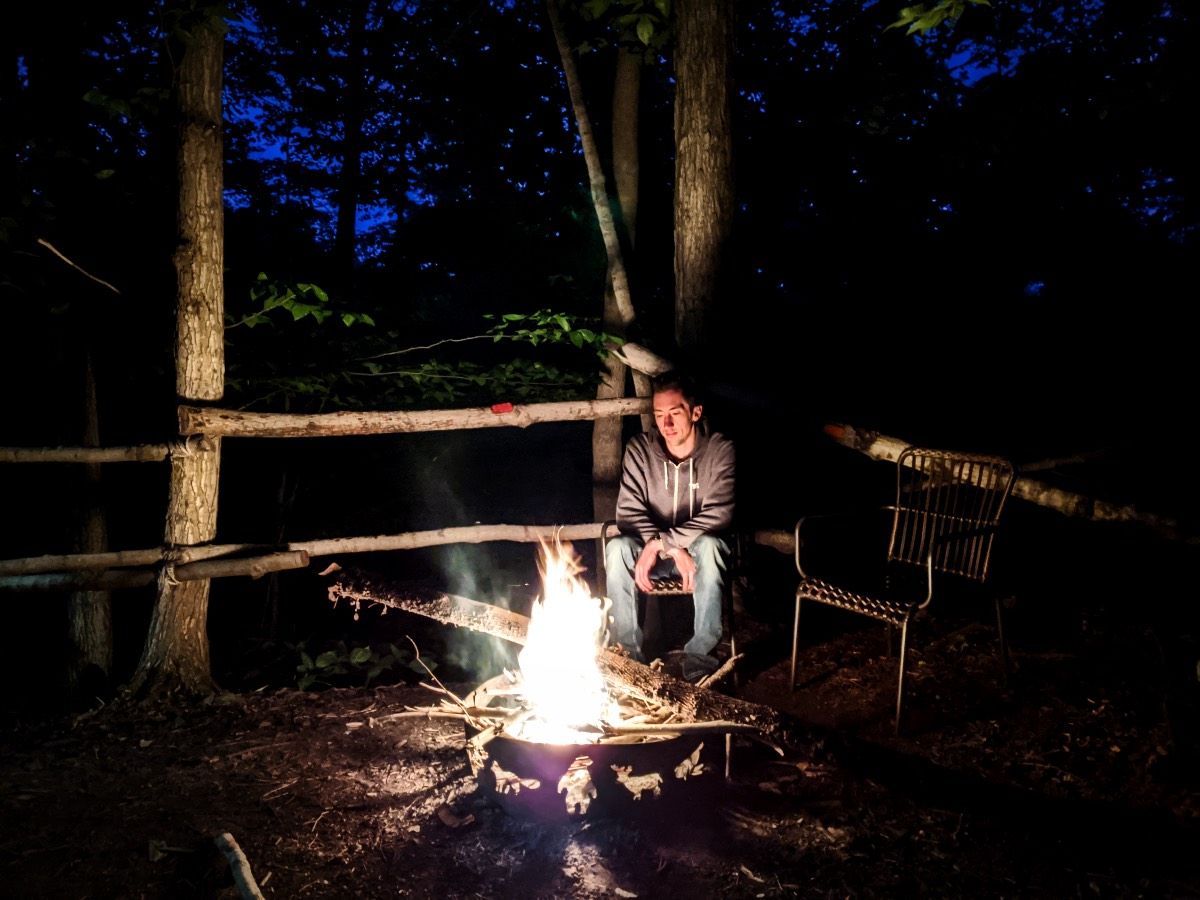 Things I wouldn't pack again
Because there was only an outdoor shower and it sprayed only cold water, I didn't shower the entire time I was there (yes, gross). Instead, I took a shower just before heading to the cabin, and used baby wipes to wipe myself down each day.
If I knew the weather was going to be warmer (like above 28˚C), I would pack small versions of my favourite shampoos in little reusable tubes. But note that this cabin was under a tree canopy so the temperature was much lower than what you'd see noted in weather apps.
Differences between cabins
The one we stayed in this year was the Dashi cabin, and it had an outdoor shower, and loft bed and main level bed. We stayed in another one called the Juniper, which had an indoor shower but only one main level bed. Both had similar sized kitchen and wash areas.
Would we stay with Cabinscape again?
Absolutely! This being our second time with Cabinscape we'd love to stay at one of their cabins again!
I mentioned a lot of things to pack and remember, so check out my Cabinscape cabin packing list!